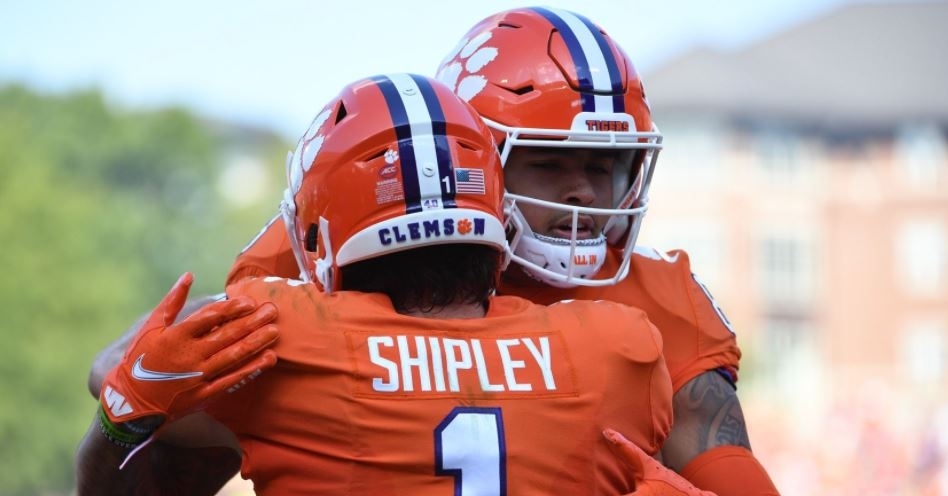 | | |
| --- | --- |
| Postgame notes for Clemson-SC State | |
---
| | | |
| --- | --- | --- |
| Saturday, September 11, 2021, 9:50 PM | | |
WITH THE WIN…
Clemson improved to 96-17-8 in home openers all-time.
Clemson won its 18th straight home debut, breaking Clemson's longest winning streak in home openers all-time (17 from 1944-60).
Clemson improved to 5-0 in its all-time series with South Carolina State. Clemson previously earned wins against SC State in 2008, 2013, 2014 and 2016.
Clemson improved to 36-0 against Football Championship Subdivision teams since the NCAA formed the division prior to the 1978 season.
Clemson improved its national-best record at home in the College Football Playoff era (since 2014) to 48-1.
Clemson won its 29th consecutive home game to extend its school record for both the longest home winning streak and longest home unbeaten streak in school history (as well as extend the nation's longest active home winning streak). Of the 135 players on Clemson's 2021 roster, 130 have never experienced a home loss in their Clemson careers.
With the 29th straight home victory, Clemson pulled within one home win of recording the 24th home winning streak of 30 games or more in FBS history.
With Ohio State's home loss earlier in the day, Clemson stands as one of only three schools with an active home winning streak of 20 games or longer (Notre Dame and Cincinnati).
Clemson improved to 27-7 in games following a loss under Dabo Swinney, including season openers following a loss in the previous season finale.
Clemson has now won 88 of its last 90 games, including each of its last 51, when leading at halftime. Clemson is also 110-2 since 2011 when leading after three quarters.
Clemson improved to 109-2 when totaling more first downs than its opponent since 2011.
Clemson is now 69-1 when rushing for 200+ yards under Dabo Swinney.
Clemson is now 54-0 when both passing and rushing for 200+ yards under Dabo Swinney.
Clemson improved to 24-1 in September games since 2015.
Clemson improved to 68-4 in regular season play since the start of the 2015 season.
Clemson won a 35th consecutive game against teams unranked in the AP Poll. Clemson's last defeat at the hands of an unranked squad came in 2017 at Syracuse. Clemson is now 109-12 against AP-unranked teams under Dabo Swinney
Clemson won its 23rd consecutive home non-conference game, the longest such winning streak in program history. Clemson's last loss at Death Valley in non-conference play was in 2012.
GAME NOTES
Clemson held SC State without an offensive touchdown. Clemson has not surrendered a defensive touchdown through the first two games of the season, Clemson's first time doing so in the first two games of the season since holding Kent State and Auburn out of the end zone to open 2017.
Clemson has now held opponents to 10 or fewer points four times in its last five games, dating back to last season.
Clemson allowed only 235 yards and has now held consecutive opponents under 275 yards for the first time since the Miami (Fla.) and Georgia Tech games last season.
Clemson finished with 504 total yards, its 68th 500-yard game under Dabo Swinney. Clemson is 66-2 in those contests.
Clemson exceeded both 200 passing yards and 200 rushing yards, the 54th such occurrence by Clemson under Dabo Swinney. Clemson is undefeated when reaching the 200-yard mark in both categories under Swinney.
Clemson scored 28 first-quarter points, tied for the third-most first-quarter points in Clemson history. It was Clemson's sixth time scoring 28 or more points in a first quarter in school history. All six have occurred under Dabo Swinney, including four since the start of the 2019 season.
Clemson scored a touchdown on each of its first four possessions, its first such performance since doing so against The Citadel in the second game of 2020.
Trailing 35-0, South Carolina State scored a field goal with 19 seconds left in the first half that ended a run of 94 straight points for Clemson in its series with the Bulldogs. Clemson won the teams' most recent meeting prior to Saturday by a score of 59-0 in 2016.
All of Clemson's points came on offense. Previously, Clemson had scored at least one non-offensive touchdown in all four previous games against SC State all-time.
Clemson's five rushing touchdowns were its most in a game since 2019 at NC State (five).
Clemson won the game despite finishing -2 in the turnover margin. Clemson has been able to post a 6-1 record when finishing -2 or worse in the turnover margin since 2017, with the lone loss coming at Notre Dame last season.
On preliminary count, Clemson played 102 players in the game, the third-most in Head Coach Dabo Swinney's tenure, trailing 111 vs. Charlotte in 2019 and 105 vs. Wofford in 2019.
Clemson did not allow a sack. It was Clemson's second time in five games dating to last season that it has held an opponent without a sack (at Virginia Tech in 2020).
Quarterback DJ Uiagalelei completed 14-of-24 passes for 171 yards with one touchdown. He also rushed five times for 23 yards with two rushing touchdowns.
Uiagalelei's 171 yards rank as the second-best passing performance for a Tiger against SC State in five games in the all-time series. Current Clemson support staff member Cole Stoudt passed for the most in a game in the series, throwing for 302 yards against SC State in 2014.
Uiagalelei's two rushing touchdowns tied his career high, set against The Citadel last season.
The two rushing touchdowns were Uiagalelei's first two of the season and pushed his career rushing touchdown total to six.
Uiagalelei opened the scoring on a four-yard rushing touchdown on Clemson's opening drive. Clemson improved to 59-2 when scoring first since 2015.
The touchdown marked the third straight season that Clemson's first touchdown of the season came via a quarterback rush, as Trevor Lawrence scored Clemson's first touchdown of both the 2019 and 2020 seasons on the ground.
With Uiagalelei's second rushing touchdown of the game, Clemson eclipsed 1,500 points scored (42.2 per game) against FCS opponents all-time.
Running back Will Shipley recorded his first career touchdown on a seven-yard touchdown run in the first quarter.
Shipley added his second touchdown of the day on a 13-yard scoring run in the third quarter. He became the first Clemson true freshman with multiple rushing touchdowns in a game since his teammate, Lyn-J Dixon, rushed for two touchdowns at Wake Forest in 2018.
Shipley's team-high 80 rushing yards ranked as the third-best rushing performance for a Tiger against SC State in five games in the all-time series. James Davis rushed for 95 yards in 2008 and Tavien Feaster rushed for 83 yards in 2016.
Running back Kobe Pace added his first career rushing touchdown on a two-yard run in the first quarter. The lone touchdown of Pace's career prior to Saturday came via reception at Georgia Tech in 2020.
Wide receiver Justyn Ross recorded his first touchdown reception of the season in the first quarter. It was his first touchdown since the 2019 ACC Championship Game vs. Virginia prior to missing the 2020 season.
The receiving touchdown was Ross' 19th of his career, tying tight ends Glenn Smith (18 from 1949-51) and Jordan Leggett (18 from 2013-16) for eighth-most career receiving touchdowns in Clemson history.
Running back Lyn-J Dixon recorded his first career receiving touchdown, a 14-yard catch-and-run on a pass from Taisun Phommachanh in the third quarter.
The passing touchdown was Phommachanh's first of his career, and it came in the same end zone he was driving toward when he tore his Achilles 161 days earlier during Clemson's spring game on April 3, 2021.
Phommachanh finished 7-of-10 for 75 yards with a touchdown in his season debut.
Wide receiver Beaux Collins recorded his first career reception in the third quarter. He caught the pass from his high school teammate, Uiagalelei. He finished the contest with three catches for 36 yards.
A total of 13 different Clemson players caught a pass, one shy of tying for Clemson's fifth-most in a game under Dabo Swinney.
Safety R.J. Mickens recorded his first career interception in the second quarter.
Linebacker Jeremiah Trotter Jr. recorded his first career sack.
Punt returner Will Taylor recorded a 51-yard punt return in the first quarter. The 51-yard return was the longest by a Clemson player since a 53-yard return by Amari Rodgers against Wake Forest in 2019.
With seven points Saturday, kicker B.T. Potter (253) became the 12th player in school history to reach 250 career points. He is the eighth Clemson player to reach 250 kicking points.
On his third PAT of the game, Potter (154) joined Greg Huegel (217 from 2015-18), Chandler Catanzaro (203 from 2010-13) and Aaron Hunt (164 from 2000-03) as the only players in school history to convert 150 career PATs.
The game was Clemson's 121st home opener in its 126-year program history, as there were five seasons in which Clemson did not play a game at home.
Punter Will Spiers started his 58th game to break the school record held by tackle Mitch Hyatt (57 from 2015-18). Will Swinney has also served as Clemson's primary holder in 58 games as well.
Spiers, Swinney and linebacker James Skalski each played in their 58th career games to tie tackle Mitch Hyatt (2015-18), tight end Milan Richard (2015-18) and linebacker Chad Smith, (2016-19) for fifth in school history.
Captains for the contest were offensive lineman Matt Bockhorst, defensive end Justin Foster, defensive end K.J. Henry and running back Darien Rencher.

Tags: Clemson Football
,
DJ Uiagalelei
,
Cole Stoudt
,
Trevor Lawrence
,
Will Shipley
,
Lyn-J Dixon
,
James Davis
,
Tavien Feaster
,
Kobe Pace
,
Justyn Ross
,
Jordan Leggett
,
Taisun Phommachanh
,
Beaux Collins
,
Will Taylor
,
Amari Rodgers
,
Greg Huegel
,
Chandler Catanzaro
,
Will Spiers
,
Mitch Hyatt
,
Will Swinney
,
James Skalski
,
Milan Richard
,
Chad Smith
,
Matt Bockhorst
,
Justin Foster
,
Darien Rencher