| | |
| --- | --- |
| The Search Begins: Possible replacements for Jack Leggett | |
---
| | | |
| --- | --- | --- |
| Saturday, June 6, 2015, 7:01 AM | | |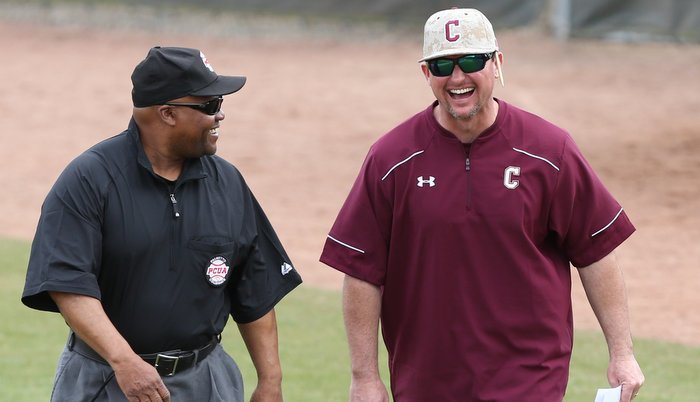 CLEMSON – Clemson Athletic Director Dan Radakovich

Dan Radakovich
Director of Athletics
View Full Profile announced yesterday that the school had parted ways with longtime baseball coach Jack Leggett

Jack Leggett
Baseball Head Coach
View Full Profile , and now that the dust has begun to settle Radakovich has surely started the search for Leggett's replacement.
Pardon the baseball term here, but Radakovich has to hit a home run with this hire.
So who will be the top candidates to replace Leggett? We can only guess at what Radakovich's list will look like, and the list of top candidates is different than what it normally would be considering Leggett's coaching tree and the way he was dismissed from Clemson.
That means that Vanderbilt's Tim Corbin and Florida's Kevin O'Sullivan – former Leggett assistants who head up national powers – likely won't be interested in taking a call. And let's be honest, despite how much you love Clemson, would they really be walking into a better position than they have now?
Yes, they are candidates in that they would be atop anyone's list. But it's also doubtful – very doubtful – that they give the school that fired their mentor a serious look.
So who else is out there?
Randy Mazey, West Virginia
Mazey was hired at West Virginia when current Clemson president James Clements held the same position at WVU. We've already heard from a few sources that indicate Mazey has some support inside Clemson, and we've also heard a few rumors that he has interviewed but we haven't been able to confirm. Mazey played at Clemson from 1985-88 and was an assistant here from 1990-93. He held previous head coaching jobs at College of Charleston (66-94) and East Carolina (120-66-1 with one Super Regional appearance) but is just 88-79 in three seasons at West Virginia. The Mountaineers have also failed to reach the NCAA Tournament in all three seasons.
Jim Schlossnagle, TCU
Schlossnagle was Clemson's pitching coach in 1993, and he has family ties to the Carolinas. He has had a lot of success at TCU, where he has a 512-233 record (he is 589-280 overall) and has led TCU to five Super Regional appearances and two College World Series appearances (2010 and 2014). He also was awarded a contract extension last season that goes through 2020 and he is paid $375,000 annually, with total compensation nearing $480,000 annually. Could Clemson match that kind of money?
John Szefc, Maryland
Szefc popped up on my radar last season when he took the Terrapins into Columbia and knocked off the Gamecocks in the regional. He has them back in a Super Regional this season after going to Los Angeles and knocking off national seed and host UCLA. In talking to national baseball people at the ACC Tournament and at the regional last week at Fullerton, it's clear that Szefc has earned a tremendous amount of respect across the country, and his no-nonsense and fundamental approach to the game makes many label him "a baseball guy." That's a big compliment.
Monte Lee, College of Charleston
Lee completed his seventh season as the College of Charleston head baseball coach in 2015, having guided the Cougars to a 276-145 (.656) overall record after averaging 39.4 wins per season since 2009.
In December of 2012, Lee was named one of Baseball America's Top 10 Head Coaches Under 40 in all of college baseball. He was also named to Perfect Game's Top 10 Rising Head Coaches list. In 2015, he guided the Cougars to the Florida St. Regional, where they were bounced by the host Seminoles. He has recruiting ties within the state of South Carolina and is considered an excellent offensive coach and players love playing for him. He also has ties to South Carolina, and one former player told me yesterday that Lee would be coaching at either Clemson or South Carolina in the very near future and "Clemson better not screw this one up." Would he be at the top of DRad's list? We are hearing no.
Jim Toman, Liberty
We got to spend time with Toman at the Columbia Regional a few years ago when Liberty knocked off Clemson. He is a good baseball guy but also has some strong ties to the University of South Carolina. However, Liberty finished 33-23 this season and failed to qualify for the NCAA Tournament after making regionals each of the last two seasons. He is 297-178-1 in seven seasons at the helm of the Flames. It's also funny that Toman has a reputation across the country as one of the game's nice guys, but I've heard several former players and other people who have been around the program in Columbia say that he is hard to get along with and wouldn't be the kind of coach Clemson could consider.
*Corbin, O'Sullivan and even Michigan head coach Eric Bakich should get calls, but like we've said before we think their ties to Leggett will prevent them from being contenders.
Two to keep an eye on but I would put in the darkhorse category are Chris Lemonis and Kevin McMullan. Lemonis is the head coach at Indiana, but spent time as an assistant at Louisville for eight seasons. He also spent time at The Citadel and hails from Myrtle Beach, so he has South Carolina ties. McMullan is the Associate Head Coach at Virginia, and in a November 2012 poll of 70 Division I head coaches by Baseball America, McMullan was named the top assistant coach in college baseball. He has also worked in the Atlanta Braves organization.
What would David Hood do? I would make a serious – very serious – run at Schlossnagle once their season is over, and if that didn't work out would have Monte Lee on speed dial. Szefc is also a really good choice, but those two would be at the top of my list. We are going to continue to monitor the situation and see if we can find out who will be coming in.