---
Welcome Back
I love Clemson football and I have thoroughly enjoyed watching the 11th-ranked Tigers go 2-0 with one of the best offenses in the country.
The trip to Atlanta was awesome. It was great to see a new and improved offensive line. David Beasley
David Beasley
RS So. Offensive Guard
#68 6-4, 315
Columbus, GA
View Full Profile and Tyler Shatley
Tyler Shatley
RS Jr. Offensive Guard
#62 6-3, 295
Icard, NC
View Full Profile have been beasts and their physical domination has been awesome.
Tajh Boyd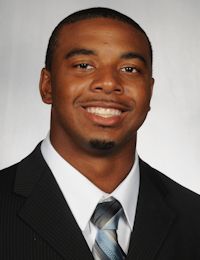 Tajh Boyd
RS Jr. Quarterback
#10 6-1, 225
Hampton, VA
View Full Profile has been close to perfect. It has been so fun to watch him make the precision passes but his scrambles for first downs have been a breath of fresh air. His hard work in the off-season paid off once again.
Andre Ellington
Andre Ellington
RS Sr. Running Back
#23 5-10, 195
Moncks Corner, SC
View Full Profile had me out of my seat in the Georgia Dome with his electrifying runs. Watching the best back in the ACC has been a pleasure.
Nuk Hopkins' record setting start has also been a blast. Time and time again Nuk has impressed.
And the development of Charone Peake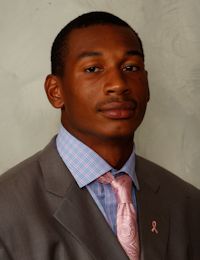 Charone Peake
So. Wide Receiver
#19 6-3, 200
Moore, SC
View Full Profile , Adam Humphries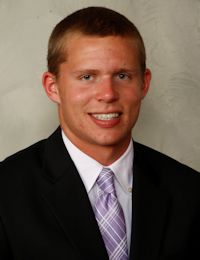 Adam Humphries
So. Wide Receiver
#16 5-11, 190
Spartanburg, SC
View Full Profile and the other receivers have been a joy to follow through two games.
Yes, this offense has almost 1,200 yards and 78 points through two games. The pace has made this offense as much fun to watch as any I have ever seen. Watching Chad Morris
Chad Morris
Offensive Coordinator / QBs
View Full Profile race to get the next play called is about as much fun as I can remember watching Clemson football.
The first two weeks have been great, but I sure have missed Sammy Watkins
Sammy Watkins
So. Wide Receiver
#2 6-1, 205
Fort Myers, FL
View Full Profile .
I miss the explosion, the speed, the quickness, the acceleration, the hands, the power, the leaping ability, the ball skills and the jaw dropping athleticism.
The thing I miss the most is the anticipation of feeling the next play could be the one that makes the hair stand up on your arms.
Every time Sammy Watkins touches the football, you get the feeling that something spectacular might happen. It might be a kick-off return, a reverse, a simple screen or a long bomb, but you always get the feeling that something special is about to happen every time he touches the football.
The only other player I have ever seen at Clemson that made you feel the same way was C.J. Spiller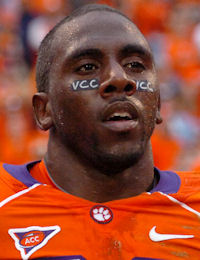 C.J. Spiller
Pro Running Back
#28 5-11, 195
Lake Butler, FL
View Full Profile . I thought Spiller was a once in a generation player. How lucky are we that we get two of these types of athletes at our school in a small window of time?
This is the guy that scored the first time he touched the football in college. The guy that turned a simple curl route against Auburn into a long touchdown. The kind of player that called for a slant and go against a Seminole defense because he knew he could score. This is the guy that put the team on his shoulders when their backs were against the wall at Maryland. Number two is the guy that put the ACC title game out of reach with his double move.
This is the human X, O, triangle and square buttons on a Playstation 3.
This is the rare combination of size, strength, speed, athleticism, skill, hands and power.
There was not a better freshman in the country last season and I am not sure there is a better football player in America.
If you think that is an outlandish statement, I'll ask you, who would you trade him for? I can't imagine that list being very long.
Maybe Lee, Woods or Barkley at Southern Cal? Maybe Jones at Georgia? Maybe Clowney at South Carolina? Maybe or maybe not. The point is that there are not many to even consider in that conversation.
Watkins may be the most complete player in the country. What are his weaknesses? What does he have to improve upon? Who else can you say that about in college football?
This offense that has been so dynamic in the first two games now gets back its best football player. I can't help but to think that Andre Ellington gets better because Watkins adds another threat. Hopkins will benefit from less attention by the secondaries. Ford, Peake, Brown, Humphries and Bryant get less attention from defensive coordinators. Boyd adds his biggest weapon to an already strong arsenal.
I missed Sammy Watkins these past two weeks. I am so glad that I get the opportunity to see one of the most special athletes in school history play again this Saturday.
The Brad Hughes All-State Insurance Agency
Prayer List
We have started a prayer list on the blog. Here are the guidelines:
If you are offended by prayer or prayer lists then I apologize in advance. The blog is free and the prayer list will be on the bottom of the page so you don't have to read it.
If you would like to add someone to the list please email me at mickeyplyler@hotmail.com
*Please let me know when it is appropriate to take the person off of the prayer list.
Those who need our prayers include:Finn Brookover, Mary-Louise Pawlowski (John's daughter), Jo Ann Bachman, Kenneth Bryant, Pruitt Martin, Got igers and his family, David Rowland, Leonard, Gillespie and his family, Jim S, Daniel Rosborough, The Huffman family, Nancy Winkler, John Reeve, Ethel Southard, Vinnie Brock, Kaitlyn L, Susan Miller, Joyce Harley, Steve Proveaux, Jeffrey Greene, the Hutto family, Sherl Drawdy, Caleb Kennedy, Teresa O'Connor, Matt Jacobs,Perrin Seigler, Candee Massee, Lindsey Jordan, Sam Catoe, Tyler Felch, the Nicolopulos family, "the Jacksonville, FL guys", Kim Sims, the Coyle family, Ryleigh Tedder, Steve Lee, Kelly Trakas, Jimmy Moore, the Thomas. V Family, Emary Claire Young, Kitty Bowers,Julie Locke, the Scheider family, Lauren Kittles' family, Frank Gentry, Joyce Bussey, Stacey McKeown, Dale Childs, Larry Lentz, Jr, Carl Sharperson, Scott Hannon, William Perry, Tyler Swaney, Lillian, Mark Feit, David Frame, Chad Berry, the family of Matthew M. Watson, the Dowis family, Shervin Messer, Alan Putnam, the Olivers, Lee Tate, Ronnie Abrams, Eddie Greene, the Jackson family, Bill Vader, Jim Taylor, Tina DeWitt, Rock Horne, Christopher Tuten, Bobby Wayne Thomas, Emma and Danielle Carothers, Robert Ditty, Mr. and Mrs. Murray Smith, Dot Cartee, Ayden Mills, Millie Heatley, Lynn Martin and family, Michael Pinson, Jake David family, Angie Crowley, Ira, Mike Tolson, Poly Wells, Dr. Muriel Bishop, Jack Cunningham, Emily Jefford Meister, Zachary Stoller, Aaron Clackum, Pat James, Cortney Moore, William Moore, Angelia and Savannah Anderson, William Ross, Meredith Legg, Scott Johns, Frank Carroll, Brandon Thompson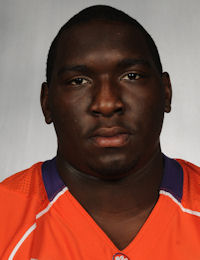 Brandon Thompson
Defensive Tackle
#98 6-2, 310
Thomasville, GA
View Full Profile , Alvin Sammons, Georgine McAlhaney, Glen Davis, Mike Price, Clay Childers, Aaron Knight, Danielle Johnston and family, Nicholas Abrams, Lana Kuykendall, Gary, Billy McLeroy, Gary G., William Huggins, Jim Bennett, Chantz Fowler, Ethel McElveen, Michele Gurganus, William Gentry, Lewis Usher and Tanya Sanders, Shon Cooper, Nick Collins, Travis Patterson, Nick Chrisley, Bud Long.

Upgrade Your Account
Unlock premium boards and exclusive features (e.g. ad-free) by upgrading your account today.
Upgrade Now