---
| | | |
| --- | --- | --- |
| Tuesday, October 9, 2012, 11:18 AM | | |
The Second Half
Clemson is 5-1 and ranked 13th in the country. The Tigers are a little different in some ways than many thought through the first half of the season, but the record is what most expected.
Also many teams across the country are different than we may have thought in the pre-season. So here is a look at what the Tigers face in the second half of the season:
Opponent:Virginia Tech
Date: October 20
Location: Clemson
Overall Record:3-3
Conference Record:1-1
First Half Wins:Georgia Tech, Austin Peay, Bowling Green
First Half Losses:@ Pittsburgh, Cincinnati (Landover), @ North Carolina
Notes:As I talked about throughout the pre-season, Virginia Tech has struggled on offense. That is not a surprise. They had too much inexperience on offense and Logan Thomas has not been the Superman he needed to be in order to lift this team to new heights. Tech is 86th in total offense, 91st in rushing offense and 60th in scoring offense. However, the defense is perhaps the biggest disappointment in the ACC. The Hokies 64th in total defense and 42nd in scoring defense. No one expected Pittsburgh and Cincy to put up those type of numbers against what was supposed to be Bud Foster's talented defense.
Opponent: Wake Forest The Second Half
Date:October 25
Location: Winston Salem, NC
Overall Record:3-3
Conference Record:1-3
First Half Wins:Liberty, North Carolina
First Half Losses:@ FSU, Duke, @Maryland
Notes:The Deacs have been a disappointment this season as well. No one expected Wake Forest to beat FSU in Tallahassee but they were expected to compete. After a big win at home over UNC, things looked up for Jim Grobe's crew. However, back-to-back losses to Duke at home and at Maryland have derailed their season. I believe you have to run the ball and stop the run to be successful over the long haul. Wake Forest in 103rd in the country against the run and 100th in rushing offense.
Opponent: Duke
Date: November 3
Location: Durham, NC
Overall Record:5-1
Conference Record:2-0
First Half Wins:FIU, NC Central, Memphis, @ Wake Forest, Virginia
First Half Losses:@ Stanford
Notes:Duke is one of the biggest surprises in the country this season. They looked outmatched on the road at Stanford but are undefeated in their other five games. Beating FIU, NC Central and Memphis is not impressive but a road win at Wake Forest and a convincing win at home against Virginia is noteworthy, especially for Duke. The Blue Devils average almost 300 yards a game through the air and are 30th in the country passing. The have a hard time running the football but have been sound in most other aspects of the game. The hard part is just starting for the Devils though. The remaining schedule includes @ Virginia Tech, UNC, @FSU, Clemson, @ Georgia Tech and Miami.
Opponent:Maryland
Date:November 10
Location:Clemson
Overall Record:3-2
Conference Record:1-0
First Half Wins: William & Mary, @Temple, Wake Forest
First Half Losses:UConn, @ West Virginia
Notes:Its been a tale of two sides of the ball for Maryland this season. The Terps are very good on defense. They are seventh in the country in rushing defense and total defense and 33rd in scoring defense. Offensively they are young and have not impressed. The Terps are 117th in total offense, 116th in rushing offense, 102 in passing offense and 103 in scoring offense. Maryland played well in the loss at West Virginia and its win over Wake Forest last week puts the Terps at 1-0 in the league.
Opponent:NC State
Date:November 17
Location:Clemson
Overall Record:4-2
Conference Record:1-1
First Half Wins:@UConn, South Alabama, The Citadel, Florida State
First Half Losses: Tennessee (Atlanta), @ Miami
Notes:The Wolfpack have been a team of highs and lows throughout this season. The season started out with a bad loss to Tennessee that was followed by three wins. A devastating last minute loss to Miami was followed by a last minute win at home against Florida State. State has been pretty good on defense. They are 34th in scoring defense, 24th in rushing defense and 58th in total defense. Offensively State is 34th in passing but 81st in rushing.
Opponent: South Carolina
Date:November 24
Location:Clemson
Overall Record:6-0
First Half Wins:@ Vanderbilt, East Carolina, UAB, Missouri, @Kentucky, UGA
First Half Losses:None
Notes:The Gamecocks are ranked third in the country and are coming off a huge win over Georgia. USC is ranked fourth in the country in scoring defense, nine in rushing defense and 11th in total defense. Offensively they have been a little above average. They are 45th rushing and 71st passing. The Gamecocks are 63rd in total offense. We will learn more about South Carolina over the next two weeks with trips to LSU and Florida.
The Brad Hughes All-State Insurance Agency
Prayer List
We have started a prayer list on the blog. Here are the guidelines:
If you are offended by prayer or prayer lists then I apologize in advance. The blog is free and the prayer list will be on the bottom of the page so you don't have to read it.
If you would like to add someone to the list please email me at mickeyplyler@hotmail.com
*Please let me know when it is appropriate to take the person off of the prayer list.
Those who need our prayers include:Finn Brookover, Mary-Louise Pawlowski (John's daughter), Jo Ann Bachman, Kenneth Bryant, Pruitt Martin, Got igers and his family, David Rowland, Leonard, Gillespie and his family, Jim S, Daniel Rosborough, The Huffman family, Nancy Winkler, John Reeve, Ethel Southard, Vinnie Brock, Kaitlyn L, Susan Miller, Joyce Harley, Steve Proveaux, Jeffrey Greene, the Hutto family, Sherl Drawdy, Caleb Kennedy, Teresa O'Connor, Matt Jacobs,Perrin Seigler, Candee Massee, Lindsey Jordan, Sam Catoe, Tyler Felch, the Nicolopulos family, "the Jacksonville, FL guys", Kim Sims, the Coyle family, Ryleigh Tedder, Steve Lee, Kelly Trakas, Jimmy Moore, the Thomas. V Family, Emary Claire Young, Kitty Bowers,Julie Locke, the Scheider family, Lauren Kittles' family, Frank Gentry, Joyce Bussey, Stacey McKeown, Dale Childs, Larry Lentz, Jr, Carl Sharperson, Scott Hannon, William Perry, Tyler Swaney, Lillian, Mark Feit, David Frame, Chad Berry, the family of Matthew M. Watson, the Dowis family, Shervin Messer, Alan Putnam, the Olivers, Lee Tate, Ronnie Abrams, Eddie Greene, the Jackson family, Bill Vader, Jim Taylor, Tina DeWitt, Rock Horne, Christopher Tuten, Bobby Wayne Thomas, Emma and Danielle Carothers, Robert Ditty, Mr. and Mrs. Murray Smith, Dot Cartee, Ayden Mills, Millie Heatley, Lynn Martin and family, Michael Pinson, Jake David family, Angie Crowley, Ira, Mike Tolson, Poly Wells, Dr. Muriel Bishop, Jack Cunningham, Emily Jefford Meister, Zachary Stoller, Aaron Clackum, Pat James, Cortney Moore, William Moore, Angelia and Savannah Anderson, William Ross, Meredith Legg, Scott Johns, Frank Carroll, Brandon Thompson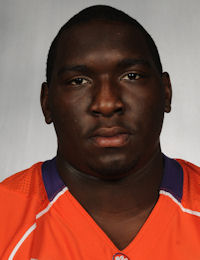 Brandon Thompson
Defensive Tackle
#98 6-2, 310
Thomasville, GA
View Full Profile , Alvin Sammons, Georgine McAlhaney, Glen Davis, Mike Price, Clay Childers, Aaron Knight, Danielle Johnston and family, Nicholas Abrams, Lana Kuykendall, Gary, Billy McLeroy, Gary G., William Huggins, Jim Bennett, Chantz Fowler, Ethel McElveen, Michele Gurganus, William Gentry, Lewis Usher and Tanya Sanders, Shon Cooper, Nick Collins, Travis Patterson, Nick Chrisley, Bud Long, Arthur R. Cressman Sr, Jennifer Chancy, Eden Chandler, Amanda Peake, Danny Hammond, Chip Turner, Nick Collins.