| | |
| --- | --- |
| Radakovich Radio Interview | |
---
Radakovich Radio Interview
We had new Clemson athletic director Dan Radakovich on my radio show this morning. Here is a transcript of the interview.
Mickey: How are you this morning?
Dan Radakovich: I'm doing great. A few things to wrap up here in Atlanta, so I wanted to get an early start today and take care of business here. I can't wait to make the move and get things rolling at Clemson.
MP: You're not wearing your new orange blazer at work today at Georgia Tech, are you?
DR: No, that stayed in Clemson, for sure.
MP: Some say you were the right-hand man to Nick Saban at LSU, what are some things you bring from that experience that will help you at Clemson?
DR: I think it would be a stretch to say I was the right-hand person to Nick, in all fairness. I did a lot of administrative liaison work with him and the football program, and I really enjoyed the time working with Nick. He is ultra-organized, very focused, obviously, on the task at hand, and working with him and observing him work really gave me a lot of education on how to pull together a staff and organize a staff and run a department and a program. So when I left LSU to come to Georgia Tech, there were a number of lessons that I took with me. The biggest thing about Coach Saban is that he is focused and he is laser-beamed on the task at hand, not looking ahead and not looking behind, but what's right immediately in front of you. Any time you're leading an organization or department within an organization, those are characteristics that are very important and things that I look for in people that work around me.
MP: What do you foresee are the similarities and differences from when you took over at Georgia Tech versus when you take over here at Clemson?
DR: Coming to Atlanta and beginning here at Georgia Tech, there were a number of immediate issues that needed attending to. That's not the case at Clemson. Terry Don and his staff have done a phenomenal job. They have a very, very good organization. It's going to be a little different in this transition because it will give me the opportunity to come in and get to know everybody and learn a little bit more about the Clemson culture—I know a little bit, but I certainly don't know enough—and then look strategically as to where we need to go as a program to get better over the next year to three years to five years to ten years.
MP: Since you worked with Bobby Robinson for a little while at Georgia Tech, have you talked to him about the job? Will he have any impact at all in your time here at Clemson?
DR: One of the things that I was fortunate to have when I came to Georgia Tech was Bobby right next door. Of course, he was an early riser, and we had the opportunity to have a significant number of conversations early in the morning before the workday got started. I consider him a very good friend. He gave me a lot of insights not only into athletic administration within the Atlantic Coast Conference, but key issues to be able to be able to move forward in the transitional period. I really look forward to spending time with Bobby now that I'll be a lot closer. He is the consummate professional and someone who is very well skilled and educated in not only the Clemson culture, but intercollegiate athletics as a whole. So he will be a valuable resource, and I'm really glad that Terry Don is going to stay there as well. It's going to be very good to have that type of institutional knowledge—many, many years of institutional knowledge—there as I transition.
MP: What is your impression of the three major sports head coaches at Clemson— Dabo Swinney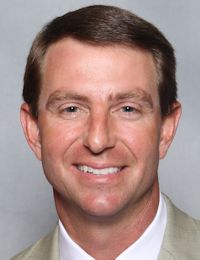 Dabo Swinney
Head Coach
View Full Profile , Brad Brownell
Brad Brownell
Head Coach
View Full Profile , and Jack Leggett
Jack Leggett
Baseball Head Coach
View Full Profile ?
DR: They are three different personalities, but they all have one thing in common. They compete like crazy. They are very, very good coaches. They all have different styles, but I think they work for their individual sports. It's part of their personality. I know you know this: You can't fake who you are. The people that you talked about are genuine. I think they bring different things to the table. One thing I do know is that they are very good at their craft. That was something that was very appealing to me as I looked at the job and talked to different people. Those are three very, very good coaches, and you want to be able to go into a circumstance that has good people.
MP: Will the timetable for improvements to the baseball and basketball facilities be sped up since the football facilities are in better shape? Also, is this a good time to borrow money to finish these projects?
DR: You have to keep up with facilities, there's no question. I think if you look at what we've done here in Atlanta, we've built an awful lot in a very short period of time utilizing the theory that gentleman just prescribed—historically low interest rates and the ability to have some philanthropic gifts come together. You also have very affordable construction prices right now. So that's going to be very early on on the to-do list, to see where we are with both of those projects and see if we can move forward with them sooner rather than later. But it's all going to depend on a number of factors as it relates to construction, borrowing, philanthropy, all of those things coming together to make sure we can get shovels in the ground and make sure we do it right. That's probably paramount on any question there as it relates to facilities—to make sure we build the right facility for Clemson University.
MP: What is your vision for Clemson baseball as a part of the athletic department during your tenure?
DR: Oh, it's critically important. I think Clemson baseball is one of the flagship programs within the athletic program, no question about it. I look forward to spending a lot of wonderful spring afternoons at Kingsmore Stadium.
MP: Can you talk about former Clemson basketball player Butch Zatezalo and how you were introduced to Clemson through him?
DR: Butch was from my same hometown, went to my same church. I knew his family. He was a hero for all of us young, aspiring athletes in my hometown. He was just a joy to watch and a wonderful man who left us way too early. One of the things I've learned, as I've worked at a few different institutions, is that there's a culture on how things work in hall of fames, and that's one that you have to learn. I don't think that's something for a new athletic director or a new coach to come in and do those kinds of things. I want to sit and listen and learn from the people that have been around Clemson their entire life. Certainly, it would be wonderful for that to happen, but there's time for that to happen as well.
MP: What will be your stance regarding aggressively keeping talented assistant coaches around?
DR: Well, you want to be able to keep the best and brightest for as long as you can. There's certainly a school of thought of making sure you go out and be aggressive. Schools do it in different ways. Having Coach Morris and Coach Venables on staff has been a priority for Dabo, and I think as those things remain priorities, we're going to do everything administratively to have that happen. That said, many times, assistant coaches aspire to be head coaches, and I think it's a great progression and a great compliment to your school—whether it's an associate athletic director, an assistant coach, etc.—for people to come in and say, 'Hey, you have good people there. We want to hire your people.' So I think that you have to be able to when you have highly paid and highly compensated people that are doing a phenomenal job. By the way, those two things don't always go hand-in-hand—highly paid individuals and a great job. But in this case, it certainly does. Both of these gentlemen are doing great work, so you want to make sure they are looking to whatever their next step is in their career, but you also have to understand what's next for Clemson University should they leave. You have to have a plan in place in case that happens.
MP: What are your thoughts, personally, about hosting Thursday night football games on Clemson's campus, given the success you had with it at Georgia Tech?
DP: That's a great question, and one that, quite honestly, I haven't given a whole lot of thought to yet. I really need to get onto campus and talk to the people there who are stakeholders in that type of a thing. When a Thursday night game comes to campus, and I'll just tell you a little bit about what happens here in Atlanta, it is an entire campus operation for it to come off successfully. It's not just isolated within the athletic program. It impacts the housing department, the parking areas, classes, food service—you can just run down the line, and it impacts everyone. It isn't just a decision that's made in one area of the university. It has to have the cooperation and the buy-in of many parts of the university. It's certainly a subject that needs to have some discussion, and we'll get to that at the proper time.
MP: What are your thoughts about the future playoff situation in college football?
DR: The course has been set, at least for the foreseeable future, with the four-team playoff through what may be or may not be known as the BCS. I was fortunate enough to be the athletic directors' representative to the BCS on behalf of the ACC and was involved over the last couple of years in pulling together what we see today. As you look at the landscape of college football, one of the things that we see is there is a continued evolution—from the Bowl Coalition to the Bowl Alliance to the BCS, and now the four-team playoff. History doesn't tell us that there's any reason why it doesn't continue to evolve, but it evolves at its own pace. It evolves when the decision-makers, those being the university presidents, give the conference commissioners and the television executives the nod to say, 'Okay, I think the time has come for us to go down the road and see where we need to be.' As I said, it's an evolving process, one where I think the nail has been hit squarely on the head with the four-team playoff and the expanded BCS model including the contracted bowl games with the Rose Bowl, the Orange Bowl, and the Champions Bowl between the Southeastern Conference and the Big 12. That's where we are right now, and I really think we're going to stay that way for the foreseeable future. I think we're going to look how it works. Once that gets into motion, we'll be able to make the next evolutionary change somewhere down the road.
MP: How open are you to potentially adding additional women's sports, like softball, somewhere down the road?
DR: I think you always have to look at that. First of all, you have to be compliant with Title IX. It's not a have-to, it's a want-to. Women's athletics are incredibly important to the overall chemistry and culture of an athletics program. An overall successful athletic program is really the goal of the athletic director and all of the people within the athletic administration. We need to look and see where the strengths are of Clemson University, and if there are any reasons to add sports or create more opportunities, then we'll certainly look at them.
MP: From a personality standpoint, you have been described as a ferocious competitor, what can Clemson expect from you?
DR: I think if you're in this business, you have to be that way. I think those are two different questions. As you look at preparing your department to be successful, I do that with as much zeal and zest as I can—making sure that people are doing their jobs, understand what their responsibilities are, and holding folks, myself included, accountable for doing those things. To be able to compete at the highest level, you have to have a little bit of good fortune moving your way to be ultimately successful. Preparation sometimes gives you that good fortune, so we try to be as prepared as possible. As it relates to being out front, if that's part of the job, then I'll do it. I look forward to meeting so many of the Clemson folks because they are our investors in this program. The program doesn't move ahead without the great people who support Clemson University. I'm looking forward to meeting so many of those people, listening to them, and seeing how we can make Clemson University athletics the best it can be.
The Brad Hughes All-State Insurance Agency
Prayer List
We have started a prayer list on the blog. Here are the guidelines:
If you are offended by prayer or prayer lists then I apologize in advance. The blog is free and the prayer list will be on the bottom of the page so you don't have to read it.
If you would like to add someone to the list please email me at mickeyplyler@hotmail.com
*Please let me know when it is appropriate to take the person off of the prayer list.
Those who need our prayers include:Finn Brookover, Mary-Louise Pawlowski (John's daughter), Jo Ann Bachman, Kenneth Bryant, Pruitt Martin, Got igers and his family, David Rowland, Leonard, Gillespie and his family, Jim S, Daniel Rosborough, The Huffman family, Nancy Winkler, John Reeve, Ethel Southard, Vinnie Brock, Kaitlyn L, Susan Miller, Joyce Harley, Steve Proveaux, Jeffrey Greene, the Hutto family, Sherl Drawdy, Caleb Kennedy, Teresa O'Connor, Matt Jacobs,Perrin Seigler, Candee Massee, Lindsey Jordan, Sam Catoe, Tyler Felch, the Nicolopulos family, "the Jacksonville, FL guys", Kim Sims, the Coyle family, Ryleigh Tedder, Steve Lee, Kelly Trakas, Jimmy Moore, the Thomas. V Family, Emary Claire Young, Kitty Bowers,Julie Locke, the Scheider family, Lauren Kittles' family, Frank Gentry, Joyce Bussey, Stacey McKeown, Dale Childs, Larry Lentz, Jr, Carl Sharperson, Scott Hannon, William Perry, Tyler Swaney, Lillian, Mark Feit, David Frame, Chad Berry, the family of Matthew M. Watson, the Dowis family, Shervin Messer, Alan Putnam, the Olivers, Lee Tate, Ronnie Abrams, Eddie Greene, the Jackson family, Bill Vader, Jim Taylor, Tina DeWitt, Rock Horne, Christopher Tuten, Bobby Wayne Thomas, Emma and Danielle Carothers, Robert Ditty, Mr. and Mrs. Murray Smith, Dot Cartee, Ayden Mills, Millie Heatley, Lynn Martin and family, Michael Pinson, Jake David family, Angie Crowley, Ira, Mike Tolson, Poly Wells, Dr. Muriel Bishop, Jack Cunningham, Emily Jefford Meister, Zachary Stoller, Aaron Clackum, Pat James, Cortney Moore, William Moore, Angelia and Savannah Anderson, William Ross, Meredith Legg, Scott Johns, Frank Carroll, Brandon Thompson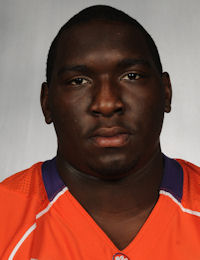 Brandon Thompson
Defensive Tackle
#98 6-2, 310
Thomasville, GA
View Full Profile , Alvin Sammons, Georgine McAlhaney, Glen Davis, Mike Price, Clay Childers, Aaron Knight, Danielle Johnston and family, Nicholas Abrams, Lana Kuykendall, Gary, Billy McLeroy, Gary G., William Huggins, Jim Bennett, Chantz Fowler, Ethel McElveen, Michele Gurganus, William Gentry, Lewis Usher and Tanya Sanders, Shon Cooper, Nick Collins, Travis Patterson, Bud Long, Arthur R. Cressman Sr, Jennifer Chancy, Eden Chandler, Amanda Peake, Danny Hammond, Chip Turner, Nick Collins, Allen Steen, The Sturkey Family, James Caylor, Ron Johnson, John Ellis Haddad, the Lance family, Marcus Lattimore, Nick Chrisley's family, Allison Williams, Lt. Kyle Walker, Summer and Joel Johnson, Nicole O'Donnell.

Upgrade Your Account
Unlock premium boards and exclusive features (e.g. ad-free) by upgrading your account today.
Upgrade Now