---
Bill McLellan
Clemson lost another legend Monday when former athletic director Bill McLellan passed away at the age of 81.  McLellan served Clemson for over 30 years, including 14 years as Director of Athletics.
I didn't know Mr. McLellan well, but I have known his brother, his niece and his nephew for 30 years and have always had a tremendous amount of respect for McLellan.
At lunch yesterday we received the news.  I was eating with two gentlemen who knew him well.  
"Bill is the main reason Clemson athletics is where it is today," one said.  "He was a great leader.  If you wanted anything done around Clemson, Bill was the man to see."
The man added the team of Dr. R.C. Edwards and McLellan were a powerful duo that got things accomplished.  
"Bill had a great relationship with Dr. Edwards.  He had Dr. Edwards' trust, so if he needed anything and it didn't get done then the person standing in the way was sure to get a call from Dr. Edwards.  There were no committees.  Bill was the power.  He knew what he wanted and he made it happen."
McLellan brought Memorial Stadium to an 80,000 seat structure.  He knew that facilities were important and he upgraded many around the athletic department.
"Bill McLellan was a visionary," one former athletic department employee told me yesterday.  "He knew what he wanted but more importantly, he knew how to get things done.  A lot of people have no idea how powerful Bill McLellan was."
McLellan made one of the most important hires in Clemson athletic history when he hired head coach Danny Ford
Danny Ford
Former Head Coach
View Full Profile .  Coach Ford and McLellan remained close through the years.  Under McLellan the football program won the 1981 National Championship, the school's first national title in any sport.  Clemson ranked in the top 20 in the nation five times and won three ACC Championships (1978, 1981 and 1982) during McLellan's time at Clemson.
"Bill was a lot like [George] Steinbrenner," one friend told me.  "He wanted to win and gave his coaches what he thought they needed to be successful.  He was hard on his coaches but he was fair.  He was a coach's best friend because they were given a lot but also a lot was expected of them."
McLellan served as Clemson Director of Athletics from 1971-85.   During this time Clemson won 34 ACC Championships in nine different sports.  The program was especially successful from 1978-85, when Clemson had 45 top 25 teams and 27 ACC championships.
The program had a national top-five, all-sports ranking four times between 1978-83, including all-time best rankings for the 1979-80 academic years.  That year Clemson reached the Elite Eight of the NCAA Basketball Tournament in its first appearance, went to the College World Series and carried the football team to the Peach Bowl.
McLellan built both upper decks in Memorial Stadium and included luxury boxes, which was unheard of at the time.  Last May the upper deck on the North side of the stadium was named in his honor.
"Look around Clemson today and you will see Bill's vision in athletics," said one for colleague.  "Bill was a great Clemson man and it would be hard to imagine what Clemson would have been like without his dedication and service to Clemson."
McLellan was a member of the Clemson football team from 1951-54.  He was on the 1952 Gator Bowl team and lettered in 1953 and 1954.  He graduated from Clemson in 1954 and earned a Masters in 1956.
McLellan received the Clemson Alumni Distinguished Service Award in 1982.   He was inducted into the Clemson Athletic Hall of Fame in 1993.  This past May he was inducted into the South Carolina Athletic Hall of Fame.
A memorial service will be held at noon on Thursday in the Sanctuary of First Presbyterian Church, Greenville.
The family will receive friends from 10:30 to 11:45 a.m. Thursday in the Parlor of First Presbyterian Church Greenville prior to the service.
A graveside committal service will be held in Woodland Cemetery, "Cemetery Hill," on the campus of Clemson University at 3 p.m. Thursday.
The family will receive friends immediately following the committal service in the Tiger Den at Memorial Stadium in Clemson.
Flowers will be accepted or memorials may be made to the Bill McLellan Memorial IPTAY Scholarship Fund, P.O. Box 1529, Clemson, SC 29633.
Condolences may be expressed online at www.robinsonfuneralhomes.com or at Duckett-Robinson Funeral Home, Central, SC.
The Brad Hughes All-State Insurance Agency
Prayer List
We have started a prayer list on the blog.  Here are the guidelines:
If you are offended by prayer or prayer lists then I apologize in advance.  The blog is free and the prayer list will be on the bottom of the page so you don't have to read it.
If you would like to add someone to the list please email me at mickeyplyler@hotmail.com
*Please let me know when it is appropriate to take the person off of the prayer list.
Those who need our prayers include: Finn Brookover, Jo Ann Bachman, Kenneth Bryant, Pruitt Martin, Got Igers and his family, David Rowland, Leonard, Gillespie and his family, Jim S., Daniel Rosborough, the Huffman family, Nancy Winkler, John Reeve, Vinnie Brock, Kaitlyn L., Susan Miller, Joyce Harley, Steve Proveaux, Jeffrey Greene, the Hutto family, Sherl Drawdy, Caleb Kennedy, Teresa O'Connor, Matt Jacobs, Perrin Seigler, Candee Massee, Lindsey Jordan, Sam Catoe, Tyler Felch, the Nicolopulos family, "the Jacksonville, FL guys," Kim Sims, the Coyle family, Ryleigh Tedder, Steve Lee, Kelly Trakas, Jimmy Moore, the Thomas V. family, Emary Claire Young, Kitty Bowers, Julie Locke, the Scheider family, Lauren Kittles' family, Frank Gentry, Joyce Bussey, Stacey McKeown, Dale Childs, Larry Lentz, Jr., Carl Sharperson, Scott Hannon, William Perry, Tyler Swaney, Lillian, Mark Feit, David Frame, Chad Berry, the family of Matthew M. Watson, the Dowis family, Shervin Messer, Alan Putnam, the Olivers, Lee Tate, Ronnie Abrams, Eddie Greene, the Jackson family, Bill Vader, Jim Taylor, Tina DeWitt, Rock Horne, Christopher Tuten, Bobby Wayne Thomas, Emma and Danielle Carothers, Robert Ditty, Mr. and Mrs. Murray Smith, Dot Cartee, Ayden Mills, Millie Heatley, Lynn Martin and family, Michael Pinson, Jake David family, Angie Crowley, Ira, Mike Tolson, Poly Wells, Dr. Muriel Bishop, Jack Cunningham, Emily Jefford Meister, Zachary Stoller, Aaron Clackum, Pat James, Cortney Moore, William Moore, Angelia and Savannah Anderson, William Ross, Meredith Legg, Scott Johns, Frank Carroll, Brandon Thompson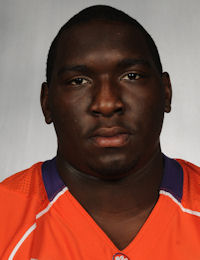 Brandon Thompson
Defensive Tackle
#98 6-2, 310
Thomasville, GA
View Full Profile , Alvin Sammons, Georgine McAlhaney, Glen Davis, Mike Price, Clay Childers, Aaron Knight, Danielle Johnston and family, Nicholas Abrams, Lana Kuykendall, Gary, Gary G., William Huggins, Jim Bennett, Chantz Fowler, Ethel McElveen, Michele Gurganus, William Gentry, Lewis Usher and Tanya Sanders,  Shon Cooper, Nick Collins, Amanda Peake, Danny Hammond, Chip Turner, Nick Collins, Allen Steen, the Sturkey family, the Lance family, Nick Chrisley's family, Allison Williams, Lt. Kyle Walker, Summer and Joel Johnson, Nicole O'Donnell, James O. Johnson, Joy Pruett and family, Bill Schmidt, Jack Bailey, Gardner Family, Charles Turner, Kathy Bartholomew, Ray Sanders, David and Robin Blocker, J.R. Ray, Kenneth Kowe, Lauren Sielicki, Doug Bailey and family, Jenna Phipps, Mark Lawrence, Harlan Sullins, Peter Laboy, Kat and Carlisle Jones, Elizabeth Galloway and family, Anita McDonald, Willard Harryman, Liz Surratt, Molly Senn, Jackie Shearer, Richard Sellers, Tim Drisdelle, Edward Easterling, Dawson Bourne, Susan and Mike Brown, Julie Goodman Marshall, Willard and Dorothy Harryman, Justin Jernigan, Jack  Cunningham,  Mia Daughtery, Tee Senn, Jim Lanier, Bob Garrett, and our great country and the men and women in uniform that protect and serve it every day, plus their families.

Upgrade Your Account
Unlock premium boards and exclusive features (e.g. ad-free) by upgrading your account today.
Upgrade Now