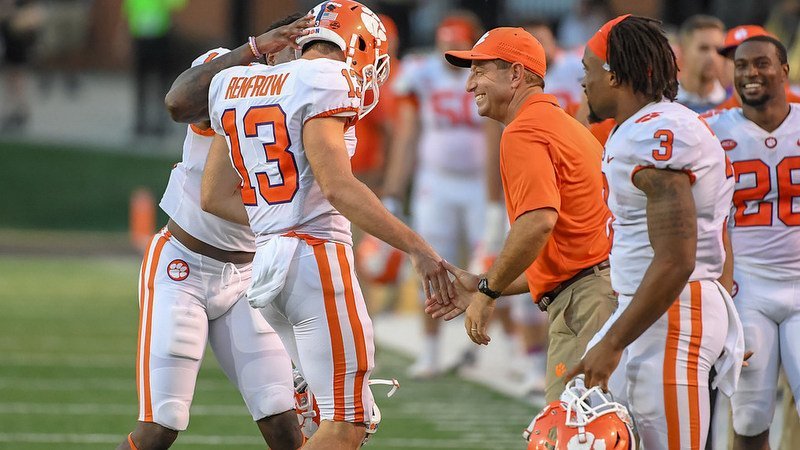 | | |
| --- | --- |
| Swinney on Hunter Renfrow's wedding: "It was awesome" | |
---
| | | |
| --- | --- | --- |
| Monday, April 15, 2019, 7:04 PM | | |
Former Clemson receiver Hunter Renfrow married his high school sweetheart Camilla in front of their family and friends on Saturday.
Clemson head coach Dabo Swinney was able to attend the wedding honoring the young couple and gave some highlights of the wedding to the media on Monday evening.
"It was awesome, he said. "I had a great time down there. I'd never been to Debby-Do (Debordieu Colony, S.C.). I thought that was a city. I didn't know it was a place. Not an easy place to get to though I'll tell you that. It's definitely off the beaten path, but it was a lot of fun."
Swinney was able to spend some quality time with some of the people attending the wedding.
"I got a chance to play golf with a bunch of the guys and the cool thing for me, it was a beautiful wedding, really happy for him and Camie," he said. "Everything just went awesome the way you would hope it to go because it was an outside wedding because you never know what is going to happen with the weather. The cool thing for me was seeing so many of his teammates. Lot of the seniors for this year were there that obviously he was classmates with and several of the former players were back. That was pretty cool."
Swinney grabbed some cherished mementos at the wedding including a picture with Deshaun Watson alongside Renfrow and then a photo of two talented signal-callers together (Watson and Trevor Lawrence).
"It was pretty neat to me, I got a chance to get a picture with Deshaun and Renfrow -- 4 and 13 on 4/13," he smiled. "That was a pretty cool picture and I got a neat picture with Trevor and Deshaun. It was like a little family reunion. We had a good time. We cut a rug dancing a little bit and came back yesterday."
Together at last?? pic.twitter.com/dLH8TEY4jT

— Camilla Renfrow (@camillamrenfrow) April 15, 2019
How many people have two National Championship QBs come to their wedding? Congrats to Hunter and Camilla Renfrow?? #ClemsonFamily #413 pic.twitter.com/TQTmf8EAAV

— Coach Jeff Scott (@coach_jeffscott) April 13, 2019