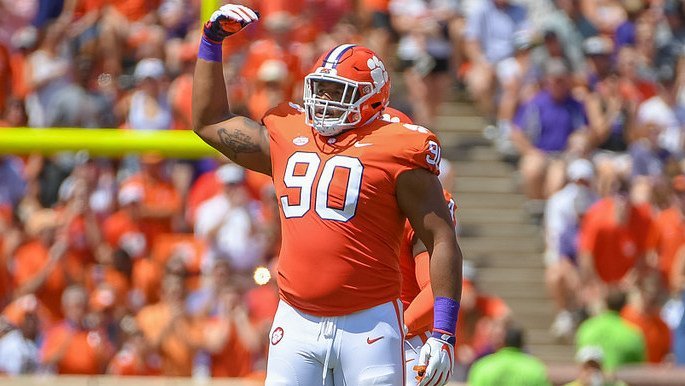 | | |
| --- | --- |
| Lawrence drafted by Giants, setting Clemson 1st-round pick record | |
---
| | | |
| --- | --- | --- |
| Thursday, April 25, 2019, 10:17 PM | | |
Former Clemson defensive tackle Dexter Lawrence was selected by the New York Giants with the No. 17 overall pick, marking a school record with three first-round selections on the night.
He joins D-line teammates in the first round with No. 4 overall pick Clelin Ferrell (Oakland Raiders) and No. 13 overall pick Christian Wilkins (Miami Dolphins).
"Their belief, first of all," Clemson coach Dabo Swinney said of what guided the special night on an ABC broadcast. "Their willingness to put the work in. I'm big into numbers and Philippians 4:13 says 'I can do all things through Christ who strengthens me.' '4' and '13' and 4+13 is '17'...They came back to make a statement and I don't know of any better way to do it. They are great young men and it's a special night for them and their families. I'm so happy for them."
It's only the second-time since the AFL-NFL merger that three from one position group were selected in the first round (2006 NC State DL the other).
Lawrence is slated for a $13.2 million contract with a $7.6 million signing bonus per Spotrac.
Lawrence was rated as high as the No. 21 overall prospect and the No. 5 defensive lineman by CBS Sports with projections as high as the top-20 and 30 range and also some in the second round.
"Dave Gettleman loves the big hog-mollies and he got the biggest," NFL Network analyst Daniel Jeremiah said. "At 342 pounds, a dominant run defender - in the pass game he is going to be more of a push-the-pocket style...This guy ran just over 5-flat (seconds) in the 40 before he pulled up before the finish line at the combine. He can generate that push."
The Wake Forest, North Carolina product earned All-American honors each of the last two seasons and was a freshman All-American as well.
Lawrence missed action due to injury as a sophomore and was suspended for the final two games of his junior campaign, tallying 162 tackles (20 for loss), 11 sacks, 43 QB pressures and five pass breakups over 36 starts (40 games).
He joins former Clemson running back Wayne Gallman and former Clemson LB BJ Goodson on the roster. Lawrence was a second first-round selection for the Giants after they picked former Duke QB Daniel Jones at No. 6.
@Giants Y'all got a winner!! Ready to work!! #LawrenceII #GoGiants #BigApple

— Dexter Lawrence II (@llawrence2139) April 26, 2019
Members of the Armed Forces announce the selection of Dexter Lawrence with the 17th pick in the #NFLDraft! ???? pic.twitter.com/X4yesNfdY7

— New York Giants (@Giants) April 26, 2019
BIG DEX!!!! #ClemsonNFL #DLU

— Coach Jeff Scott (@coach_jeffscott) April 26, 2019
BIG DEX!! #allin #TigerForLife #ClemsonFamily #ClemsonAlumni https://t.co/4KUfvGLKYt

— Clemson Alumni Assoc (@ClemsonAlumni) April 26, 2019
Hey Dex. pic.twitter.com/7E4tJfBJn8

— Clemson Football (@ClemsonFB) April 26, 2019
A THIRD @ClemsonFB defensive lineman off the board after the @Giants select Dexter Lawrence with the 17th overall pick!#ACCFootball #ALLIN #NFLDraft pic.twitter.com/sQGQHeNnqP

— ACC Football (@ACCFootball) April 26, 2019
?? He's the last of the 'Clemson three' to go, the G-Men want that D-O...The Empire State wants to celebrate. Will he be the one to make them great? ??#NFLDraft | #GiantsDraft | #NYGiants | #DexterLawrence pic.twitter.com/vlXZylbagw

— Pick Six Podcast (@picksixpod) April 26, 2019
Dexter Lawrence was a consistent force for the Clemson Tigers during his time. He adds a big-time presence on the NYG D-Line. #NFLDraft pic.twitter.com/q3zAbZM2Xm

— Pro Football Focus (@PFF) April 26, 2019
Pick 4: Clelin Ferrell
Pick 13: Christian Wilkins
Pick 17: Dexter Lawrence@ClemsonFB GOT HORSES IN THE BACK ?? pic.twitter.com/74rWZf1Hyo

— ACC Network (@accnetwork) April 26, 2019
DT Dexter Lawrence: "I feel like my game is very powerful, non-quit, effort kind of guy....I grew up a New York Giant fan. (My goal) is to challenge the d-line to be the greatest unit in the world." Says he does consider himself a pass rusher. "I just gotta unlock it."

— Kimberly Jones (@KimJonesSports) April 26, 2019
DT Dexter Lawrence: "I feel like my game is very powerful, non-quit, effort kind of guy....I grew up a New York Giant fan. (My goal) is to challenge the d-line to be the greatest unit in the world." Says he does consider himself a pass rusher. "I just gotta unlock it."

— Kimberly Jones (@KimJonesSports) April 26, 2019
New Giants DT Dexter Lawrence: "I grew up a New York Giants fan so it was just a great moment.''

— Paul Schwartz (@NYPost_Schwartz) April 26, 2019
Dexter Lawrence third Clemson player drafted in first round by Giants joining Lou Cordileone (1960) and Terry Kinard (1983).

— Tim Bourret (@TimBourret) April 26, 2019
Gettleman on DT Dexter Lawrence: This kid can push the pocket and can impact in the pass rush. He's versatile.

— New York Giants (@Giants) April 26, 2019