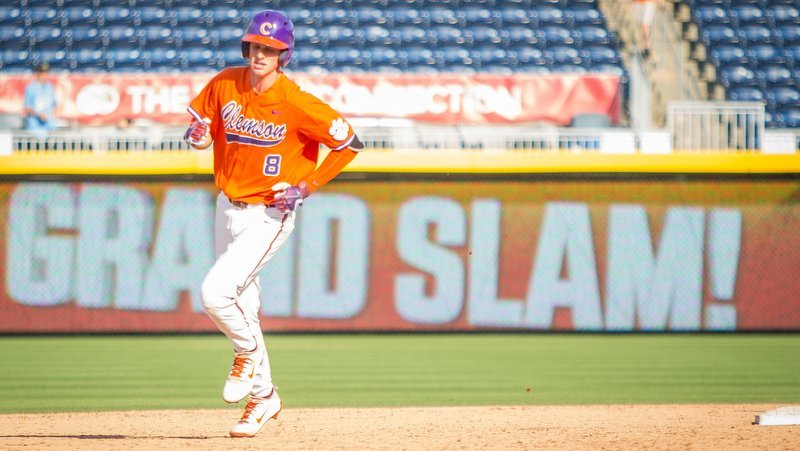 | | |
| --- | --- |
| Clemson shortstop named to Golden Spikes watch list | |
---
| | | |
| --- | --- | --- |
| Thursday, February 7, 2019, 3:38 PM | | |
CLEMSON, S.C. - Clemson junior shortstop Logan Davidson (Charlotte, N.C.) was one of 55 players named to the Golden Spikes Award preseason watch list on Thursday. The award is presented each year by USA Baseball to the national player-of-the-year. The two-time All-ACC Academic selection has 27 doubles, 27 homers, 87 RBIs, 116 runs and 20 steals in his first two seasons as a Tiger.
As a sophomore in 2018, he was named a third-team All-American by Baseball America and Second-Team All-ACC selection. He hit .292 with 60 runs, 18 doubles, 15 homers, 46 RBIs, a .408 on-base percentage and 10 steals in 63 games, as he led the team in hits (73), doubles and steals. He also committed only eight errors as the everyday shortstop, good for a stellar .971 fielding percentage, the second-highest figure by a Tiger shortstop in history.
In 2017, Davidson was a first-team freshman All-American by D1Baseball and Perfect Game who hit .286 with 12 homers and 41 RBIs. He became the first Tiger shortstop to hit double-digit home runs in a season since 2007 (Taylor Harbin).
Amateur baseball fans will be able to vote for their favorite players at GoldenSpikesAward.com again in 2019, starting on May 15 with the naming of the Golden Spikes Award semifinalists. The list of semifinalists will also be sent to a voting body consisting of baseball media members, select professional baseball personnel, current USA Baseball staff and 40 previous winners of the award, representing a group of more than 200 voters.
The Tigers begin the 2019 season on Feb. 15 at 4 p.m., against South Alabama at Doug Kingsmore Stadium.
Golden Spikes preseason watch list
Name, Position, Class, School, Conference
Kevin Abel, RHP, So., Oregon State, Pac-12 Conference
Patrick Bailey, C, So., NC State, Atlantic Coast Conference
J.J. Bleday, OF, Jr., Vanderbilt, Southeastern Conference
Cody Bradford, LHP, Jr., Baylor, Big 12 Conference
Kyle Brnovich, RHP, Jr., Elon, Colonial Athletic Association
Tanner Burns, RHP, So., Auburn, Southeastern Conference
Michael Busch, IF, Jr., North Carolina, Atlantic Coast Conference
Matt Canterino, RHP, Jr., Rice, Conference USA
Cameron Coursey, IF, So., Georgia Gwinnett, Association of Independent Institutions
Matt Cronin, LHP, Jr., Arkansas, Southeastern Conference
Wil Dalton, OF, Jr., Florida, Southeastern Conference
Logan Davidson, IF, Jr., Clemson, Atlantic Coast Conference
John Doxakis, LHP, Jr., Texas A&M, Southeastern Conference
Tyler Dyson, RHP, Jr., Florida, Southeastern Conference
Tristin English, RHP/IF, Jr., Georgia Tech, Atlantic Coast Conference
Mason Feole, LHP, Jr., Connecticut, American Athletic Conference
Zack Hess, RHP, Jr., LSU, Southeastern Conference
Will Holland, IF, Jr., Auburn, Southeastern Conference
Kolton Ingram, LHP, Sr., Columbus State, Peach Belt Conference
Josh Jung, IF, Jr., Texas Tech, Big 12 Conference
George Kirby, RHP, Jr., Elon, Colonial Athletic Association
Heston Kjerstad, OF, So., Arkansas, Southeastern Conference
Russell Lamovec, RHP, Sr., Mercyhurst, Great Midwest Athletic Conference
Shea Langeliers, C, Jr., Baylor, Big 12 Conference
Jack Little, RHP, Jr., Stanford, Pac-12 Conference
Nick Lodolo, LHP, Jr., TCU, Big 12 Conference
Jake Mangum, OF, Sr., Mississippi State, Southeastern Conference
Alek Manoah, RHP, Jr., West Virginia, Big 12 Conference
Casey Martin, IF, So., Arkansas, Southeastern Conference
Drew Mendoza, IF, Jr., Florida State, Atlantic Coast Conference
Max Meyer, RHP, So., Minnesota, Big 10 Conference
Kameron Misner, OF, Jr., Missouri, Southeastern Conference
Sean Mooney, RHP, Jr., St. John's, Big East Conference
Bryant Packard, OF, Jr., East Carolina, American Athletic Conference
Andre Pallante, RHP, Jr., UC Irvine, Big West Conference
Drew Parrish, LHP, Jr., Florida State, Atlantic Coast Conference
Nick Quintana, IF, Jr., Arizona, Pac-12 Conference
Adley Rutschman, C, Jr., Oregon State, Pac-12 Conference
Mitchell Senger, LHP, Jr., Stetson, ASUN Conference
Noah Song, RHP, Sr., Navy, Patriot League
Graeme Stinson, LHP, Jr., Duke, Atlantic Coast Conference
Bryson Stott, IF, Jr., UNLV, Mountain West Conference
Kyle Stowers, OF, Jr., Stanford, Pac-12 Conference
Kevin Strohschein, OF, Sr., Tennessee Tech, Ohio Valley Conference
Chase Strumpf, IF, Jr., UCLA, Pac-12 Conference
Zack Thompson, LHP, Jr., Kentucky, Southeastern Conference
Michael Toglia, IF, Jr., UCLA, Pac-12 Conference
Spencer Torkelson, IF, So., Arizona State, Pac-12 Conference
Dan Valerio, UT, Sr., Southeastern, The Sun Conference
Andrew Vaughn, IF, Jr., California, Pac-12 Conference
Matt Wallner, OF, Jr., Southern Miss, Conference USA
Will Wilson, IF, Jr., NC State, Atlantic Coast Conference
Bobby Witt Jr., SS/RHP, Sr., Colleyville High School, District 8-5A
Logan Wyatt, IF, Jr., Louisville, Atlantic Coast Conference
Kenyon Yovan, RHP, Jr., Oregon, Pac-12 Conference