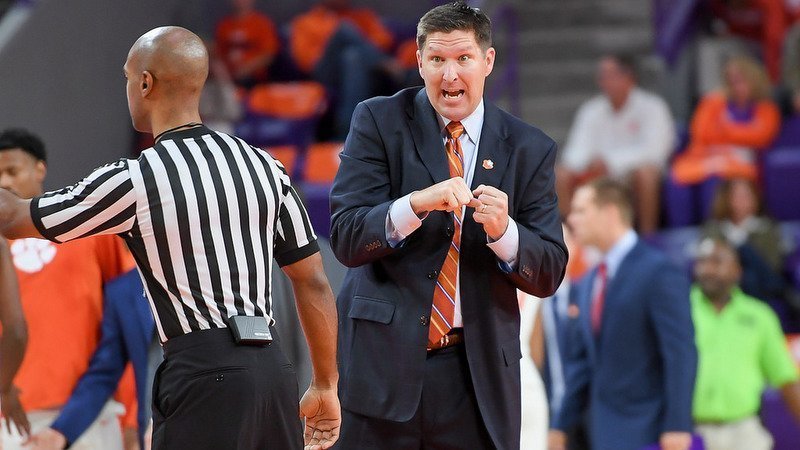 | | |
| --- | --- |
| Clemson gives up 19 3-pointers in loss to No. 22 Mississippi State | |
---
| | | |
| --- | --- | --- |
| Saturday, December 8, 2018, 6:30 PM | | |
Clemson (6-3) was downed 82-71 by No. 22 Mississippi State in the Never Forget Tribute Classic in Newark, New Jersey on Saturday.
The Tigers allowed Mississippi State to shoot a school record 19 three-pointers (out of 30) during the game. Coming into the game, the Bulldogs were only shooting long range at a 32% clip but it was raining three-point buckets throughout the contest. Lamar Peters had a huge night with a career-high 28 points including eight threes, 2 rebounds, and five assists. In contrast, Clemson only made six threes on the evening.
Clemson was shorthanded without the services of their leading scorer Marcquise Reed who is currently battling a sprained MCL.
Elijah Thomas was solid inside with an impressive 18 point and 8 rebound performance. Aamir Simms showed some of his offensive potential with a career-high 23-points.
Clemson will next host Radford next Saturday, Dec 15 at 3 p.m. at Littlejohn Coliseum.
Notes: Aamir Simms scored a career-high 23 points … Simms' nine made field goals were a career-best … Simms also knocked down four triples in the contest which served as a career-high … Elijah Thomas netted a season-high 18 points … Thomas' eight made field goals were a season-high … Thomas swatted a season-high three shots … Thomas now has five blocks in his last two games … Shelton Mitchell posted a season-high seven assists in the contest … Trey Jemison scored his first career points – both coming from the foul line.