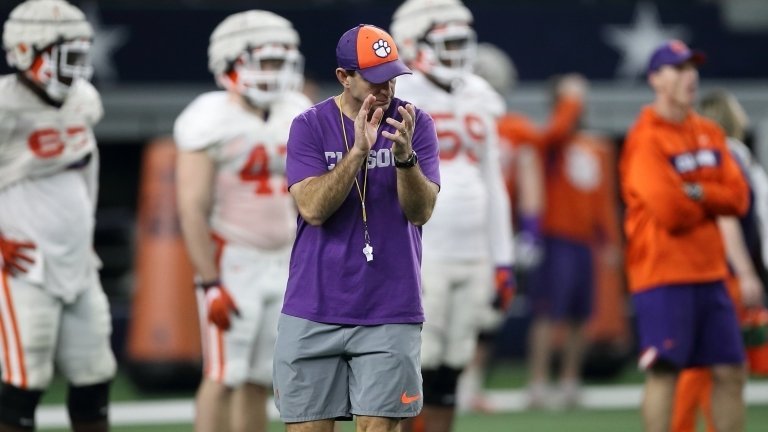 | | |
| --- | --- |
| Tuesday Scrimmage Insider: Tigers battle triple-digit heat index in Death Valley | |
---
| | | |
| --- | --- | --- |
| Tuesday, August 13, 2019, 2:16 PM | | |
CLEMSON – Clemson head coach Dabo Swinney is pushing his team to the limit.
Fourteen hours after pulling his team off the practice fields at Jervey Meadows Monday evening, the Tigers were in Memorial Stadium for a situational scrimmage in which the heat index soared into the triple digits.
"It was good. Today was situations, and we got done what we needed to get done. Very competitive," Swinney said. "I thought we got better from the other day. We did downs and fourth-and-goal and two minute and created all the situations we needed to get some work on. There were some very big plays early. That would probably be the biggest thing I saw carry over from the other day. I didn't think during the first down competition our defense was ready, they didn't start well. There were some big plays and then they settled in and had a big day outside of a couple of moments.
"Offensively, we hit some plays early and ran the ball well and then we were just ok. We got done what we needed to get done, and then we finished with a lot of last play stuff and finished with different two-minute situations, a field goal to win it and a touchdown to win it. And then we did last plays of the game - last from the 30, last play from the 15, last play from the five, last second on the clock. Just trying to grow our team and grow our intelligence and keep building. I am excited to see how we played."
There were big plays by both the offense and the defense.
"We had a few more sacks today and a few more tackles for loss. We did have an interception and had a scoop score off a bad snap - K'von (Wallace) scooped one up and scored," Swinney said. "There were some good plays - had a 70-yard touchdown run by Dukes, a 70-yard touchdown catch by Cornell. There were some big plays and we have to keep challenging them to get better. They have to show that they care by taking ownership and applying it and getting better."
Other notes
*There was a 107-degree heat index inside the stadium during the scrimmage. (In other words, every September and most October home games these days).
*BT Potter hit a 51-yard field goal to win the "game" during a two-minute scenario.
*Swinney said that QB Taisum Phommachanh has been a bright spot in camp.
*The run defense has been solid but sporadic, not as consistent as Swinney would like.
*Xavier Kelly had his best practice since he's been here on Monday. Kelly had a sack today in the scrimmage.
*Swinney continues to gush about left tackle Jackson Carman. He said Carman came to camp in great shape and is one of the smartest players on the team.
*Offensive lineman Matt Bockhorst is making a name for himself in camp. Swinney said that Bockhorst is playing like a guy that wants a starting job. He said Bockhorst has made the biggest impression in camp.
*Cade Stewart and Blake Vinson rolled their ankles and have missed the last few days.
*Derion Kendrick was not back but is doing better. He will probably practice Wednesday. However, Kendrick had a high school teammate killed in a car wreck and probably won't participate in Thursday's scrimmage.
*Kendrick will likely be the starting punt returner, with Will Swinney and Mikey Dukes pushing.