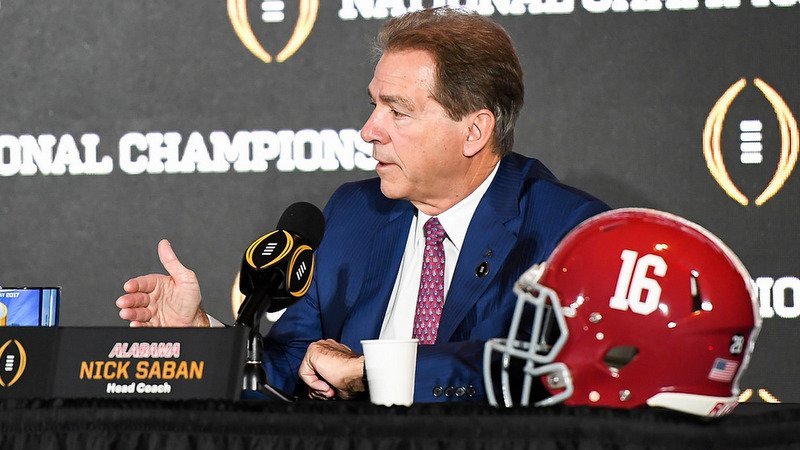 | | |
| --- | --- |
| Is Alabama tight? Crimson Tide determined to not have any fun in New Orleans | |
---
| | | |
| --- | --- | --- |
| Thursday, December 28, 2017, 12:52 PM | | |
Photo Gallery: Sugar Bowl Practice #1
NEW ORLEANS, LA – No. 4 Alabama is determined to not have any fun at this year's Sugar Bowl.
The Crimson Tide face off against No. 1 Clemson in the Allstate Sugar Bowl on New Year's Day, and while Clemson head coach Dabo Swinney said he would defer to his team leaders when it comes to having fun and keeping everybody in line, Alabama head coach Nick Saban has a different tact.
For Alabama, fun isn't found on Bourbon Street or in any of the activities designed to reward teams after a long season. The fun only happens if you win, and with that in mind, Alabama is determined to not have fun in the days leading up to the game.
In fact, more than one media member mentioned Thursday that Alabama appeared to be a little tight while Clemson's players were all smiles.
Alabama's mood starts with its head coach.
"Well when we came to the first game four years ago we were trying to balance the bowl experience with the whole playoff experience not having ever done that before," Saban said. "Our players make the decisions about curfew and what they do and how they do it. I give the leadership on the team the opportunity to do that. Each passing year they have been more serious about the game and less interested in the bowl experience. They have experienced consequences in the game, good consequences, and bad consequences.
"I think they understand that after going through the experience as I do, the fun of it all is having success. The fun of it all is winning the game and no matter what you do, you do not remember all the things that you did but you always remember whether you won or lost the game. That has changed a little bit with our players, which does not disappoint me at all. I would love to see them have a good time and be rewarded for having a great season but the playoffs have significant consequences. The opportunity that you have really does not afford itself. The two [having a good time and the outcome] do not fit together that well."
Running back Damien Harris was very pointed in his comments.
"It's tough but you have to separate the experience from what we came here to do," Harris said. "We didn't come here to have fun in New Orleans. There are a lot of things to get into but we're just focused on playing Clemson in another great game on January 1st.
"I don't think two years from now I'm going to remember what I did on Bourbon Street at 1:00 a.m. I'm going to remember did I win or did I lose against Clemson."
In other words, they want to be Alabama and nothing else matters.
"We just want to play Alabama football," Harris said. "We're not really worried about what people in the outside world think. We know that a lot of people just don't like us because we're Alabama, but at the end of the day, that doesn't really bother us. We're going to practice the same way, prepare the same way and we're going to get ready to play our best football on January 1st."
Offensive lineman Jonah Williams answered most of his questions with to-the-point answers, and he echoed Saban's comments.
"I do (agree with Coach Saban). I said previously that it's not what we're here," Williams said. "New Orleans is a very lively city. It's a good time, but we're not here for that. We're here to play a football game, so I think that's how we all look at it."
Quarterback Jalen Hurts was of the same mindset.
"We earned our way out here to be together and to be able to enjoy New Orleans and do all of the great things New Orleans has to offer, but at the end of the day we want to come here and compete," Hurts said. "We're here for a game and we understand that as a team."

Upgrade Your Account
Unlock premium boards and exclusive features (e.g. ad-free) by upgrading your account today.
Upgrade Now