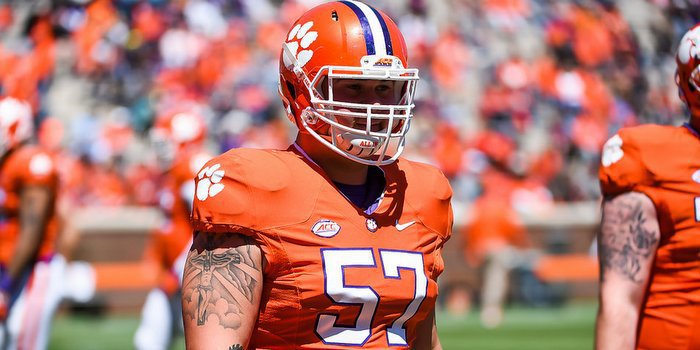 | | |
| --- | --- |
| Guillermo says fights a normal part of August camp | |
---
| | | |
| --- | --- | --- |
| Thursday, August 18, 2016, 7:01 AM | | |
CLEMSON – Jay Guillermo says verbal and physical altercations are a normal part of August practice, even more so when the temperatures soar and tempers get short.
Welcome to life in the trenches.
The senior center out of Maryville, TN, missed most of last week's practice with a concussion, but returned to the field this week as the Tigers prepare to take on Auburn in the season opener. Guillermo says team doctors followed concussion protocol before allowing him to return to practice.
"They made sure I was good to go before they put me back out there. I'd go in and talk to our doctors and Danny our trainer about three times a day, just to make sure everything was going smooth and no headaches or anything like that," Guillermo said. "So, I'm back and ready to go.
"I had one my sophomore year of high school and it was a little bit worse than what I had. I had a mild concussion last week, so like I said, I'm back and ready to go. Just meeting with our doctor a lot. We have this new, pretty cool, virtual reality goggles that monitor your eye movement and see your reaction time and stuff like that. We also have a little computer test that we have. They definitely have gotten pretty advanced since the last time I had to go through that."
Guillermo and a defensive teammate got into a heated exchange that led to Guillermo's helmet being ripped off. He suffered a cut under his eye, but it took him a few minutes to realize something wasn't right.
"I was pretty hyped up whenever it happened, so I was kind of in the moment. It didn't really stun me at all," he said. "I had gotten in a little tussle with me and another guy and my helmet came off and just after that, a few things happened. I got a shot to the head and it went from there. I never really worried about having to miss anything. I didn't black out or stumble, so I figured I was going to be fine, but wanted to take the right precautions. I was kind of my normal self and probably fifteen minutes later, I was out there and I was trying to make calls, but I had no idea what was going on. So, I went to our trainer and was like, 'Hey man, I think I took a shot to the head a little too hard.' They held me out the rest of practice. Initially, I was okay, but about fifteen minutes later, I was a little dazed and confused."
Guillermo said he holds no grudges or hard feelings – it's just football.
"Oh yeah. It's a game of football and guys get hit. Guys are in their battling," he said. "It was inside drill. We're in their grinding against each other. Offense versus defense - good on good. Stuff like that happens. Guys get hit in the head a little bit. I was just glad that I kind of realized it. Sometimes, I have a tendency to shrug stuff off like it's not anything.
"That's how it's been all camp. We've been hitting it hard. We really want to come out and have a good showing. We want to show people what we can do. We're just going against each other all day - just pounding and pounding - trying to make each other better. That's all we can do. We don't get any preseason games, so we go against each other. After a little while, you kind of get tired of hitting each other, but it's that camp grind and everybody's doing it. We just try to make the best of it every day."
Other notes
His thoughts on Dexter Lawrence
"If he doesn't want to get blocked, he ain't gonna get blocked. That's about it. All of those guys, they are a mountain of men. And Dexter is just one of those guys. We were talking the over day, it's not even fair that the kid is barely 18 years old and is 345 pounds and 18 percent body fat. It's insane. I can't wait to see what he grows up to be in three or four years. It's going to be fun to watch."
Best moment of camp?
"Probably whenever Taylor Hearn and Mitch Hyatt got on a good double-team and rolled Dexter out of there and put Dexter on his back. I mean that was maybe the second time in camp it's happened. Everybody was like yeah and hoopin and hollerin. That was probably one of his many highlights. We're going to be mean and nasty and that's how every offensive line should want to be and that should be their mentality. I think Coach (Robbie) Caldwell does a good job getting the fire under us and we want to come and show everybody what we've got."
School starting
"I always know when I go back to my apartment complex and there's a whole bunch of cars, I always know that school is about to start and it's time to get football rolling. It's a good feeling because we've been going against each other and I'm tired of seeing Carlos Watkins. I'm tired of seeing Dexter Lawrence and Scott Pagano and all of those guys. I'm ready to see a different color, but it's good that we have guys that we can grind on like that. Iron sharpens iron - make each other better."