| | |
| --- | --- |
| Final thoughts: Stoops talks to Watson, playcalling and the Sooners' big line | |
---
| | |
| --- | --- |
| Tuesday, December 30, 2014, 4:22 PM | |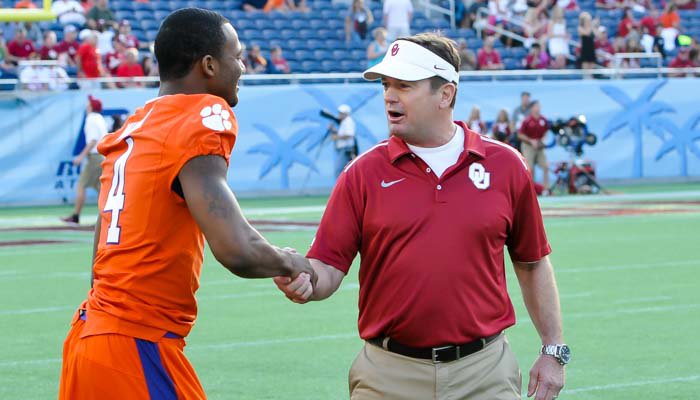 ORLANDO, FL – Oklahoma head coach Bob Stoops ran over to Clemson quarterback Deshaun Watson

Deshaun Watson
Fr. Quarterback
#4 6-3, 204
Gainesville, GA
View Full Profile prior to Monday night's Russell Athletic Bowl contest, pointed at Watson's surgically-repaired left knee and talked to the Tigers' precocious freshman about the season.
He then shook hands with Watson, laughed and said, "I'm glad I don't have to see you again!"
The way the evening unfolded, Stoops probably wishes he hadn't seen Cole Stoudt

Cole Stoudt
Sr. Quarterback
#18 6-4, 231
Dublin, OH
View Full Profile or Clemson's defense. The Tigers put a 40-6 whipping on the Sooners – and it wasn't that close – and even though I picked the Sooners to win (which my wife won't let me soon forget) I should have gone with my gut instinct after hearing Stoops' comments to the media Sunday afternoon.
Stoops was asked about motivation for the bowl game and whether a bowl win could be a launching pad into the next season, and his answer was tepid at best when he said that no one remembers the bowl game two weeks after it's played. Following the loss, when Oklahoma beat reporters were asking Stoops about losses in big bowl games, Stoops brought out the Sooners' win over Alabama in the Sugar Bowl last season more than once. Turns out he remembered that one pretty well a year later.
On the flip side is Clemson's Dabo Swinney

Dabo Swinney
Head Coach
View Full Profile , who had his team motivated. Senior defensive tackle DeShawn Williams

DeShawn Williams
Sr. Defensive Tackle
#99 6-1, 292
Central, SC
View Full Profile told anybody and everybody who would listen that only "25 percent of the media gave us a chance to win" which was surely what Swinney told his players since the matchup was announced and the predictions started to roll in. Swinney also made sure his team knew they were playing for a 10th win on the season and the 42nd win for the senior class. The difference in motivations was evident from the first whistle to the last.
Yes, Stoops making a point to run all the way across the field to talk to Watson was one of the more interesting happenings of the night but there are plenty of sights and sounds I want to tell you about. So let's get started:
*I was standing down on the field when Oklahoma came out for pregame warmups, and the first thing that caught my eye was just how huge some of their offensive linemen were. Then I looked, and one of the guys I thought was a lineman was running back Samaje Perine. One Oklahoma guy told me that Perine reminds everybody of former Sooner Adrian Peterson – a little shorter and bulkier but with some of the same skills.
As for the linemen – when you see backups that are 6-9 and weigh in the 340-pound range, you can't help but be awed. But I was standing next to a group of Clemson coaches when the Sooners were going through their early line drills – and I was wondering how Clemson's defensive front would fare against the big boys – and one of the coaches remarked that the Sooners were too big and would have trouble matching Clemson's speed. That was evident on the game's first play when Grady Jarrett

Grady Jarrett
Sr. Defensive Tackle
#50 6-1, 290
Conyers, GA
View Full Profile blew up the middle of the Sooner line and dropped Perine.
I got another dose of "speed versus size" when I was talking to one of the SEC officials prior to the start of the game. He laughed and told me that Clemson was built like the better SEC teams – LSU and Bama are the two he mentioned – and said Oklahoma wouldn't matchup up in his opinion. He then said that it would be fun to see how Clemson would fare in the SEC, and it was his opinion it would be the same as it is for the Tigers in the ACC – they would compete every year for a title.
*One of the unsung heroes of the night to me was center Jay Guillermo

Jay Guillermo
RS So. Center
#57 6-3, 314
Maryville, TN
View Full Profile . Guillermo has battled injuries this season, and I heard that his surgically-repaired foot was stepped on during bowl practice. Guillermo was pressed into action early when starting center Ryan Norton

Ryan Norton
RS Jr. Offensive Line
#58 6-3, 292
Simpsonville, SC
View Full Profile went out with an injury, and once Guillermo settled in – especially after his first two drives – he had a great night.
Guillermo was matched up with big defensive tackle Jordan Phillips (6-6, 334), and he told me in the postgame aftermath that Phillips was the best tackle he's ever played against. Guillermo more than held his own, and I look for him to make a run at the starting job in the spring.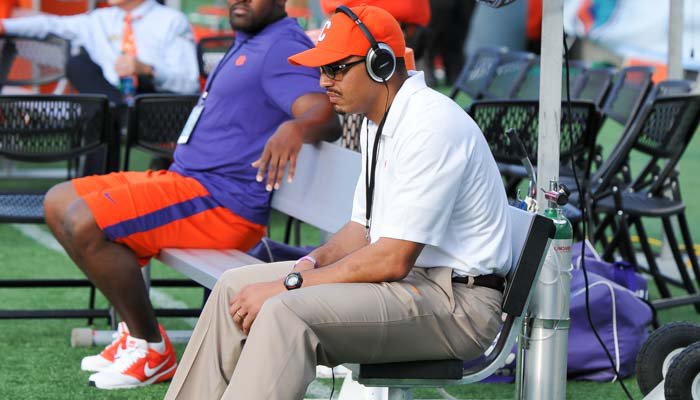 *Every once in a while Crump hands me a camera and I take some pics, and my favorite from Monday night was of
Tony Elliott

Tony Elliott
Assistant Coach / Running Backs
View Full Profile
. Elliott was in the zone – headphones on his head – prior to the game and he paced the sidelines, touching each end zone marker as he passed by. Some people looked like they were tempted to say something to him, but he was in his own world as he contemplated his first night as a playcaller. He then went over to the Clemson bench, clasped his hands in front of him and stared off into space. He later told us that there is still plenty they can work on, but you could tell they were pleased with the first night.
*Swinney told anybody and everybody following Clemson's win over LSU that "Clemson was coming." That was an echo of linebacker Stephone Anthony's statement when he committed to Clemson. Monday night following the game, Swinney was singing a different tune.
"Clemson is here and we aren't going anywhere. This is just a step up the ladder and I can't wait for 2015. Let's do it again," Swinney said.
Like him or hate him or love him, his success can't be denied. Over the last three seasons, he has beaten Steve Spurrier, Bob Stoops, Urban Meyer, Mark Richt, Les Miles and Frank Beamer. Five of those guys have won national championships, and over the last three bowl seasons the Tigers have defeated teams that have won a national championship since the 2000 season. Go back to 2011 – when the Tigers began the streak of four consecutive 10-win seasons – and you can add in Jimbo Fisher.
Those sentiments were echoed by Clemson's seniors, and both Vic Beasley

Vic Beasley
RS Sr. Defensive End
#3 6-2, 236
Adairsville, GA
View Full Profile and Williams told us following the game that they expect the Tigers to make a run at the College Football Playoff next season. Is that possible considering how much the Tigers lose on defense? Williams just smiled and said it was merely a process of replacing talent with talent.
I asked Swinney about that after the game, and he said that this year's defense was talented, deep and experienced. He then said that next season's defense will be talented, deep and inexperienced. That group will have to grow up in a hurry, and despite what announcer Mike Patrick thinks don't expect a tremendous dropoff. Clemson gets Notre Dame, Florida St. and Georgia Tech at home. The toughest of the road games figures to be at Louisville. The schedule sets up right, the offense with a healthy Deshaun Watson will be electric and the defense will learn as they go. Can they make a run?
*Not knocking Chad Morris

Chad Morris
Offensive Coordinator / QBs
View Full Profile , but last night's game plan seemed to suit the abilities of Cole Stoudt better than what we saw with Morris. It's understandable when Stoudt would have to relieve Watson and come in and try and run Watson's game plan, but even when Morris knew that Stoudt would start it didn't look like Stoudt was given the best chance to succeed. Last night's plan took advantage of Stoudt's strengths, and when talking to the both Elliott and Jeff Scott

Jeff Scott
Asst. Coach (WR) / Recruiting Coord.
View Full Profile after the game that point was driven home.
We asked about the first play of the game – Stoudt's 65-yard pitch and catch with Artavis Scott

Artavis Scott
Fr. Wide Receiver
#3 5-11, 190
Oldsmar, FL
View Full Profile – and Elliott said Stoudt was given a couple of options on the play. He could hand it off or he could make a pass – it was an inside zone call, and Stoudt didn't' feel comfortable with the handoff considering what he was seeing out of the defense. He made the check into the pass and the Tigers were off and running.

Tags:
Vic Beasley
,
Grady Jarrett
,
Ryan Norton
,
DeShawn Williams
,
Cole Stoudt
,
Jay Guillermo
,
Deshaun Watson
,
Artavis Scott
,
Chad Morris
,
Tony Elliott
,
Jeff Scott