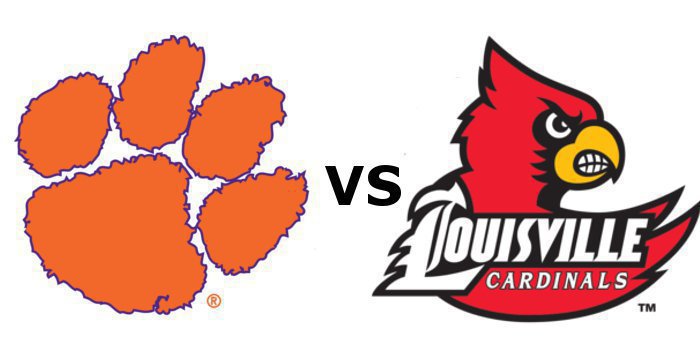 | | |
| --- | --- |
| Clemson vs. Louisville prediction: The better team will win the game | |
---
Clemson against Louisville. GameDay. National television audience looking in. Lamar Jackson against one of the best defenses in all of college football.
This one should be fun.
Clemson travels to Louisville this weekend for an early-season ACC showdown with the Cardinals and early supremacy in the ACC Atlantic. At least for a week.
NO. 2 CLEMSON (2-0) AT NO. 14 LOUISVILLE (2-0)
WHEN & WHERE: SATURDAY, SEPTEMBER 16, 2017, Papa John's Stadium, Louisville, KY (55,000)
Kickoff: 8:12 p.m.
TV: ABC (Chris Fowler, Kirk Herbstreit, Maria Taylor)
CLEMSON RADIO NETWORK: Don Munson, Rodney Williams, Sideline: Reggie Merriweather
NATIONAL RADIO: Compass National Radio,Gregg Daniels, Dale Hellestrae, XM Radio Ch. 202, Sirius 119
SERIES HISTORY
Clemson Leads 3-0
at Louisville: Clemson leads 1-0
at Clemson: Clemson leads 2-0
Last Meeting: Clemson 42-36, 2016
Streak: Clemson won 3 in row
NOTES
*Clemson leads series with Louisville 3-0. Clemson holds a 3-0 lead in the series with Louisville. All three games were played over the last three seasons. The two schools never played until Louisville joined the ACC for the 2014 season. If Clemson can win at Louisville it would be the fourth time Clemson has won its first four games against a league opponent. The Tigers won their first 29 against Virginia, their first seven against Wake Forest and their first four against Syracuse.
*Clemson has won 10 straight on the road. Clemson has won 10 consecutive games on the opponent's home field. That is tied for the longest road winning streak in Clemson history. The Tigers also won 10 straight on the road from October 7, 1939 through October 24, 1940. That streak ended with a 13-0 loss at Tulane on November 3, 1940. Clemson's current road winning streak is third-best among FBS schools. Oklahoma got its 12th straight road win with the 31-16 victory at second ranked Ohio State. Alabama has won 11 in a row. Washington has the next longest at seven.
An example of how difficult it is to win on the road, no other school has a road winning streak longer than four. Clemson has a seven-game overall winning streak dating to the loss at home to Pittsburgh last year. Clemson's seven-game overall winning streak is tied for fifth longest in the FBS. Oklahoma has the long run with 12, followed by Southern Cal with 11. Old Dominion and Coastal Carolina have an eight-game streak. Clemson, South Florida and Air Force have all won seven in a row.
*Another Top 15 matchup for the Tigers. Clemson will face Louisville under the bright lights of ABC's Saturday Night College Football Package on September 16. Playing in big games is nothing new for the Tigers. It will mark the second straight week Clemson has played in a matchup of top 15 teams. The Tigers are coming off a 14-6 win over 13th ranked Auburn. This will be the 10th game the Tigers have played involving two top 15 over the last three years and 30 games. That dates to October 3, 2015 when 11th ranked Clemson played No. 6 Notre Dame at Clemson in the ABC Saturday Night game of the week. Including last week's victory over Auburn, Clemson is 8-1 in Top 15 matchups over the last three years.
TALE OF THE TAPE
National Ranks
Total Offense: Louisville is 5th at 614.5 yards per game, Clemson is 36th at 473 yards per game
Scoring Offense: Louisville s 31st at 41.0 points per game, Clemson is 50th at 35.0 points per game
Passing Offense: Louisville is 10th at 383.5 yards per game, Clemson is 53rd at 248.5 yards per game
Rushing Offense: Louisville is 34th at 229 yards per game, Clemson is 37th at 224.50 yards per game
Total Defense: Clemson is 2nd at 118.5 yards per game, Louisville is 72nd at 372.5 yards per game
Scoring Defense: Clemson is 5th at 4.5 points per game, Louisville is 98th at 31.5 points per game
Passing Defense: Clemson s 1st at 40.0 yards per game, Louisville is 123rd at 338.5 yards per game
Rushing Defense: Clemson is 22nd at 78.50 yards per game, Louisville is 2nd at 34.0 yards per game
WHY LOUISVILLE CAN WIN
*They have arguably the best player in college football in quarterback Lamar Jackson. You can call the right play and the players can all do their job and he will still slip outside for a big gain. When you have Jackson in the backfield, every game is winnable.
Jackson has been great so far this season, completing 65% of his throws for 771 yards and five scores, while running for 239 yards and three scores with no shortage of highlights in the season's first two weeks. Last year, he took a major step forward in the Heisman race in the loss to Clemson – throwing for 295 yards and a score with 162 rushing yards and two touchdowns.
*Revenge. The Cardinals are 0-3, and they feel like they could easily be 3-0. Many in that part of the world feel like this could be their best shot at being relevant nationally – you never know when Bobby Petrino will bolt, Jackson will head to the NFL sooner rather than later and they know they can't recruit with Clemson and Florida St. This is their shot, and they know it. They are putting everything they can into winning this one game, and desperation is a dangerous thing.
*Intangibles. The aforementioned desperation. Blackout. Night game. The revenge factor. It all sets up nicely for the Cardinals.
WHY CLEMSON CAN WIN
*The Tigers aren't a one-man show. Clemson is three-deep at several positions across the field, and they don't have to rely on just one player to win the game. That's huge. Louisville has offensive line issues. Issues getting pressure with their defensive line, the secondary struggles to cover anybody that breathes and there is a huge dropoff in playmaking ability after Jackson.
*For one school, it's all or nothing, but for Clemson it's business as usual. Someone asked me Thursday if the Tigers were "fired up" for this one. If you have to ask that, you haven't been paying attention to Clemson football. This team doesn't get too high, they don't get too low and they follow Dabo Swinney's mantra of the "next game is the most important game." That one-game-at-a-time process may seem simple to some, but it works.
*Defense. Defense. Defense. Defense. This group is big. They are fast. They are well-coached, and they are nasty. They also feel like they have a chance to chase that 2014 group that finished first nationally and they know Saturday night is a big step in that direction. The one-man show against an elite defense.
WHAT WILL HAPPEN
Clemson simply needs to survive early. The Cardinals will come out on fire, but Clemson has to make sure they don't fall in the early hole that cost FSU last season. If Clemson can keep it close early, the defense and the depth chart will begin to show and the Tigers pull away for the win. Lamar Jackson will have his wow moments – he's too good not to – but they won't be enough to overcome the better team.
FINAL SCORE: CLEMSON 31, LOUISVILLE 23
---
GUEST PREDICTIONS
---
Mickey Plyler - 6-9 AM on WCCP 105.5FM - 27-24 Clemson
Tony Crumpton - Associate Editor - 31-21 Clemson
Nikki Hood - Staff writer - 27-20 Clemson
Brandon Rink - Staff writer 34-27 Clemson
Daniel Shirley - Sports Editor, Macon Telegraph 28-17 Clemson
Pigskin Prophet - 34-20 Clemson
| Game | Actual | David Hood | Mickey Plyler | Tony Crumpton | Nikki Hood | Brandon Rink | Daniel Shirley | Pigskin Prophet |
| --- | --- | --- | --- | --- | --- | --- | --- | --- |
| Kent St | 56-3 CU | 47-6 CU | 56-7 CU | 49-14 CU | 47-13 CU | 52-3 CU | 51-10 CU | 55-10 CU |
| Auburn | 14-6 CU | 24-20 CU | 27-20 CU | 28-21 CU | 28-20 CU | 27-24 CU | 24-10 CU | 27-17 CU |
| Points | - | 2 | 4 | 2 | 2 | 2 | 4 | 2 |
* Points: 3 pts for best prediction of the week (tiebreaker is Clemson score), 1pt for picking the correct winner

Upgrade Your Account
Unlock premium boards and exclusive features (e.g. ad-free) by upgrading your account today.
Upgrade Now