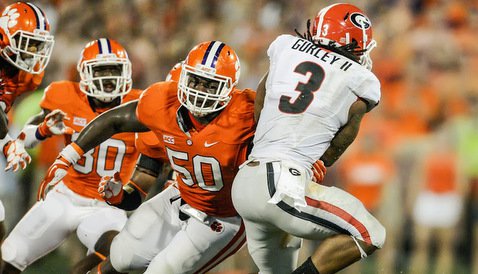 | | |
| --- | --- |
| Clemson vs. Georgia: Vivid memories make the renewal of this rivalry a good thing | |
---
| | | |
| --- | --- | --- |
| Wednesday, May 9, 2018, 8:11 AM | | |
Clemson versus Georgia.
Simply saying those three words evoke vivid memories for both fanbases, and those memories probably span several decades. The news broke last week that the two schools, who haven't played since 2013 and 2014, are close to finalizing a deal that would see them face off once again.
I have to admit, I like it.
I am not a huge fan of the schools playing every year, however. As someone who likes to experience all that college football has to offer, the thought of traveling to Sanford Stadium every two years isn't appetizing. I like the fact that Clemson is headed to Texas A&M this season, and would love to schedule home-and-home series with schools from across the country.
But…Clemson and Georgia needs to happen, and it needs to be a semi-regular happening.
I've mentioned before that I am a relative latecomer to Clemson football. I lived in other states before my parents moved back here in 1979. I was still a kid, but the National Championship in 1981 captivated me and I begged my dad to take me to home football games. He took me to the 1983 game against NC State in late October.
The second home game I saw was against Georgia in 1987 and I had a media credential. Former Greenville News columnist Dan Foster caught me at work that morning and asked if I wanted to go to the game and help out the photographers and help him with stats after. That was an easy answer, and I was in the corner of the endzone when Georgia quarterback James Jackson was sacked for a safety late. I was somewhere near the goal posts when David Treadwell's kick sailed through the uprights, and I knew right then and there that college football was something I wanted to be a part of.
Everything I do now goes back to that day.
Since then, there have been outstanding games, and of course, I will always remember the 2013 game in Death Valley when "even Georgia had to take a peek."
Here are just a few reasons this game needs to happen. From 1977-'87, no game in college football was more suspenseful than the Clemson-Georgia series. In those 11 meetings, the two teams battled to a 5-5-1 record. The average margin of victory was 4.7 points per game. Nine of the 11 games were decided by a touchdown or less.
1981: Clemson 13, Georgia 3
The defense carried the day in this one, forcing nine turnovers in what would be the only regular-season loss of Herschel Walker's college career. Georgia quarterback Buck Belue threw five interceptions and lost a fumble for six of the nine turnovers. Walker had lost just one fumble his entire freshman season when he gained over 1,600 yards, an NCAA freshman record. But he had three fumbles in this game, two that were recovered by the Tiger defense, including one by William Perry, when he seemingly shoved Walker aside with his brute strength to scoop up the ball.
1986: Clemson 31, Georgia 28
Everyone remembers David Treadwell kicking the game-winning goal as time expired, but the seeds for victory were sown the night before when the Georgia team bus rolled up outside the movie theater in Athens where the Tigers were watching a movie. The move incensed Clemson head coach Danny Ford, who came out before the game and told his team that if they hit Georgia on every play there would come a point in the fourth quarter when the Bulldogs would quit. They did, and Treadwell's legend was born.
1987: Clemson 21, Georgia 20
This one, of course, has special meaning for me, as stated above. This game, to me, almost defines the series through the 70's and 80's. Physical on both sides of the ball, hard-hitting defenses and a defensive play that helped decide the outcome. Georgia had Lars Tate and Rodney Hampton, but deep in their own end with time winding down in the fourth quarter the Bulldogs let quarterback James Jackson keep the football. On first down, just inside the one, Jackson tried a quarterback sneak but big old Tony Stephens stopped Jackson in his tracks.
On second down, Jackson rolled left, tried to reach the corner but was initially stood up by James Lott. He was tackled for a safety, the Tigers moved methodically down the field and Treadwell kicked Georgia between the eyes again.
2013: Clemson 38, Georgia 35
ABC helped Clemson recruiting in a major way during the opening weekend of 2013. The network aired Clemson's trip around the stadium on the buses and the run down the hill. It was an almost seven minute infomercial on the football program – Death Valley was lit up, orange and loud and the game lived up to the hype. Tajh Boyd had one of the best games of his career in the victory, with Stanton Seckinger and Zac Brooks catching touchdown passes. Vic Beasley tormenting Aaron Murray for most of the night was something to see.
Clemson and Georgia – as Brent Musburger said before the 1987 telecast, "It'll send shivers down your spine and it'll get you ready for a little helmet-knockin'. It's Clemson against Georgia comin' up!"