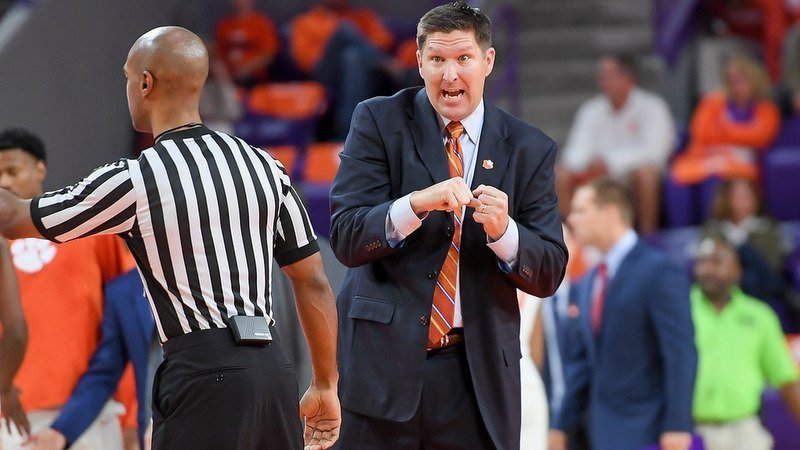 | | |
| --- | --- |
| Let's Go Dancing!! Brownell says Tigers good enough to advance in NCAA tourney | |
---
CLEMSON – Let's go dancing.
The Clemson University men's basketball team earned an at-large bid into the 2018 NCAA Tournament as a No. 5 seed and will face the No. 12 seed New Mexico State in San Diego, Calif. on Friday, March 16 at in the first round.
This marks the first time since head coach Brad Brownell's inaugural season at Clemson that the Tigers have advanced to the NCAA Tournament. The Tigers will be making their 12th tournament appearance overall. All have taken place since 1980.
"Certainly excited about what's next. Really as much as anything just really proud of our players and what they've accomplished this season and obviously what that's afforded us is more basketball," Brownell said after learning the team's destination. "Obviously they've won 28 games. That's hard to do in college basketball with the parity we have… So we'll have a challenge. We're looking forward to it."
Clemson enters the game with a 23-9 record, including an 11-7 mark in regular season ACC games. The 11 victories in conference play proved to be the most in Clemson history – tying the all-time record for wins in any conference.
Brownell told the media that getting to the tournament isn't enough – they want to win some games along the way.
"We obviously feel like we can win games. We've felt like that all along," Brownell said. "When we play well we're a doggone good team. We're hard to beat. But every game now in the NCAA Tournament you're playing someone that's special. These guys are special. They won their conference, won a lot of big games, extremely talented, athletic and competitive. You're gonna have to play good basketball to win games now and that's the way it should be."
Clemson's most successful NCAA run came in 1980, the first year Clemson was selected. The Tigers won three tournament games under head coach Bill Foster and reached the Elite Eight of the tournament before losing to UCLA. Clemson also made the Sweet 16 in 1990 under Cliff Ellis and 1997 under Rick Barnes.
Clemson has already been put on upset alert – analyst Charles Barkley thinks the Aggies will beat the Tigers – something that doesn't surprise senior guard Gabe DeVoe.
"My boys texted me and said Charles picked against us already. Not surprised, honestly," DeVoe said. "But It was very exciting. Just knowing this is my first time in our four years, just growing up and wanting to play college basketball, it's been a very special moment for me," DeVoe said. "I think it's pretty exciting seeing Auburn an College of Charleston (in the same bracket), so that'd be pretty cool if we ended up meeting (the Cougars) in the second round.
"We'll just keep preparing like we've been doing all year. Just one day, one game at a time. We'll get in this week, get a gameplan together, get ready to go for Friday."
Zach Lofton leads the Aggies in scoring with 19.8 points per game, while Jemerrio Jones joins him in double-figures with 11.1 per contest. Jones leads the team with 13.1 rebounds per game.
Both the Aggies and Tigers had one common opponent during the season as New Mexico State defeated the Miami Hurricanes in a tournament in Hawaii 63-54. This will serve as the first matchup between Clemson and New Mexico State in program history.

Upgrade Your Account
Unlock premium boards and exclusive features (e.g. ad-free) by upgrading your account today.
Upgrade Now