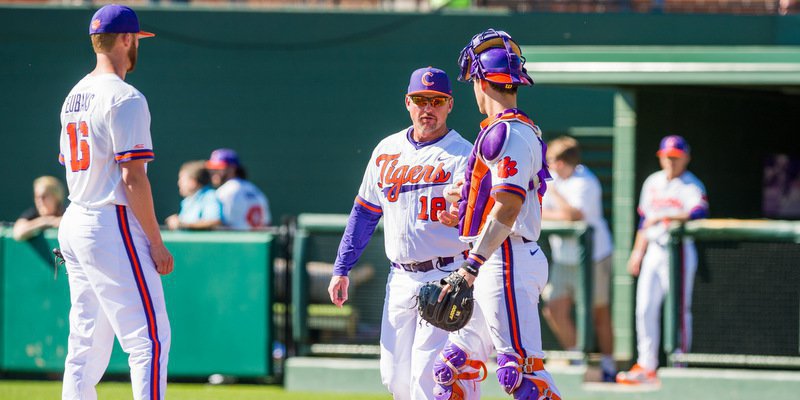 ---
| | | |
| --- | --- | --- |
| Sunday, May 28, 2017, 8:01 AM | | |
LOUISVILLE, KY – Time to hit the reset button.
Clemson's baseball team rocketed out to a 29-5 start but has lost 14 of its final 24 games, including a school-record nine-game conference losing streak. That stretch has included defensive lapses, shaky pitching and a profound lack of clutch hitting.
The Tigers lost to Virginia 10-2 in the ACC tournament Friday and now wait to see where they will play when NCAA Tournament play starts next weekend. The week-long break offers the Tigers a chance to hit the reset button, something Lee says might be beneficial to his team.
And, he insists the fight hasn't gone out of this team.
"I don't think it's necessarily that the fight has gone out of the team. I think the biggest thing is once we get our backs against the wall, our guys are pressing a little bit," Lee said. "We talked a lot about before the game, just trying to take the result and the outcome out of it and just play good baseball. Just play free and easy and compete, and let the results take care of themselves. That was a big message for us today."
Lee said everybody on the team is feeling the pressure, including the coaches.
"Our coaching staff is fighting with them and we are trying to send the message that we are in this thing together. We are all struggling. We are not playing great baseball," he said. "Obviously I need to do a better job of coaching and get our guys ready to play and play better baseball. I don't feel like I'm doing a good enough job with our players. I feel like I'm failing with our players. But that's my job. My job is to be accountable for my team and accountable for my players and I'm always going to be accountable for my players and how we play because that's what they brought me here to do.
"I can tell you this: When we practice the next day, we're going to practice hard and we're going to go right back to work and try to do everything we can to get our guys ready to play in the post-season. We are going to play in the post-season. I hope it's in Clemson. If it's not in Clemson, wherever it's going to be, we are going to try to do everything we can between now and then to get our team ready."
The post-season offers the chance to start over.
"It's a new season in the post-season. You get into the field of 64, there are 295 division one programs and 64 teams get to play in the NCAA Tournament. Clemson is going to be one of those 64 teams," Lee said. "That's a good thing. Once you get in the field of 64, I've been a part of some really magical runs as a coach, as a head coach and as an assistant coach where we didn't host a regional. I've been to Omaha a couple times where you didn't host a regional and I've been in a super regional where we didn't host a regional where we were four-seed. So I've seen some things happen."
Lee finished by saying he's seen a team struggle at the end of the season then find its groove in the post-season. When Lee was an assistant coach at South Carolina the Gamecocks faced the same situation. After taking a series against Ole Miss in mid-April, the 2006 South Carolina baseball team went 7-12 to finish the regular season before going 1-2 in the SEC Tournament. The Gamecocks went on to win the Charlottesville Regional as the No. 2 seed.
"Yeah, I've been through it before where you struggle down the stretch and had to go on the road and play pretty well," he said. "So again, it takes one game. The post-season is a different animal all together. Everybody knows what's at stake, so everybody is fighting and clawing as hard as they can to win that first game. You've got to win that first game to put yourself in that winner's bracket game. Once you get it to the post-season, heightened awareness peaks with the players, and as a coach, you pretty much sit back and watch them play. The work is done. I mean, we've worked as hard as we can to get to that point. I think the guys understand what it takes as a team to be successful. You just hope your guys are ready physically and mentally and they go compete as hard as they can."