TigerNet

is the oldest and largest Clemson Community online with 152,168 members, 57,865 news articles and 29M forum posts.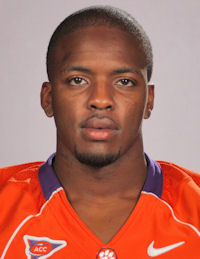 #2
DeAndre McDaniel
Safety
| | |
| --- | --- |
| Position: | Safety |
| Ht./Wt.: | 6-1, 180 lbs |
| Hometown: | Tallahassee, FL |
| 40: | 4.50 |
| High School: | Godby |
| Class: | Professional |
| Exp: | 4VL |
| Years: | 2007 - 2010 |
| Major: | Sociology |
B I O
Overview: First-team All-America safety according to the Football Writers Association in 2009, he is a candidate for the Thorpe Award and several other national honors in 2010...one of three Tigers on the Bronko Nagurski Watch List...first defensive back from Clemson to be named first-team All-American since Tye Hill in 2005...second-team All-American according to CBSsports.com and Scout.com, he was a third-team choice by Sporting News and Rivals.com...first-team All-ACC by the ACC Sportswriters Association, Sporting News and Rivals.com...named MVP of the Tiger defense by the Clemson coaching staff...made amazing contributions to Clemson's nationally-ranked defense as a safety, the first year he played in the secondary...was a linebacker prior to 2009...winner of a Vickery Hall Award for 2009 for academic improvement, he made the academic honor roll both semesters in 2009-10 and needs to complete only a few hours to graduate in December...tied for third in the nation and first in the ACC in interceptions per game in 2009....a great hitter with the ability to intercept the ball similar to the way Brian Dawkins did during his senior year of 1995...has played in 40 straight games and has 22 starts, one of four active Tigers to play in every game last year...has started 20 straight games over two years...third in the ACC in interception return yards with 128 last season...has 11 career interceptions to tie for fourth among returning FBS players for 2009...the only player in college football with at least eight interceptions and 100 tackles last season...11th in the ACC in tackles per game...#24 prospect for the 2011 NFL Draft by Lindy's and Mel Kiper...also a first-team All-American and rated as the #2 safety in the nation entering 2010 by Lindy's...also a first-team preseason All-American by Playboy, Sporting News, Athlon, Phil Steele and Blue Ribbon...rated as one of the top 12 "scariest defenders" in the nation by Rivals.com in April of 2010...tied for fourth on the team in the vertical leap with a 37-inch figure...has 10'2.5" broad jump, second-best on the team...had 28-yard fumble return for a score against Nebraska in the 2008 Gator Bowl, it is one of two touchdowns in his collegiate career...was a starter on his high school basketball team, he averaged 20 points a game...has played on Clemson's intramural championship team twice...named to 2009-10 ACC Academic Honor Roll.

2009: Named National Defensive Player-of-the-Week by the Bronko Nagurski Award committee for his performance at Miami when he had six tackles and two interceptions, including one that he returned 24 yards for a touchdown...only player to win ACC Defensive Back-of-the-Week honors twice in 2009, he did it for his performances against Miami and Wake Forest...had an interception and four tackles against Wake Forest, he was a big reason Riley Skinner threw for just 82 yards in that game...tied the Clemson record for interceptions in a season with eight...did not build his stats against lesser teams, he had seven of his eight interceptions against ACC teams...Clemson played a schedule that included four games against top-15 teams (Georgia Tech (twice), TCU, Miami) and he had a combined four interceptions against those three teams... had an interception and a sack against Boston College, the first Clemson player in 12 years to record both in the same game...a prime reason Clemson was fifth in the nation in interceptions as a team with 21...also a big reason Clemson finished in the top 25 in scoring defense, total defense and pass defense...Clemson was seventh in fewest passing yards allowed per game...Clemson defeated four of the top five quarterbacks in the ACC in 2009 in Christian Ponder, Jacory Harris, Russell Wilson and Riley Skinner, and he had a lot to do with that...honorable mention semifinalist for the Jim Thorpe Award in 2009...finished the year with 102 tackles, including 15 in the Music City Bowl win over Kentucky, tied for team-high honors with Kavell Conner...first player in Clemson history with eight interceptions and 100 tackles in the same year...went over 200 tackles for his career in the win over Kentucky, he now has 212, more than any other active Tiger...had three double-figure tackle games in 2009, they came in the first two games of the year and the last game...had 14 against Middle Tennessee and 10 at Georgia Tech to go with 15 against Kentucky...had nine tackles in the win over Florida State to go with his 27-yard interception return...had nine stops against Georgia Tech in ACC Championship game.

2008: Came on strong during the second half of the season; he had 51 of his 77 tackles in the last seven games, including a team-high 11 tackles against South Carolina...had eight tackles against Nebraska in the Gator Bowl; he had two tackles for loss and a 28-yard fumble return for a score on a fumble he caused...had nine tackles in his first start in 39 snaps against S.C. State...had six tackles at #21 Wake Forest and seven stops against Georgia Tech...had nine tackles and a caused fumble at Boston College...named defensive player-of-the-game by the coaches at Boston College...had 10 special teams tackles, tied for second-most on the team...had his only interception at Virginia.

2007: First-team All-ACC freshman pick by Sporting News...played 438 snaps, second among Tiger freshman...tied for the most tackles by a Tiger freshman with 33...had at least one tackle in every game...had four stops, all first hits, and two pass breakups in his first game against #19 Florida State...had five pass breakups in the first three games...played 39 snaps off the bench against #19 Florida State...played 54 snaps against Central Michigan...had two interceptions, including one against Central Michigan and one against Boston College's Matt Ryan...had four tackles at South Carolina...had a season-high six tackles and two tackles for loss against #21 Auburn...enrolled at Clemson in the 2007 spring semester and participated in spring practice...had a 34-yard interception, one pass breakup, and four tackles in the Spring Game.

Before Clemson: National prep school top-50 player by Rivals.com; he was listed as the #4 player in the nation...#31 safety in the nation by Scout.com...#1 prep school defensive back in the nation by Rivals.com...received all-region honors by PrepStar...#10 player in Florida by Rivals.com as a senior...signed with Clemson in 2006 but played in the fall of 2006 at Hargrave (VA) Military Academy for Head Coach Robert Prunty...had 48 tackles, four interceptions, and four sacks in 2006...played for Shelton Crews at Amos P. Godby High School...had 53 tackles and eight interceptions, returning three for scores, as a junior...had 27 catches for 656 yards and six scores as a junior wideout...started on both sides of the ball and had three interceptions as a senior...member of PrepStar's Dream Team Top 100 as a senior...Southern Hot 100 member by Scout.com as a senior...#72 player in the nation by CollegeFootballNews.com as a senior...#90 player in the nation by Rivals.com...national ESPN.com top-150 player...#13 defensive back in the nation by PrepStar...member of Rivals 250...#8 safety in the nation by CollegeFootballNews.com...#16 safety in the nation by Scout.com...caught a touchdown pass, blocked a field goal, and intercepted a pass in the same game against Leon County High School during his senior season...starter on the basketball team and averaged 20 points per game...recruited by Dabo Swinney...chose Clemson over Alabama, Auburn, Florida, Florida State, and Louisville...born Nov. 26, 1987...majoring in sociology.

*Courtesy Clemson Media Guide
| | |
| --- | --- |
| | VIDEO HIGHLIGHTS |
Latest DeAndre McDaniel News
Click the link below to read more!