| | |
| --- | --- |
| Weird night in Winston-Salem | |
---
| | | |
| --- | --- | --- |
| Sunday, November 9, 2014, 10:01 AM | | |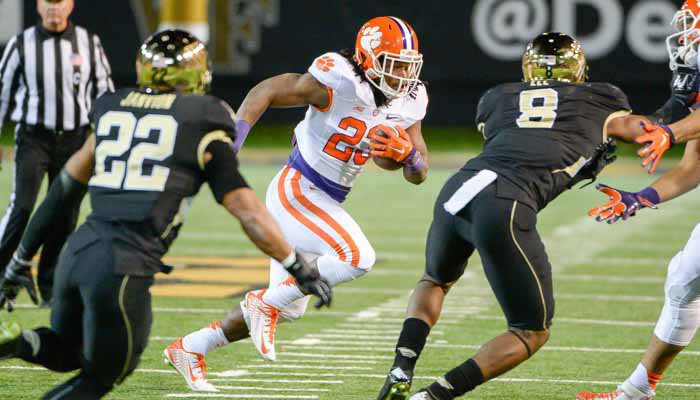 Weird things began to happen long before Clemson and Wake Forest kicked it off Thursday night at BB&T Field, and weird became the theme of the night long after the kickoff.
A warm, calm afternoon turned into a breezy and cold night inside of a few minutes as we walked from the car to the stadium. As we walked through the public parking lots, it was obvious that Clemson fans outnumbered Wake fans by at least 3-to-1, and it might have been even more than that.
Once we crossed the street, we were held up for Wake's version of Tiger Walk, and Nikki Hood and I stopped and observed somewhere between 60 and 100 Wake fans cheering their team on as they entered the stadium. Right off the bat, you knew that "big-time" football was not in attendance in Winston-Salem.
Once we arrived the in the press box – one of the nicest in the ACC – we ate a quick meal and proceeded to find more weird. We left the press box to head to the field – a pregame tradition no matter where the Tigers play – and were immediately told that no media are allowed on the field at BB&T unless you have a photo pass. Not even in pregame. The security guard at the gate proudly told me that Wake Forest is the kind of program that learns from other's mistakes, and he knew for a fact that a Clemson fan had stood beside Bobby Petrino of Louisville and taken several pictures with players and then listened in on team communications before being found out. I told him it wasn't quite that bad, but he just smiled and told me to head back to the press box "where you belong."
And then the game started, and all kinds of weird began to happen. Wake had 119 total yards of offense and scored 20 points. Adam Humphries

Adam Humphries
Sr. Wide Receiver
#13 5-11, 193
Spartanburg, SC
View Full Profile fielded a punt and fumbled it and head coach Dabo Swinney

Dabo Swinney
Head Coach
View Full Profile screamed at him. Humphries didn't field a punt and Swinney spent even more time screaming at the senior. We sat in the press box and laughed at how Wake Forest's offensive line featured a better group of tacklers than their defensive line – just ask Vic Beasley

Vic Beasley
RS Sr. Defensive End
#3 6-2, 236
Adairsville, GA
View Full Profile and Grady Jarrett

Grady Jarrett
Sr. Defensive Tackle
#50 6-1, 290
Conyers, GA
View Full Profile and Corey Crawford

Corey Crawford
Sr. Defensive End
#93 6-5, 276
Columbus, GA
View Full Profile and Shaq Lawson

Shaq Lawson
So. Defensive End
#90 6-3, 269
Central, SC
View Full Profile – and laughed at the dearth of flags for holding.
I laughed at Swinney letting one of the officials feel his wrath – for several plays – after the back judge threw a flag on a third down pass that almost landed in downtown Greensboro. For whatever reason, the official called pass interference on the play and Swinney was "animated" in his conversation. After the game, one of the coaches told me it was "entertaining" to listen to the one-sided argument.
We didn't laugh when Robert Smith

Robert Smith
Sr. Safety
#27 5-11, 211
St. George, SC
View Full Profile delivered one of the best football plays of the night – a terrific hit on a Wake tight end – and was ejected for his efforts. We watched the replay in the press box and we were all pretty sure it would be overturned. It wasn't, and now Smith will be forced to sit out the first 30 minutes at Georgia Tech next week. That means extended playing time for T.J. Green

T.J. Green
So. Safety
#15 6-3, 205
Sylacauga, AL
View Full Profile , who got a baptism by fire against Boston College a few weeks ago. He made some mistakes, and I can imagine Paul Johnson can't wait to take his shots against the green Green.
Once the game ended, former Clemson safety DeAndre McDaniel

DeAndre McDaniel
Wide Receiver (2007 - 2010)
#2 6-1, 180
Tallahassee, FL
View Full Profile stood with us outside of the Clemson locker room and told us how Wake fans were wanting to fight him after the Smith hit, and all I could think of was that he couldn't have been outnumbered. Garry Peters

Garry Peters
RS Sr. Cornerback
#26 6-0, 194
Conyers, GA
View Full Profile told us the incredible story of how one official watched the replay on the big screen and said it would be overturned. Brent Venables

Brent Venables
Def. Coordinator / Linebackers
View Full Profile then refused to comment on the hit and ejection. Good move, coach.
We got a chance to talk to running back Tyshon Dye

Tyshon Dye
RS Fr. Running Back
#23 5-11, 214
Elberton, GA
View Full Profile , and as Dye stood there graciously answering all of the questions thrown his way I couldn't help but think to myself, 'Dang, this is what a big-time running back is supposed to look like.' I know he got just a small taste of the action, but the hope here is that Dye continues to get healthy and helps the Tigers in the stretch run. C.J. Davidson

C.J. Davidson
RS Jr. Running Back
#32 5-10, 203
Clemson, SC
View Full Profile – he of two critical fumbles this season – is obviously in the doghouse. D.J. Howard

D.J. Howard
RS Sr. Running Back
#22 6-0, 205
Lincoln, AL
View Full Profile sees the field occasionally while Wayne Gallman

Wayne Gallman
RS Fr. Running Back
#9 6-1, 209
Loganville, GA
View Full Profile is getting most of the carries. Hopefully Dye can get healthy enough to spell Gallman and even provide a physical spark.
Once we arrived back at the press box after postgame interviews, it was time for a drink. Any kind of drink. At big-time schools there are usually drinks of some sort served in post-game, and at places like FSU and Georgia and even Boston College there are people whose sole job is to make sure the media has plenty of help in getting post-game stats, quotes and even helping with whatever food and drink are available. At Wake, we found no people to help and big padlocks on the drink coolers. Yep – padlocks. At least the bathrooms weren't locked. Hello Waffle House.
A weird night, indeed. But the Tigers got their sixth straight win and earned a little time off before preparations begin for Georgia Tech. The Tigers should get quarterback Deshaun Watson

Deshaun Watson
Fr. Quarterback
#4 6-3, 204
Gainesville, GA
View Full Profile , center Jay Guillermo

Jay Guillermo
RS So. Center
#57 6-3, 314
Maryville, TN
View Full Profile and wide receiver Charone Peake

Charone Peake
RS Jr. Wide Receiver
#19 6-3, 204
Moore, SC
View Full Profile back for the Jackets. Getting healthy at the right time, the Tigers need to make a statement against a Jacket squad that is now 8-2 and ranked. Hopefully, things won't be as weird in Atlanta as they were in Winston-Salem. But, I will take weird as long as it means another win.

Tags: Clemson Football
,
DeAndre McDaniel
,
Vic Beasley
,
D.J. Howard
,
Garry Peters
,
Adam Humphries
,
Grady Jarrett
,
Charone Peake
,
Robert Smith
,
Corey Crawford
,
Jay Guillermo
,
Shaq Lawson
,
Tyshon Dye
,
Wayne Gallman
,
T.J. Green
,
C.J. Davidson
,
Deshaun Watson
,
Brent Venables