| | |
| --- | --- |
| "New guy" has plenty of issues to work on | |
---
| | |
| --- | --- |
| Wednesday, January 18, 2012, 10:10 AM | |
The word is that Clemson head coach Dabo Swinney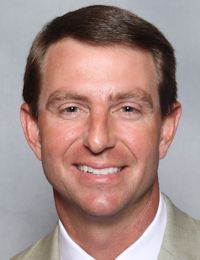 Dabo Swinney
Head Coach
View Full Profile will pull the trigger on hiring a new defensive coordinator, perhaps as early as Wednesday.
The new guy, whoever he may be, has a tall task ahead of him. He will certainly watch a lot of game tape, talk with the coaches on staff and current players and assess the abilities of the young players he has coming in during the summer.
Spring practice will be the first time he really gets to see his new players live and in action, but by then he will already have a pretty good idea of what needs to be fixed on a defense that slipped to an all-time low in the Orange Bowl. He will know because everywhere he goes over the next few months, Clemson fans will remind him of the issues and ask him how he plans to fix them.
He won't need a cheat sheet, of course, but here is a fairly good starting point for the new guy.
*Tackling – The tackling has gone from bad to worse over the past three years, and the late-season slide that saw the program lose four of its last six games was a stark and pointed testament to just how bad it was. But we can't kid ourselves, even in some of the wins the tackling was atrocious and only the talents of the offense kept it from being a bigger issue. Poor tackling can make average offenses look like world-beaters, and that is exactly what happened several times this season. Can it be fixed over one spring and one fall camp? That remains to be seen. Some within the program think that the problem lies in the fact that the players aren't physical enough in practice, and that the defense is allowed only to "thud" tackle offensive players, which means they can wrap them up but don't take them to the ground in an effort to protect against injuries. If that's the case, it would explain why we saw so many arm tackles this season instead of defenders taking a runner's legs out from under them or performing a good old-fashioned form tackle. That has to change, and quick.
*Linebackers – Standing on the field before the Orange Bowl began, I had a former NFL player ask me about Clemson's linebackers. Or, to be more specific, the lack of linebacker play. He said the Tiger linebackers were no better than Division II players – not Division 1-AA mind you – but Division II. Ouch. This spring is the time for the crop of youngsters that have been signed over the past two years to step in and make their mark. Lateek Townsend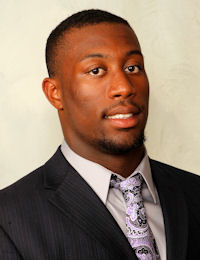 Lateek Townsend
Fr. Linebacker
#20 6-2, 215
Bennettsville, SC
View Full Profile looked like he wanted to crush people on special teams, and Stephone Anthony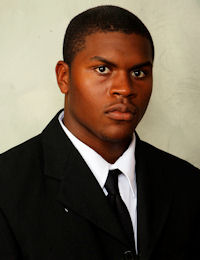 Stephone Anthony
Fr. Linebacker
#12 6-3, 235
Polkton, NC
View Full Profile had several good moments, including on the goal line at Virginia Tech early in the season. The Tigers need to get Tony Steward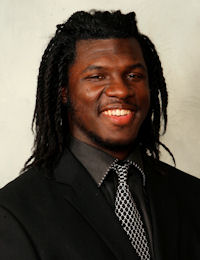 Tony Steward
Fr. Linebacker
#7 6-1, 245
Hastings, FL
View Full Profile 's knee healthy and see what they have in B.J. Goodson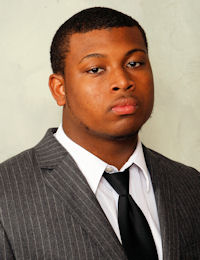 B.J. Goodson
Fr. Linebacker
#44 6-1, 235
Timmonsville, SC
View Full Profile . Justin Parker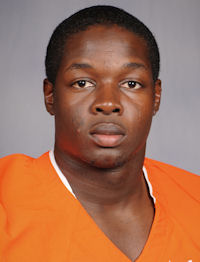 Justin Parker
So. Linebacker
#8 6-1, 225
Port Royal, SC
View Full Profile certainly looks the part, but hasn't been much of a factor. At one point this season, the play from this unit was so bad that I thought we would see more of the kids, but that never materialized. I heard from one coach that the scheme was too complicated for them to make an impact, yet Steele and Swinney said the scheme was as basic as it could be. It doesn't matter anymore; the kids' time is now.
*Stop the option – How many times since Paul Johnson has been at Georgia Tech have Clemson fans had to endure drives that seemed to last 13, 14, 15, 16 and even 17 plays? First down, second down, third down, convert and back to first down. It's what Johnson's offense does best, but other schools have had success in stopping it by simply playing disciplined football. Even teams that run a variation of the option – out of the shotgun like Wofford or zone read teams like South Carolina – have had success against a Clemson defense that all too often has looked confused and out of position when the ball was snapped and most certainly out of position once the play developed. Just once, it would be nice to see a linebacker (see above) or defensive end so disciplined that they hit the option quarterback in the mouth on every play. It can be made into something complex, but stopping the option comes down to something as simple as making players understand their job and that they have to do that job every single play. The new guy would be hailed as a hero if he could stop Tech's option attack his first time out.
*Mobile quarterbacks – Clemson fans have pretty much known over the past three seasons that if a team has a mobile quarterback, it could be a long day for the defense. Heck, even some quarterbacks who aren't all that mobile have had success running the football. For me, it seems the decline started when TCU's Andy Dalton seemingly used the zone read play to keep drive after drive alive back in 2009. Since then, mobile quarterbacks who can escape the pocket or execute the zone read have had career days. C.J. Brown of Maryland, Tevin Washington of Georgia Tech, Connor Shaw of South Carolina and Geno Smith of West Virginia are just four examples of quarterbacks who had career days running the ball against the Tigers this season. Again, however, this goes back to laying a good shot or two on the quarterback. Let one aggressive linebacker lay the wood just one time to a scrambler, and that scrambler might hang in the pocket a little longer the next time he is asked to pass.
*Help on the defensive line – The Tigers graduate three starters [ Rennie Moore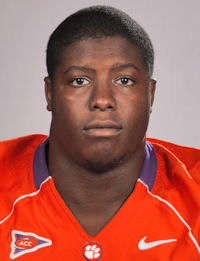 Rennie Moore
RS Sr. Defensive Tackle
#94 6-3, 265
Saint Marys, GA
View Full Profile , Brandon Thompson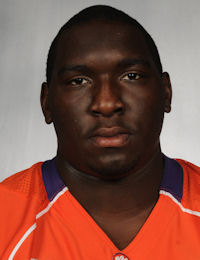 Brandon Thompson
Sr. Defensive Tackle
#98 6-2, 310
Thomasville, GA
View Full Profile , Andre Branch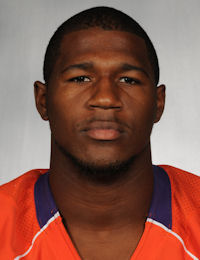 Andre Branch
RS Sr. Defensive End
#40 6-5, 260
Richmond, VA
View Full Profile ] and one main contributor [ Kourtnei Brown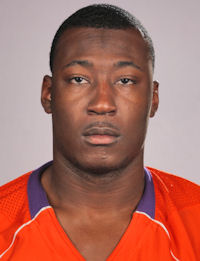 Kourtnei Brown
Gr. Defensive End
#90 6-6, 255
Charlotte, NC
View Full Profile ] off of this season's line. This attrition comes just a year after losing Jarvis Jenkins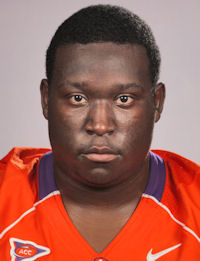 Jarvis Jenkins
Sr. Defensive Tackle
#99 6-4, 315
Clemson, SC
View Full Profile , Da'Quan Bowers, Miguel Chavis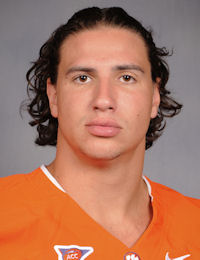 Miguel Chavis
Sr. Defensive Tackle
#89 6-5, 285
Fayetteville, NC
View Full Profile and one time contributor Jamie Cumbie

Jamie Cumbie
Defensive Line
# 6-7, 290
Morris, IL
View Full Profile [who was dismissed by head coach Dabo Swinney] to the NFL. If you're counting, that is eight big-time players that have been lost from the once-deep unit over two years. That kind of loss comes with a price, a price that will be paid this season with a lot of younger players. The old man of the group will be end Malliciah Goodman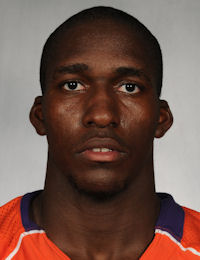 Malliciah Goodman
Jr. Defensive End
#97 6-4, 280
Florence, SC
View Full Profile , who needs to shed the "potential" label and become the player the coaches have always said he could be. Branch drew double and triple-teams this year, while Thompson drew double-teams in the middle, yet Goodman had a rather quiet season. He and sophomore Corey Crawford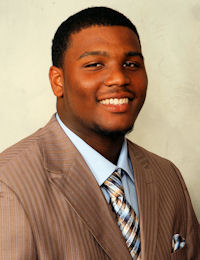 Corey Crawford
Fr. Defensive End
#93 6-5, 280
Columbus, GA
View Full Profile will have to elevate their games in order to take pressure off the interior of the line, which is long on numbers but short on experience. DeShawn Williams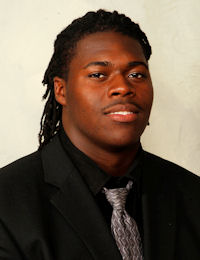 DeShawn Williams
Fr. Defensive Tackle
#99 6-1, 290
Central, SC
View Full Profile , Tyler Shatley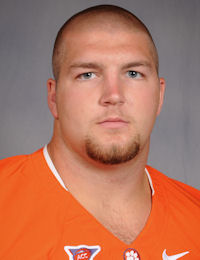 Tyler Shatley
RS So. Defensive Tackle
#43 6-3, 295
Icard, NC
View Full Profile , Josh Watson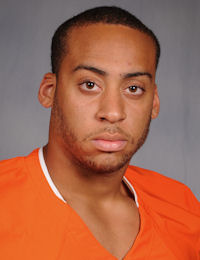 Josh Watson
RS Fr. Defensive Tackle
#91 6-4, 290
Wilmington, DE
View Full Profile , Tavaris Barnes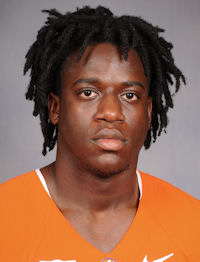 Tavaris Barnes
RS Fr. Defensive End
#6 6-4, 270
Jacksonville, FL
View Full Profile and company will fight throughout the spring and fall for playing time, while incoming freshman Carlos Watkins looks like he could be a contributor right off the bat. All will be needed in what will be a transition year.
*The secondary – The secondary is on the opposite end of the spectrum than the defensive line. A unit that lost stellar players like Marcus Gilchrist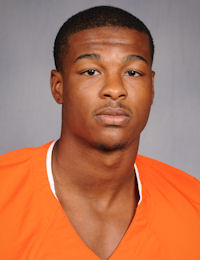 Marcus Gilchrist
Defensive Back
#12 5-11, 190
High Point, NC
View Full Profile , Crezdon Butler

Crezdon Butler
Defensive Back
# 6-0, 180
Asheville, NC
View Full Profile and DeAndre McDaniel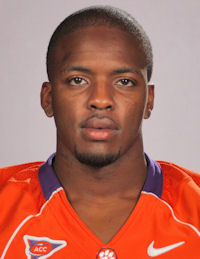 DeAndre McDaniel
Wide Receiver
#2 6-1, 180
Tallahassee, FL
View Full Profile over the past few seasons only loses starting corner Coty Sensabaugh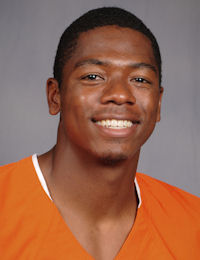 Coty Sensabaugh
Gr. Defensive Back
#15 6-0, 180
Kingsport, TN
View Full Profile this year. The good news is that a lot of younger players saw critical playing time in 2011. Bashaud Breeland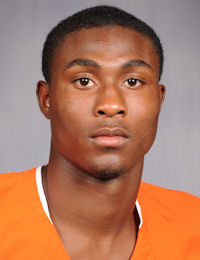 Bashaud Breeland
RS Fr. Defensive Back
#17 6-0, 185
Allendale, SC
View Full Profile , Jonathan Meeks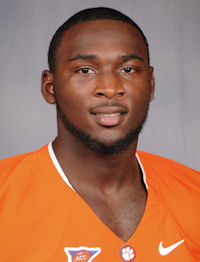 Jonathan Meeks
Jr. Safety
#5 6-1, 210
Rock Hill, SC
View Full Profile , Rashard Hall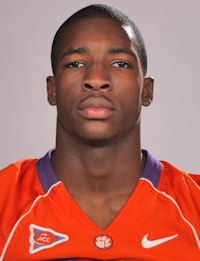 Rashard Hall
Gr. Safety
#31 6-1, 210
St. Augustine, FL
View Full Profile , Xavier Brewer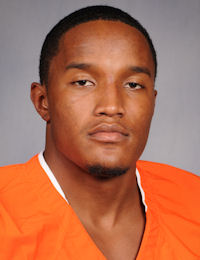 Xavier Brewer
RS Jr. Defensive Back
#29 5-11, 190
Jacksonville, FL
View Full Profile , Martin Jenkins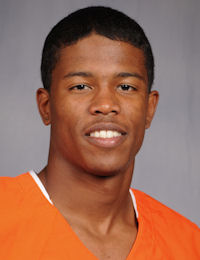 Martin Jenkins
So. Defensive Back
#14 5-9, 175
Roswell, GA
View Full Profile and Darius Robinson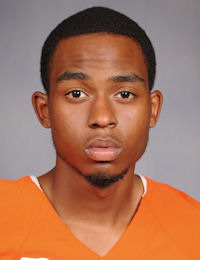 Darius Robinson
So. Defensive Back
#21 5-11, 170
College Park, GA
View Full Profile have all been on the field and all return. Add in the potential of players like Robert Smith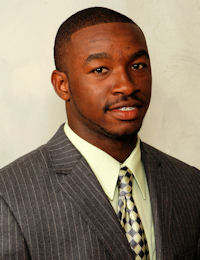 Robert Smith
Fr. Defensive Back
#27 5-11, 210
St. George, SC
View Full Profile and Garry Peters
Garry Peters
RS Fr. Defensive Back
#38 5-11, 190
Conyers, GA
View Full Profile , add in Cortez Davis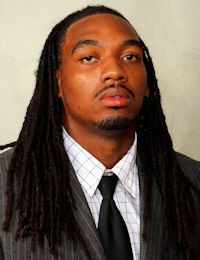 Cortez Davis
Fr. Defensive Back
#2 6-3, 200
Daytona Beach, FL
View Full Profile [who redshirted] and newcomer Travis Blanks and the secondary has a chance to be a strength of the defense while the line and linebacker corps break in younger players. Getting Rashard Hall healthy will be a key, and I truly believe finding a permanent home for some players [instead of seeing a player at safety one play, corner the next and nickel the next play] will add stability to the group.
*Aggressiveness – Former defensive coordinator Kevin Steele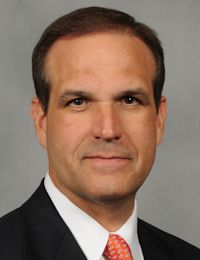 Kevin Steele
Defensive Coordinator/Linebackers
View Full Profile pointed out recently that his defense blitzed 40-plus plays in the South Carolina game. His answer was in response to a question about the lack of an aggressive nature from his defense. To me, you don't have to be a blitz-happy defense to be an aggressive defense. Aggressive means big hits; it means running down the ball carrier; it means shedding blocks; it means stopping the option by attacking the ball carrier instead of waiting to be blocked; it means stopping a running quarterback by lowering the boom a few times; it means dominating the line of scrimmage no matter who you are playing, whether it be Auburn or Wofford. That has to return to Clemson football.

Tags: Clemson Football
,
Andre Branch
,
B.J. Goodson
,
Bashaud Breeland
,
Brandon Thompson
,
Corey Crawford
,
Cortez Davis
,
Coty Sensabaugh
,
Crezdon Butler
,
Dabo Swinney
,
Darius Robinson
,
DeAndre McDaniel
,
DeShawn Williams
,
Garry Peters
,
Jamie Cumbie
,
Jarvis Jenkins
,
Jonathan Meeks
,
Josh Watson
,
Justin Parker
,
Kevin Steele
,
Kourtnei Brown
,
Lateek Townsend
,
Malliciah Goodman
,
Marcus Gilchrist
,
Martin Jenkins
,
Miguel Chavis
,
Rashard Hall
,
Rennie Moore
,
Robert Smith
,
Stephone Anthony
,
Tavaris Barnes
,
Tony Steward
,
Tyler Shatley
,
Xavier Brewer