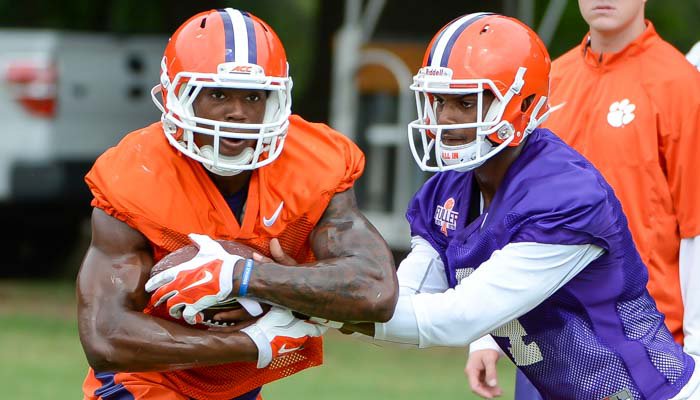 | | |
| --- | --- |
| Monday morning practice observations | |
---
| | | |
| --- | --- | --- |
| Monday, August 17, 2015, 11:30 AM | | |
CLEMSON – The Tigers began their final two-a-days of fall camp Monday morning with a short practice in Jervey Meadows.
Practice lasted just an hour-and-a-half due to the fact that the many of the freshmen were not in attendance due to freshman orientation being held Monday morning.
Practice nuggets
*I wanted to see if Chris Register

Chris Register
RS Fr. Outside Linebacker
#45 6-2, 245
Browns Summit, NC
View Full Profile had moved back to linebacker after the loss of Korie Rogers

Korie Rogers
RS Fr. Outside Linebacker
#43 6-2, 235
Buford, GA
View Full Profile , but Register is still working with the defensive ends.
*The team practiced the rugby style kicks – special teams work was the majority of the first part of practice – and Artavis Scott

Artavis Scott
So. Wide Receiver
#3 5-10, 190
Oldsmar, FL
View Full Profile continues to wow me at punt return. He scooped up one bouncing ball and scooted through four defenders before they had a chance to plant their feet. He may lack true top-end speed like a sprinter, but he has the "quicks" and in the return game that can mean the difference between being tackled or breaking one.
Would love to see him get more work at that position and a chance to return during the season.
*A scary few seconds – quarterback Deshaun Watson

Deshaun Watson
So. Quarterback
#4 6-2, 205
Gainesville, GA
View Full Profile was running the read option early in the practice and awkwardly slipped to the ground. A hush fell over the entire practice field, but Watson smiled and hopped back up without a problem.
*Head coach Dabo Swinney

Dabo Swinney
Head Coach
View Full Profile told the team, "We are a big team. We are a fast team. We are an athletic team. But will we be an intelligent team? I want to see that today."
Practice visitors
*Several NFL teams – the Kansas City Chiefs, Buffalo Bills, Seattle Seahawks, Miami Dolphins, Dallas Cowboys, New England Patriots, and Chicago Bears – had scouts at Tuesday's practice.
I walked over to one scout and mentioned that there weren't a lot of seniors on this team, but he smiled brightly and replied, "No. We have to wait a few more years but that quarterback (Deshaun Watson) is a stud. I didn't have this area last season so I only watched him on TV. I can't wait to see him in person. He's Marcus Mariota with accuracy."
*2018 Greenville (SC) Christ Church linebacker Khalid Jones attended practice with his family. Jones is just a sophomore and already 6-1, 225 pounds.
Injury updates
*Freshman quarterback Tucker Israel

Tucker Israel
Fr. Quarterback
#10 5-11, 190
Orlando, FL
View Full Profile is no longer in a walking boot. Israel broke his fifth metatarsal during the first practice period of fall camp. He's now in regular cleats, but isn't practicing. He spent a portion of the practice throwing the football with a trainer. He didn't appear to be limping too heavily.
* Korrin Wiggins

Korrin Wiggins
Jr. Defensive Back
#12 5-11, 195
Durham, NC
View Full Profile , who suffered a torn ACL during last week's scrimmage, was sporting a brace and his playbook. Wiggins was hobbling around, but was prepared to take all of the mental reps with the defense.
Head coach Dabo Swinney saw Wiggins on the sideline and ran over and asked him if he was ready. Wiggins held up his playbook and smiled and said yes.
*Long snapper Jim Brown

Jim Brown
RS Sr. Long Snapper
#76 6-4, 230
Walterboro, SC
View Full Profile , wide receiver Shadell Bell

Shadell Bell
Fr. Wide Receiver
#11 6-3, 190
Decatur, GA
View Full Profile and running back Zac Brooks

Zac Brooks
Running Back (2012 - 2015)
#24 6-0, 200
Jonesboro, AR
View Full Profile were all in yellow jerseys.
Assistant coaches
Clemson welcomes back several former players as student assistant coaches. Keith Adams
Keith Adams

View Full Profile , Terry Allen, Diamond Adams, Aaron Pringle, Roy Walker and David Davis have returned to Clemson to finish their degrees. They receive a scholarship but are not paid to coach.
Diamond Adams began his Clemson career in 1998. During his first game against Furman, his mother had a heart attack and passed away in the stands.
Clemson has four graduate assistants: Thomas Austin

Thomas Austin
Sr. Offensive Guard
# 6-4, 310
Camden, SC
View Full Profile

Thomas Austin
Offensive Line
# 6-4, 310
Camden, SC
View Full Profile

Thomas Austin
Offensive Line
# 6-4, 285
Camden, SC
View Full Profile , Durrell Barry

Durrell Barry
Tight End
# 6-5, 265
Charleston, SC
View Full Profile , Tyler Grisham

Tyler Grisham
Wide Receiver (2008)
# 5-11, 185
Birmingham, AL
View Full Profile and DeAndre McDaniel

DeAndre McDaniel
Safety (2007 - 2010)
#2 6-1, 180
Tallahassee, FL
View Full Profile – all of whom are in their second season with the program.

Tags: Clemson Football
,
Deshaun Watson
,
Thomas Austin
,
Tyler Grisham
,
Durrell Barry
,
DeAndre McDaniel
,
Jim Brown
,
Zac Brooks
,
Korrin Wiggins
,
Thomas Austin
,
Chris Register
,
Korie Rogers
,
Artavis Scott
,
Thomas Austin
,
Shadell Bell
,
Tucker Israel
,
Keith Adams