| | |
| --- | --- |
| Faith and Football: Former Clemson players speak out | |
---
| | | |
| --- | --- | --- |
| Wednesday, April 16, 2014, 4:18 PM | | |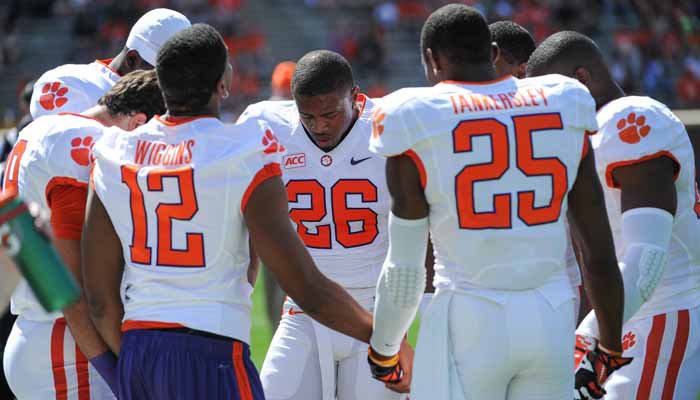 The comic strip Peanuts was a favorite of mine growing up, and one of my best and earliest memories of watching the strip come to life on television back in the 1970's was seeing the ever-faithful Linus sitting in the pumpkin patch, waiting on the Great Pumpkin.
Deep into the night, Linus turns to Charlie Brown and says, "There are three things I have learned never to discuss with people: religion, politics, and the Great Pumpkin."
The Great Pumpkin might not be a hot topic of conversation around internet message boards, the office water coolor or social media, but religion and politics are hot-button topics that inflame even the meekest of personalities. That is true, especially in the South, where college football is a religion unto its own and where fans cheer, support and defend their chosen program with something of a religious fervor.
However, one group thinks that Clemson head coach Dabo Swinney

Dabo Swinney
Head Coach
View Full Profile has taken his Christian beliefs a little too far. The Freedom From Religion Foundation sent a letter of complaint to Clemson University, citing "constitutional concerns about how the public university's football program is entangled with religion."
The group has urged the university to cease the athletics department's emphasis on prayers, Bible studies and other religious activities, including busing players to local churches for Sunday services. In the complaint, foundation staff attorney Patrick Elliott said "Christian worship seems interwoven into Clemson's football program. We are concerned that this commingling of religion and athletics results, not from student initiative, but rather from the attitudes and unconstitutional behaviors of the coaching staff."
As one person said to me recently, the complaint set forth by the foundation makes it sound like team meetings are more like fire and brimstone tent revival meetings, and your spot on the depth chart is based off of how many Bible studies you lead.
That statement is perhaps a little too off the wall, but the truth of the matter is that even the media doesn't know what goes on behind closed doors, but former players certainly do. Seeking to find a little bit of the truth and perhaps a little bit of a reality check, TigerNet checked in with several to get their take on the touchy subject.
Former safety DeAndre McDaniel

DeAndre McDaniel
Wide Receiver (2007 - 2010)
#2 6-1, 180
Tallahassee, FL
View Full Profile - who played for Clemson from 2007-2010 – says the foundation has no idea what it's talking about.
"I can't really speak on what's happening now, but religion was never forced on anybody and nothing was mandatory," McDaniel said. "It didn't matter if you were a Christian or weren't a Christian. They never said you have to get up and go to church. Like the service they had before a game - I went now and then but not all the time. That's the way everybody was."
McDaniel then said that the foundation is shedding a bad light on the university.
"This looks bad for Coach Swinney. I hate it that this foundation comes out and they really don't know what they are talking about," he said. "That's bad news on him. It makes him look bad and makes the Clemson program look bad as a whole. And I know that really isn't how it is going."
The first time religion at Clemson was really brought to light occurred in 2012, when former wide receiver DeAndre Hopkins

DeAndre Hopkins
Wide Receiver (2010 - 2012)
#6 6-2, 205
Central, SC
View Full Profile was baptized at practice. That drew the ire of more than a few people who think that incident crossed the line of separation between church and state.
McDaniel doesn't agree.
"I thought it was great. That was a guy who wanted to give his life over to the Lord, and he wanted to make sure his teammates were there. If that had happened at church, maybe some of them wouldn't have been there. He wanted to make sure his teammates were there, and he asked Coach Swinney if that could happen and he made it happen for his player. That was a player asking for that."
Former running back Roderick McDowell

Roderick McDowell
Running Back (2009 - 2013)
#25 5-9, 195
Sumter, SC
View Full Profile isn't ashamed of his faith, and even credits that faith with helping him get through Clemson. However, he says that Swinney lets each player make his own decisions.
"It's not a church service that he was leading," McDowell said. "One thing that I can say is that Coach Swinney gives everyone the opportunity to do whatever they want and have the opinion that they want. To be a coach, you have to do that. You can't force anyone to do anything. When kids get baptized or when we say the prayer, Coach Swinney didn't make us be there. When Nuk got baptized, Coach Swinney told us if you want to be here, you can be here. Coach Swinney doesn't force anything on anybody. At the end of the day, you can't force Christ on anybody."
Aaron Kelly, who played wide receiver at Clemson from 2005-2008, grew up as a Jehovah's Witness and he told TigerNet that he was never pressured to do anything against his beliefs.
"I grew up as a Jehovah's Witness, and I was kind of a little different from the people there at Clemson because of that," Kelly said. "It never caused me problems. There were some things that I didn't really feel comfortable doing, like when we all got together and had a church visit. But as far as my religious beliefs or anything like that, it was never a challenge. I did what I wanted to do, and I was never pressured into doing anything. It was never a problem and it was never forced on me or anything like that. If I was uncomfortable with anything, I just explained myself and they were okay with it."
The foundation has recommended the elimination of Clemson's chaplaincy position, currently held by former Clemson player James Trapp. The foundation states that Trapp has overstepped his bounds in organizing religious activities for the team.
That doesn't sit well with former center Dalton Freeman

Dalton Freeman
Center (2008 - 2012)
#55 6-5, 265
Pelion, SC
View Full Profile .
"I am extremely disappointed with these outrageously ignorant accusations," Freeman said. "Clemson University, our athletic program, nor James Trapp himself has ever forced religion on anyone. It saddens me to know that somebody has taken these drastic measures to try to ruin a great thing. I am a proud supporter of all things Dabo Swinney, James Trapp, and Clemson University - where people care more about you developing as a man than as a number on the field."
During the conversation with Kelly, we joked about how combining politics, religion and the religion of college football make for a dangerous cocktail of emotions from both sides of the fence.
Linus sits alone in the pumpkin patch for a reason, keeping his beliefs and his emotions to himself except for the occasional visit from Charlie Brown. This issue, however, won't be ignored and likely won't go away anytime soon.
Dabo didnt try changing my beliefs. He's a great coach b/c he stands for what he believes in including Clemson & Christianity #ClemsonStrong

— Aaron Kelly (@akelly80) April 16, 2014