| | |
| --- | --- |
| Jacoby Ford, Miami and a play drawn up in the dirt | |
---
| | |
| --- | --- |
| Thursday, October 22, 2015, 8:01 AM | |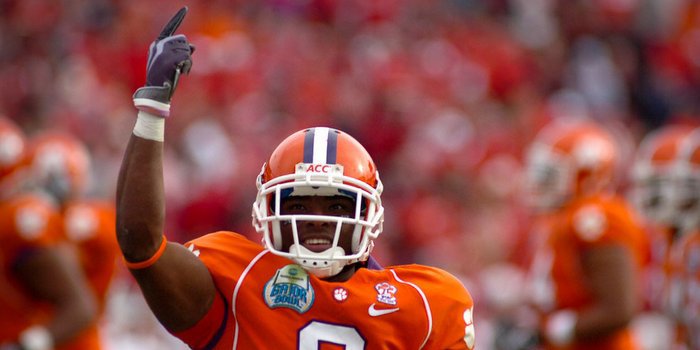 Jacoby Ford remembers the game like it was yesterday, and he still sees the throw from Kyle Parker heading his way in overtime. It was the game that helped shape the program under head coach Dabo Swinney.
No. 6 Clemson (6-0, 3-0 ACC) travels to Miami this weekend to take on the Miami Hurricanes (4-2, 1-1), a team in need of a program-changing play or game. The roles were reversed the last time Clemson visited Miami – a 3-3 Clemson team was 2-2 in the ACC and desperately seeking validation for new head coach Dabo Swinney, while Miami was ranked in the Top 10 in both the BCS and Associated Press Polls.
One team looked to keep its place in the national hierarchy, the other was desperate for a win. For Ford, the memories come flooding back with ease.
"We knew what we had to do going into that game. They were a Top 10 team and we were on a mission," the former Clemson wide receiver told TigerNet earlier this week. "That was a tombstone game for us. We were going in there with the mindset that we were going to win. No one really gave us a shot. We believed in us. I think we were 3-3 - the record wasn't very good and people didn't believe in us. But we knew how good we could be on that team.
"We knew that one win could turn it around for us, and that's exactly what it did. We went in there and played hard, but so did Miami. They had a lot of great players on that team that are in the NFL now. There was a lot of talent on the field that day. We brought a good crowd, but they had a good crowd because it was Clemson vs. Miami. They came in expecting a dogfight that day and that is exactly what they got."
Seven times in the contest, Miami took the lead. Seven times, Clemson fought back. C.J. Spiller had a 90-yard kickoff return for a touchdown and a long catch for another score on his way to a school-record 310 all-purpose yards for the Tigers. Current graduate assistant DeAndre McDaniel had a 23-yard interception for another touchdown and Richard Jackson hit a 30-yard field goal with five seconds left in regulation to tie the game.
It was back-and-forth, it was physical, and the lead changed hands nine times in the final three quarters. The Hurricanes had the first possession in overtime and could have had fourth and goal from inside the Clemson 1 in overtime after the Tigers were offside on Matt Bosher's third field goal of the game. But they chose to keep the points on the board.
"We had a sense that it would be a game that would come down to who had the last possession or that it would go into overtime," Ford said. "Everybody out there knew it. It came down to it in the end and we knew we had to make one more play than them in the end. That is what Coach Swinney, Coach (Billy) Napier and Kyle Parker and myself came up with on the sideline, just because of the way they were playing a certain play the entire game."
Clemson's first play from the Miami 25-yard line was an incomplete pass, and Spiller lost a yard on second down, setting up a 3rd-and-11 from the 26-yard line. The Tigers called timeout and Ford came up with the game-winning play on the sideline. It was something he had noticed as the game went on, and he gathered his coaches and quarterback together for an impromptu huddle, effectively drawing up the play in the dirt.
"He (the Miami defensive back) was overplaying the corner (route) all day. He was all over it. I was open one time on it but Kyle didn't throw it," Ford said. "After that, they were all over it. So Coach Swinney always told us that if we saw anything to come and tell them, and that's what I did. I thought I should post it (run the post route) if he overplayed the corner, and Kyle agreed. Kyle said, 'You are gonna, post, I am gonna throw it, you are gonna catch it and score the touchdown and we are going to get out of here with a win. That's exactly what we did and that's how it went down. We drew it up and knew exactly what we wanted to do. All I had to do was catch the ball. I already knew what he was going to do because of his alignment. I knew and Coach Swinney knew and Kyle pre-read it and he knew. Kyle looked him off and then threw it perfect. He got it right over the linebacker and into my arms. I caught it and took it to the house and it was game over."
Parker looked the safety off and then rifled the game-winning pass to Ford, who outraced the Miami defenders into the endzone. Clemson's players swarmed the field in celebration – including tight end Michael Palmer in his socks after suffering a concussion earlier - but the story didn't end there. Miami head coach Randy Shannon would last just one more year at Miami.
The Tigers went on a six-game winning streak, won the ACC Atlantic Division and played in the ACC Championship Game. If they had lost…….perhaps things would have been different. But they didn't lose, and Ford's play will go down in history as one that might have launched the Swinney era. It was Clemson's first win over a ranked opponent in nine games, and it gave the Tigers confidence.
"That was a team that was fighting for a spot," Ford said. "Our backs were against the wall and it was a must-win game. We knew a win would give us some momentum and that's what it did. I am not sure we lost after that until the ACC Championship Game. That's what got it started for us."