| | |
| --- | --- |
| Tiger Tidbits - SC State Edition | |
---
| | | |
| --- | --- | --- |
| Thursday, September 5, 2013, 11:49 PM | | |
Clemson head coach Dabo Swinney
Dabo Swinney
Head Coach
View Full Profile feels like the breaks might finally be going Clemson's way, but he isn't above asking for a little heavenly help.
Swinney, speaking tongue-in-cheek to the media following Wednesday's practice, said Clemson might have gotten a little divine intervention Saturday night.
"You need some breaks along the way, there is no doubt," Swinney said. "We had Danny Ford
Danny Ford
Former Head Coach
View Full Profile going in the Ring of Honor and No. 81 ( Stanton Seckinger
Stanton Seckinger
RS So. Tight End
#81 6-4, 210
Isle of Palms, SC
View Full Profile ) scored the winning touchdown. Coach (Bill) Wilhelm was going in the Ring of Honor and he wore No. 38, and No. 38 ( C.J. Jones
C.J. Jones
RS Sr. Cornerback
#38 6-0, 185
Lincolnton, GA
View Full Profile ) came up with the fumble on that crazy play in the end zone. Hey, you need a little help. You need some of those Clemson Tigers up there to step in sometimes and help a little bit."
However, Swinney showed his serious side and said that hard work usually creates good luck.
"I really believe you make your own luck," he said. "When you prepare and play your tail off consistently, you will get the breaks."
*I had a friend ask me earlier this week if Clemson was going to get overconfident considering all of the national attention and love. So I asked Swinney how the coaches could prevent that, and his answer was simple.
"You tell them the truth. It's never as good as it seems, and it's never as bad as it seems," he told me. "They have gotten plenty of sugar, and we've given them a little vinegar to offset that. The bottom line is just practice the right way. That is all you can do is challenge them and hope they respond. But the game isn't won on Saturday; it's won on Tuesday and Wednesday. If you practice well on those days, it makes Saturday a whole lot easier."
*The Clemson pressbox was smaller and hotter than normal last week – new AD Dan Radakovich has taken part of the space for his new box, and the new construction was evident. However, the air ducts had either been bypassed, the air wasn't working or someone didn't turn it on and the box was hotter than I've ever seen it. Pack in all the media members and NFL scouts and the box was a little on the steamy side. For the media members who wore button down shirts and sports jackets, I felt more than a little sorry for them. And conversely, I hated the ones who wore shorts.
*It was good to see several former Clemson players on the sidelines before the game, including Andre Ellington
Andre Ellington
Running Back
#23 5-10, 195
Moncks Corner, SC
View Full Profile , DeAndre Hopkins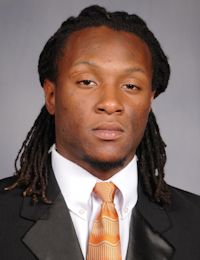 DeAndre Hopkins
Wide Receiver
#6 6-2, 205
Central, SC
View Full Profile Hopkins, Andre Branch
Andre Branch
Defensive End
#40 6-5, 260
Richmond, VA
View Full Profile , DeAndre McDaniel
DeAndre McDaniel
Wide Receiver
#2 6-1, 180
Tallahassee, FL
View Full Profile and Dwayne Allen
Dwayne Allen
Tight End
#83 6-3, 255
Fayetteville, NC
View Full Profile .
I talked to Allen briefly, and asked him what it was like working with Andrew Luck, and he called Luck the most cerebral player he has ever seen. He said that Luck had his growing pains last season, but really learned from each of his mistakes and actually helped Allen become more of a student of the game.
*Speaking of Hopkins – following the missed fade route in the endzone to Martavis Bryant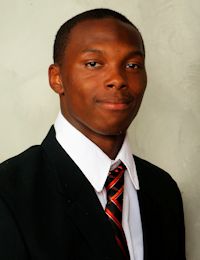 Martavis Bryant
Jr. Wide Receiver
#1 6-5, 200
Calhoun Falls, SC
View Full Profile , I saw Hopkins grab Bryant on the sideline and do a little coaching. No one better to learn from.
*Last Saturday was a big recruiting weekend for the Tigers, and the pre-game sidelines were thick with recruits. Expect the next big weekend to be the Florida St. game – the early kickoff and the opponent make for a smaller visitors list this week.
*I tweeted about this just before the game, but there was a reporter sitting close to me in the pressbox who obviously believed in the SEC hype. He was speaking to one of the Clemson writers, and said that he "really believed that Georgia would win by two touchdowns or more." His rationale? "Well, Georgia is in the SEC and Clemson, well they are just Clemson after all."
Granted, I work for a Clemson site, but I will tell you when I think a game is a toss-up, and I really felt like the game last week would come down to a field goal. I predicted 37-34 and the Tigers won 38-35. Now, if the Orangeburg media comes in this week predicting a two-touchdown victory for their Bulldogs, I might just have to say something.
*Clemson opened as a 52-point favorite against S.C. State. The last time the Tigers won a game by 50-plus points was in 2008 when they beat S.C. State 54-0 in Death Valley. That was the first-ever meeting between the two schools. However, here is an interesting stat from that game – Clemson totaled 416 yards of total offense despite all the points. Heck, Clemson had almost 500 yards of total offense in the FIRST HALF against Duke last season. I don't think I am going out on too much of a limb when I say that Clemson might best that 416-yard total Saturday.
*Don't forget that the Clemson radio booth will be named in honor of longtime radio voice Jim Phillips Saturday. Phillips was the voice of the Tigers from 1968-2003.
*Clemson specialist Bradley Pinion
Bradley Pinion
So. Punter
#92 6-5, 230
Concord, NC
View Full Profile had quite the opener – all seven of his kickoffs were touchbacks, and only one of his seven punts was returned, and that one for just four yards. Fourteen kicks, four yards in return. Yep, I will take that every week.
* Ryan Norton
Ryan Norton
RS So. Offensive Line
#58 6-3, 270
Simpsonville, SC
View Full Profile was the only new starter on Clemson's offensive line against the Bulldogs, but the sophomore center from Mauldin High School graded out the highest at 91 percent. He had four knockdown blocks and didn't allow a sack.
* Carlos Watkins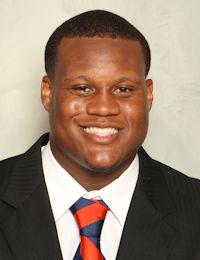 Carlos Watkins
So. Defensive Tackle
#94 6-3, 300
Mooresboro, NC
View Full Profile earned the start at defensive tackle last Saturday against Georgia, and will have another special happening this week – his younger brother is coming to town with S.C. State. Trayshaun Watkins is a freshman defensive end for the Bulldogs. For the record, Carlos played 34 snaps against Georgia and had three tackles.
*Former Clemson quarterback Homer Jordan was one of Clemson's honorary captains last Saturday, and Tajh Boyd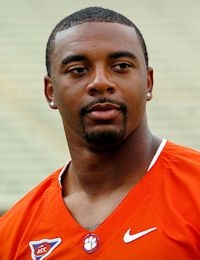 Tajh Boyd
RS Sr. Quarterback
#10 6-1, 225
Hampton, VA
View Full Profile paid a tribute of sorts. In 1981 – Clemson's National Championship season – Jordan had his best all-around game against Maryland when he threw for 270 yards, ran for 42 yards and threw for three scores. That win clinched the ACC title for the Tigers. Ironically, Boyd had 270 yards through the air, rushed for 42 yards and threw for three scores.
*S.C. State features a couple of players with a little bit of a Clemson connection. Javarius Leamon, out of Woodruff, was one of the members of Clemson's 2011 recruiting class, but didn't have the grades to get into Clemson. Instead of going to prep school for a semester, he opted to sign with S.C. State instead. He still sat out last season.
The kicker for the Bulldogs is Will Roper, who hails from Hendersonville, N.C. Roper signed with Arizona St. out of high school, but decided after his initial semester that it was too far from home and he decided to transfer He made an official visit to Clemson and even applied, but wound up at S.C. State instead.
*S.C. State offensive coordinator Joe Blackwell is the brother of former Clemson linebacker's coach David Blackwell.

Tags: Clemson Football
,
Andre Branch
,
Andre Ellington
,
Bradley Pinion
,
C.J. Jones
,
Carlos Watkins
,
Danny Ford
,
DeAndre Hopkins
,
DeAndre McDaniel
,
Dwayne Allen
,
Martavis Bryant
,
Ryan Norton
,
Stanton Seckinger
,
Tajh Boyd