| | |
| --- | --- |
| Clemson Media Day: Sights and Sounds from Phoenix | |
---
| | |
| --- | --- |
| Saturday, January 9, 2016, 2:42 PM | |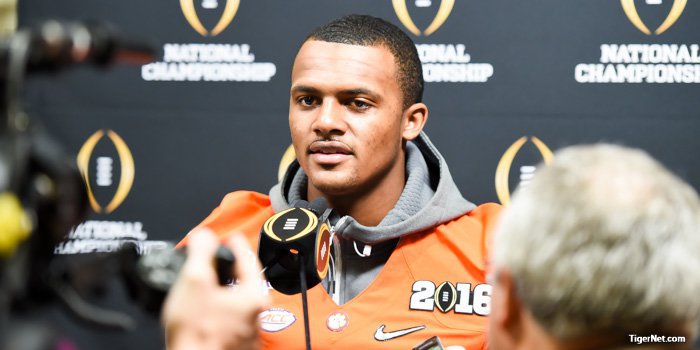 PHOENIX, AZ – Media day, part two.
Clemson football players and coaches were once again front-and-center Saturday morning, taking part in the College Football Playoff's National Championship Media Day. There was a similar media day at the Orange Bowl, but that one took on more of a playful tone.
Saturday was all business as the national media wanted to know: How do you beat Alabama?
It also lacked the trash talk and intrigue heading into the Orange Bowl, but Clemson's players appeared to be a little looser than the Crimson Tide, and it showed with cornerback Mackenzie Alexander, who once again held court with a smile.
Alexander said he couldn't answer any questions about Bama receiver Calvin Ridley – the likely matchup for Alexander Monday – but he did say that he takes pride in answering questions about whether he can shut down a Will Fuller or Sterling Shepard or Ridley.
"I just go out there and do my job," Alexander said. "I am blessed. Gifted and a God-fearing man. I take my job seriously and it allows me to go out there and do that. We've got great players in our secondary and we're very flexible. People will find out how good we are."
*We spent a little time talking to former Clemson assistants and current Bama assistants Billy Napier and Burton Burns. Napier – who was let go by Dabo Swinney after the 2010 season – had nothing but praise for the job done by Swinney.
"We still keep in touch," Napier said. "Whenever he does something good or wins an award, I will send him a text. This is a business and we both understand that. I think we have a great relationship. Monday night isn't about me or Dabo, it's about two great football teams. I think it's going to be a great game."
Burns said he couldn't have foreseen the success Swinney has had at Clemson, but his initial impression of Swinney still sticks in his mind.
"I remember Coach (Rick) Stockstill left Clemson to take another job, and in comes Coach Swinney," Burns said. "And right away, Coach Swinney impressed me with his energy. He was always doing something and that was impressive to see."
*The general consensus in the national media is that Alabama is just too good and too physical for Clemson. ESPN analyst Mark May told us that Clemson has to be able to survive four quarters against the physical presence of the Tide.
"Clemson can win," he said. "I think it will be very physical early in the game, but Clemson has to prove they can be that physical for four quarters. Alabama just continues to grind and they wear you down, and they have the best defensive and offensive lines in the country."
*Former Texas head coach Mack Brown said Swinney came to Texas shortly after taking over at Clemson to learn some of Brown's practice rituals and how to run a program. Brown said he's been impressed with what Swinney has accomplished.
"He's been an amazing story for anyone that doesn't start out with all of the advantages," Brown said. "I think what he shows all of us is passion. He has tremendous passion for the kids. He doesn't care what anybody says about him. He says some crazy things sometimes and people make fun of him and he just doesn't care. He doesn't pay any attention to that."
*Had a brief conversation with AD Dan Radakovich about a contract extension or raise for Swinney, and Radakovich said there haven't really been any talks to date. Radakovich said Swinney "has a contract" but that the two would sit down at the end of the season to talk about the contract."
*Swinney was asked by one unwitting reporter if he was too tough on punter Andy Teasdall during the ACC Championship Game, and Swinney got just a little miffed.
"He's really tough. I mean, I don't know – what's he been through? He got yelled at? I mean, golly," Swinney said. "On national TV. So what? Give me a break. There's a lot of players that get yelled at on national TV. Does (Bill) Belichick ever yell at anybody? Does Coach Saban ever yell at anybody? People dramatize that. Y'all don't know anything I said to him. Just because I'm speaking loud. It's not like I'm talking about his mom or anything like that. It's a joke. He got yelled at; so what? Give me a break. He hasn't been through anything. He's been to Miami Beach. He's been in school at Clemson, he's traveled to Arizona. He's in a nice hotel. Life is good. I mean, but he's a tough kid, to answer your question. He's a tough kid in that – he was a great lacrosse player, and I think there's a lot of toughness that comes with that sport. But he's not tough because he got yelled at by his coach."
*We had a nice conversation with strength coach Joey Batson, who laughed at how things have changed over the last few years. Batson said he's always striving to make the program better, but that having better players always help change people's perceptions about just how good a strength program is. If you get a chance, watch the video.
*Former Clemson safety DeAndre McDaniel is having a ball – he's a graduate assistant – and said he's always trash talking the current secondary about who is better, the current group or the players he played with.
"There's no doubt, we were better," McDaniel said. "We had me and Gilly (Marcus Gilchrist) and Rashard Hall and Byron Maxwell. We could ball. But these guys are good, too. It's been a pleasure working with them. I've loved every minute of it."
He then said that safety Jayron Kearse has "Hall of Fame potential" if he stays focused.