---
| | | |
| --- | --- | --- |
| Thursday, January 8, 2015, 9:29 AM | | |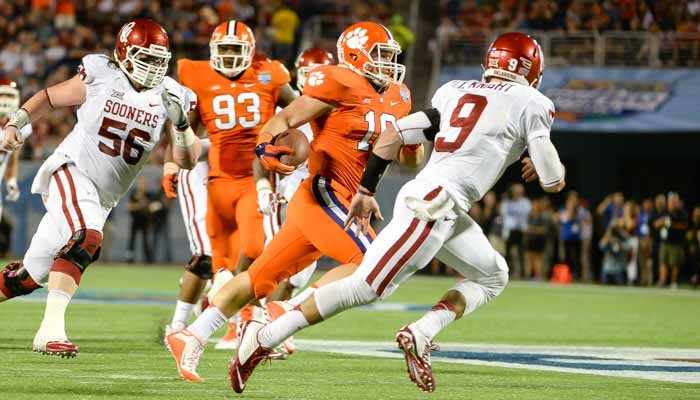 Clemson's first game of the 2015 football season is still 240 days away, an eternity for college football fans who now have to wait for National Signing Day, spring practice, summer workouts and the dog days of summer before their favorite team takes to the field.
The Tigers will look completely different the next time they play for real – no Grady Jarrett

Grady Jarrett
Sr. Defensive Tackle
#50 6-1, 290
Conyers, GA
View Full Profile , Vic Beasley

Vic Beasley
RS Sr. Defensive End
#3 6-2, 236
Adairsville, GA
View Full Profile , Bradley Pinion

Bradley Pinion
Jr. Punter
#92 6-6, 230
Concord, NC
View Full Profile , Stephone Anthony

Stephone Anthony
Sr. Linebacker
#42 6-2, 244
Polkton, NC
View Full Profile or Robert Smith

Robert Smith
Sr. Safety
#27 5-11, 211
St. George, SC
View Full Profile . No Kalon Davis

Kalon Davis
RS Sr. Offensive Guard
#67 6-5, 340
Chester, SC
View Full Profile . No David Beasley

David Beasley
RS Sr. Offensive Guard
#68 6-4, 323
Columbus, GA
View Full Profile . No Adam Humphries

Adam Humphries
Sr. Wide Receiver
#13 5-11, 193
Spartanburg, SC
View Full Profile .
Yes, the roster will have a makeover and it's hard to predict what will happen between now and then, and the Tigers have enough questions ( Deshaun Watson

Deshaun Watson
Fr. Quarterback
#4 6-3, 204
Gainesville, GA
View Full Profile 's health, the emergence of a big-time running back, who will kick off and punt, who will replace those senior defensive guys?) that we won't really know the capabilities of the team until the actual games are played.
Still, it's fun to take a look into the future and get a glimpse of the Tigers' opponents and make a guess at the wins and losses. Sure, it's early. But it's still fun, and it will be interesting and fun to take another look at the end of the summer.
LET'S CALL THEM WINS
Appalachian St. and Wofford are – for now – the Tigers' first two opponents of the season. Wofford has always given FBS opponents fits, while the Mountaineers have recently made the jump from FCS to FBS. However, Wofford has fallen on hard times in the new-look Southern Conference, finishing 6-5 in 2014 and 5-6 in 2013. Appalachian St. has always been able to draw talent up to Boone, but not enough to beat Clemson in Death Valley after finishing 7-5 last season. We've seen enough of Syracuse and Wake Forest over the last couple of seasons to know that it really doesn't matter where these games are played – the Tigers are just more talented across the board.
SHOULD BE FAVORED, BUT………
This is a grouping that I've argued about with Nikki Steele. This is a group which is made up of teams that Clemson should beat and should be favored to beat. But everybody has bad days, and a bad day against this group means a loss. This group includes North Carolina St., which has struggled at times under head coach Dave Doeren, but Doeren has quietly been adding talent through recruiting and still has dynamic quarterback Jacoby Brissett.
Boston College always plays Clemson tough, but this year's game is in Death Valley. Miami keeps reeling in talent to Coral Gables, but every time I watch them it seems like there is just something missing with Al Golden's team that keeps them from being elite.
Here is the one I've argued about with Nikki – she thinks putting South Carolina in this spot is bulletin board material and that a large majority of the fan base will be outraged and throw small hissy fits because they believe something written on a website can affect the outcome of a game. Well, throw your fits and get angry, because I think South Carolina belongs in this group. They've still got talent, but they've also got a lot of issues and as we sit here today, you would have to think Clemson would be favored in Columbia in 2015.
It's a rivalry game and anything can happen, but can you honestly sit there throwing your hissy fit and tell me Clemson isn't the better program right now?
TOO CLOSE TO CALL?
In my opinion, these are the four games that will decide Clemson's season. Just like the Tigers have had three games each of the past few seasons – Georgia, South Carolina, Florida St. – there are four next season. It begins and ends with Florida St. – the Seminoles have won three straight in the series and they've won in all kinds of ways – the shootout in 2012, the blowout in 2013 and the heartbreaker in overtime in 2014. If the Tigers are going to get back to the ACC title game and make a run at the College Football Playoff, beating the Seminoles is the first priority.
Georgia Tech took a step forward this season, and it's been interesting to note that in recent seasons the Tigers have drawn Florida St. early in the season and Georgia Tech late. That would be an ideal formula next season – get Florida St. while they're breaking in a new quarterback and get Tech late and give Clemson's young defense time to grow up. Paul Johnson's squad won't be an easy out for anybody next season, especially with young quarterback Justin Thomas.
Knowing the ACC and how they schedule Louisville's games, it wouldn't surprise anyone if the Tigers play at Papa John's Stadium on a Thursday night. The two teams played a nail-biter this past season, and this looks to be a bourgeoning rivalry. Notre Dame – which comes to Death Valley – finished 8-5 last season but head coach Brian Kelly said after the Irish beat LSU in the bowl game that he thinks next year's team has the talent to make noise nationally.
Clemson's home schedule promises to be exciting once you get past the first two games, and the good news is that three of these four tough games are within the friendly confines of Death Valley. The toughest road stops look to be in Louisville or Columbia, but Miami and Raleigh can't be discounted.
These four games figure to be the difference in the season, but a loss in any of the other eight could mean the season goes off the tracks. No matter what happens, an exciting home schedule and the addition of the Irish means 2015 should be fun, while challenging road contests will test Clemson's mettle.
Spot the ball.