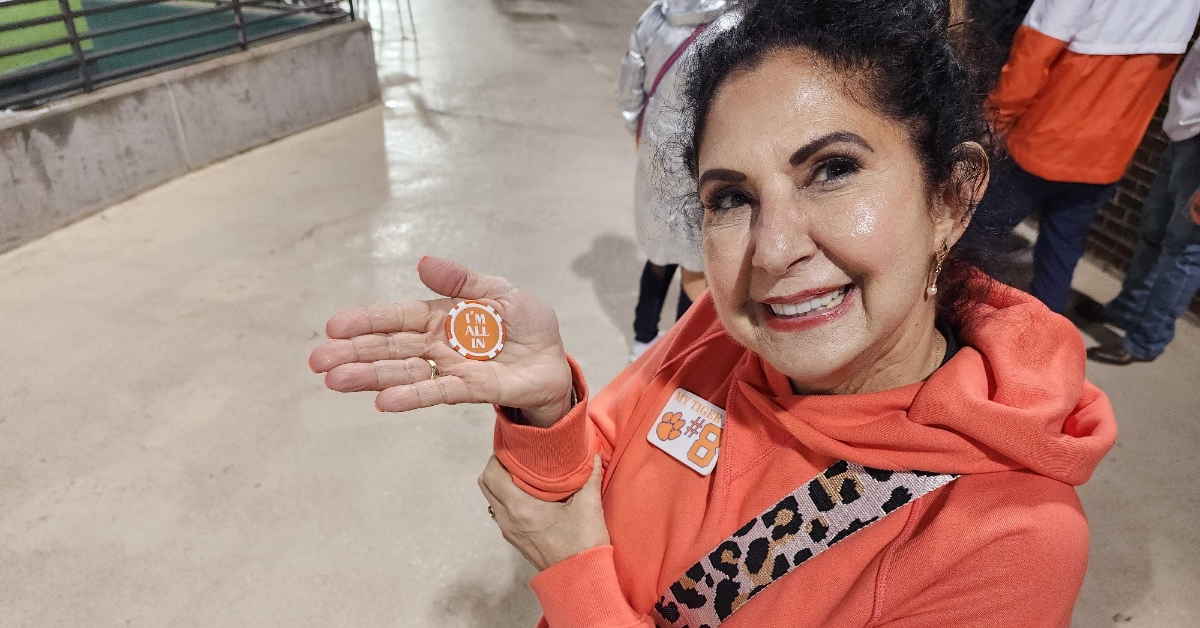 | | |
| --- | --- |
| Nonna Wright and her All In chip bring good luck to her grandson and Clemson baseball | |
---
| | | |
| --- | --- | --- |
| Wednesday, May 24, 2023, 7:00 AM | | |
Clemson third baseman Blake Wright had a series to remember against North Carolina last weekend, but it didn't come as a surprise. He had his own walking, talking good luck charm in the stands.
Wright was 5-for-9 with two homers and six runs batted in during the first two games of the series, including his game-winner in the bottom of the ninth in Friday night's win over the Tar Heels. As Wright rounded first base and noticed his teammates headed his way with Gatorade buckets, his grandmother stood on the concourse, All In chip clutched tightly in her hand, cheering louder than anyone in the stadium.
Wright's good luck charm is Evie Wright, his grandmother, just one of a handful of family members who made the trip to see Wright play. Blake hails from Florida, but his dad Shane (and Evie's son), grew up in Williamsport, Pennsylvania, the site of the Little League World Series. Baseball runs in the blood of the Wright family.
"Blake's dad, Shane, played T-ball as a youngster, he was 5 or 6 when we put him into T-ball, and he absolutely loved it," Evie Wright told TigerNet. "And (he) played Little League, and then played all the way through high school. But of course, growing up in Williamsport, we're the home of the Little League, so baseball was always in everyone's blood, and it was in his blood, our blood, the family's; that's all we did, even our relatives. Great aunts, they would sit and watch baseball games constantly. We love the sport; it's our sport."
Evie said Blake's talent – and intensity – was obvious early on.
"At the age of four, he was so young, of course, he was playing T-ball, absolutely loved it, and played all the way through travel ball," she said. "And he had basically the same coaching staff, including my son; he was part of that too. But I think they all knew, just by the passion, and the love that he had for the game, and he had some unbelievable work ethic, even at a young, young age. I think they all knew that he could follow his dream and go after this. And... that's what's happening now.
"He was intense. (Laughs) Very intense. And it was fun, too. It was fun for all of us to watch. I really believe, like when he was a newborn and came home from the hospital, there were baseball gloves, balls, bats, everything was baseball when he was first born. He started off on the beach, and when he could walk they would throw wiffle balls; every weekend, they would go. And there he would be hitting, and my son would be making eye contact, his mom would be catching and she'd be shagging balls on the beach, bringing all the balls back, and my son would be pitching to him. It was cute, of course baseball was always a priority with him. Blake ate and slept baseball."
Blake continued to play the sport he loved as he grew.
"When he was little, he had a bucket of balls, and this went all the way up through high school," Evie said "He'd have a bucket of balls ready when his daddy got home from work, with his bat and glove, and it'd be 5-5:30 and he'd be ready at the door waiting for him. Seven days a week. They would practice until dark, every single night. Of course, being from Clearwater, home of the Philadelphia Phillies Spring Training, and that's his favorite team, his mom and dad would take him for Spring Training every year. He'd camp out with his photos of all his favorite players, balls, and he'd stand in line with his special Sharpie."
Blake had the opportunity to play baseball at different schools, but Clemson was just different.
"He was invited to many, there were several colleges, but when he had the wonderful opportunity at Clemson, and they got invited to come visit, and I remember this so well," Evie said. "I have goose bumps right now telling you this, but I remember him saying, 'As soon as I walked on that field, I knew this was where I wanted to be.' My son said the exact same thing. There was no question, absolutely no question about it, he just fell in love with everything about Clemson. We are so grateful, so proud that he's there."
Evie and Blake's other grandmother try to make it to Clemson at least once a month, but when they aren't in town they listen to the games on the Clemson Radio Network. Both fell in love with play-by-play announcer Don Munson and analyst Bob Mahony, and during game one of the series against North Carolina, Evie got the chance to meet Munson after our staff photographer, Merrell Mann, texted me that Evie wanted to see Don. The rest is history.
"Well, Don was so sweet. I didn't want to bother him, but he said, 'No, no come in and sit down!' He was so sweet, but to top it off, he leaned down into his duffle bag and got out this chip, and put it in the palm of my hand," Evie said of one of football head coach Dabo Swinney's All In chips. "And I really wasn't aware, but he told me the story about Tiger football and Coach Dabo, and I told him I never knew that, I never knew about the chip.
"And I never took that chip out of the palm of my hand the entire weekend. So I thanked him and went back to my seat, and I was so shocked about this, I just held it in my palm so tight. Blake was up, I think we had two outs, I think it was a full count, and it wasn't like even two minutes later, he hits a two-run home run. I looked down at the chip and I just couldn't believe this was happening! And then, we ended up sweeping North Carolina! It was crazy!"
Blake said he wants to find a way to make sure his family is in Durham for this week's ACC Tournament.
"Heck yeah, of course, The whole family is here. Two grandmas. Grandpa came into town. Mom and dad. It's been incredible because they are so supportive," he said. "Anytime I do something, I can hear, 'Woowoowoowoowoo!' I can hear my dad screaming all game. It's awesome. It's cool. We will find a way. It will happen."
Evie said she can't get over how much Clemson is like a family, and she thinks that family feeling will take the baseball Tigers a long way.
"Listen, they're going to go all the way. They are. And, the thing is, I will have that chip in my hand this entire weekend," Evie said. "I was going to give the chip to my son to take to Durham, but Blake said, 'No, Nonna, you take it you and have it when you watch the game.' He wanted me to keep it. And I'm going back to Clemson next weekend. With the chip. The bottom line is that I think these teams are afraid to play Clemson. I read somewhere that it was said that, 'No one wants to play Clemson right now.' Soooo… GO TIGERS!"
**Special thank you to Merrell Mann, who is the one that first met Nonna Evie, and she interviewed her for this story.

Upgrade Your Account
Unlock premium boards and exclusive features (e.g. ad-free) by upgrading your account today.
Upgrade Now