---
Offensive Improvement
We can look back of the last couple of years and the Chad Morris
Chad Morris
Offensive Coordinator / QBs
View Full Profile era as perhaps the greatest in Clemson football history from an offensive standpoint.
What Morris has been able to do at Clemson is simply amazing. He took over a bad situation and had an instant impact in the offense. What he has produces a massive offensive output including the breaking of numerous school records.
One of the most important aspects of his tenure is the idea that Morris has given the offense direction.
The numbers could not be more impressive. The year before Morris came to Clemson the Tigers averaged 24 points a game. In his first season they averaged 33.6 points per game. Last season the Tigers improved to 41 points a game.
Before Morris came to Clemson, the Tigers averaged 335 yards a game. In his first year they improved that number to 441 yards and last season it improved to 513 yards. Few could have envisioned almost a 180 yards difference of total offense in two seasons and 17 more points a game.
Clemson's passing offense has also improved. The year before Morris came to Clemson, the Tigers averaged 196 passing yards. In his first year that number increased to 282 yards. Last season they improved again to 322 yards. Therefore they went from 196 yards a game through the air to 322 yard game through the year in two short seasons.
The completion percentage also improved. Before he came the Tigers averaged 56 percent through the year. In his first season they completed 59 percent and last year that number increased of the 67 percent through the air.
Turnovers have also improved. The year before he arrived, the Tigers were a minus three in turnover ratio. The first season under Chad Morris they improved to -1. Last season they were a plus 2 in the turnover department.
Morris' influence has been big on the score board. Before Morris arrived at Clemson, the Tigers had gone 15 consecutive games without scoring 40 points or more. Since Morris has arrived at Clemson, the Tigers have scored 40 or more points 10 times in 27 games.
In the two seasons prior to Morris' arrival at Clemson, the Tigers were 15-12 overall. Since Morris arrived the Tigers are 21-6.
He has also won big games. In the two previous years before Morris came to town the Tigers had two wins against teams ranked in the top 25. With Morris running the offense the Tigers have beaten five ranked teams.
One of the most underrated aspects of Morris' time at Clemson is his handling of quarterbacks. Boyd was an inexperienced player when Morris arrived, but Morris has helped develop Boyd into a record breaking quarterback. This development could leave Boyd as the ACC's all-time leading passer.
Morris has influenced recruiting also. Because of his fast paced, high-powered offense, players identify with it and want to play in the system. Recruiting has increased greatly since Morris' arrival.
To be fair, it must be pointed out that he has he did not inherit an empty cupboard. Dynamic playmakers like Nuk Hopkins, Sammy Watkins
Sammy Watkins
Jr. Wide Receiver
#2 6-1, 205
Fort Myers, FL
View Full Profile , Dwayne Allen
Dwayne Allen
Tight End
#83 6-3, 255
Fayetteville, NC
View Full Profile , Andre Ellington
Andre Ellington
Running Back
#23 5-10, 195
Moncks Corner, SC
View Full Profile and Taj Boyd have been prevalent in his offense. Former Clemson offensive coordinator Billy Napier did not have that luxury. Napier was saddled with fewer bullets to work with.
Morris has given Clemson a sense of urgency. If you ever seen a practice at Clemson you have seen a frantic offensive system at work. Morris continues to push, push, push. He is never satisfied. That kind of attitude has made a big difference.
Clemson now has an identity and a brand. When this staff goes into high schools or high school kids' homes, they have a lot to sell. They don't have to tell them what they want to do offensively. They can show them the identity. Kids are attracted to this offense. Kids want to play in a fast pace offense and want to be able to showcase their talents. Morris can show quarterbacks, running backs, wide receivers, tight ends and offensive linemen how he has been able to showcase their abilities in a dynamic offense.
There will be a time where Chad Morris will leave Clemson. It may be sooner rather than later, but when time comes I doubt Clemson's offensive identity will change. Maybe the play calling may change slightly maybe but I think Chad Morris has left a long term identity with Clemson. I don't think it would hurt Clemson fans' feelings if this is the offense of the style they see for the foreseeable future.
Finally he reminds me of another former Clemson offensive coordinator Rich Rodriguez. Rodriguez also left a major impression in the program and went on to do great things at West Virginia. He definitely left a mark here at Clemson. There's no doubt in my mind that Morris is well on his way to doing that and I can't wait to see his 2013 offense.
Jeff Scott
Jeff Scott
Assistant Coach / WRs / Recruiting Coordinator
View Full Profile and Chanticleer
The Ryan Harless Foundation has opened the bidding on an awesome golf outing. You and three friends can play a round of golf on Sunday, July 14th with Clemson Recruiting Coordinator Jeff Scott and Mickey Plyler at Greenville Country Club's Chanticleer Course. This is the top ranked course in the upstate of South Carolina. Bidding will end on Wednesday, July 10. You can place your bids on the Ryan Harless Foundation Facebook page or by email at mickeyplyler@hotmail.com. Please add your email address when you bid.
Two Clemson-Georgia Tickets
The Ryan Harless Foundation has opened an auction for two Lower Deck tickets to the Clemson-Georgia game. Bidding will end Friday, July 12 at the RHF Family Fun Fest.
You can place your bids on the Ryan Harless Foundation Facebook page or by email at mickeyplyler@hotmail.com. Please add your email address when you bid.
The Brad Hughes All-State Insurance Agency
Prayer List
We have started a prayer list on the blog. Here are the guidelines:
If you are offended by prayer or prayer lists then I apologize in advance. The blog is free and the prayer list will be on the bottom of the page so you don't have to read it.
If you would like to add someone to the list please email me at mickeyplyler@hotmail.com
*Please let me know when it is appropriate to take the person off of the prayer list.
Those who need our prayers include: Finn Brookover, Jo Ann Bachman, Kenneth Bryant, Pruitt Martin, Got igers and his family, David Rowland, Leonard, Gillespie and his family, Jim S, Daniel Rosborough, The Huffman family, Nancy Winkler, John Reeve, Vinnie Brock, Kaitlyn L, Susan Miller, Joyce Harley, Steve Proveaux, Jeffrey Greene, the Hutto family, Sherl Drawdy, Caleb Kennedy, Teresa O'Connor, Matt Jacobs,Perrin Seigler, Candee Massee, Lindsey Jordan, Sam Catoe, Tyler Felch, the Nicolopulos family, "the Jacksonville, FL guys", Kim Sims, the Coyle family, Ryleigh Tedder, Steve Lee, Kelly Trakas, Jimmy Moore, the Thomas. V Family, Emary Claire Young, Kitty Bowers,Julie Locke, the Scheider family, Lauren Kittles' family, Frank Gentry, Joyce Bussey, Stacey McKeown, Dale Childs, Larry Lentz, Jr, Carl Sharperson, Scott Hannon, William Perry, Tyler Swaney, Lillian, Mark Feit, David Frame, Chad Berry, the family of Matthew M. Watson, the Dowis family, Shervin Messer, Alan Putnam, the Olivers, Lee Tate, Ronnie Abrams, Eddie Greene, the Jackson family, Bill Vader, Jim Taylor, Tina DeWitt, Rock Horne, Christopher Tuten, Bobby Wayne Thomas, Emma and Danielle Carothers, Robert Ditty, Mr. and Mrs. Murray Smith, Dot Cartee, Ayden Mills, Millie Heatley, Lynn Martin and family, Michael Pinson, Jake David family, Angie Crowley, Ira, Mike Tolson, Poly Wells, Dr. Muriel Bishop, Jack Cunningham, Emily Jefford Meister, Zachary Stoller, Aaron Clackum, Pat James, Cortney Moore, William Moore, Angelia and Savannah Anderson, William Ross, Meredith Legg, Scott Johns, Frank Carroll, Brandon Thompson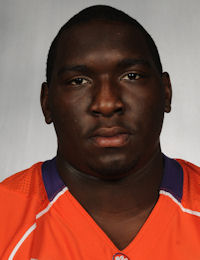 Brandon Thompson
Defensive Tackle
#98 6-2, 310
Thomasville, GA
View Full Profile , Alvin Sammons, Georgine McAlhaney, Glen Davis, Mike Price, Clay Childers, Aaron Knight, Danielle Johnston and family, Nicholas Abrams, Lana Kuykendall, Gary, Gary G., William Huggins, Jim Bennett, Chantz Fowler, Ethel McElveen, Michele Gurganus, William Gentry, Lewis Usher and Tanya Sanders, Shon Cooper, Nick Collins, Travis Patterson, Amanda Peake, Danny Hammond, Chip Turner, Nick Collins, Allen Steen, The Sturkey Family, the Lance family, Marcus Lattimore, Nick Chrisley's family, Allison Williams, Lt. Kyle Walker, Summer and Joel Johnson, Nicole O'Donnell, James O. Johnson, Joy Pruett and family, Patrick Heher, Bill Schmidt, Jack Bailey, Bill Early, Gardner Family, Charles Turner, Kathy Bartholomew, Ray Sanders, David and Robin Blocker, J.R. Ray, Kenneth Kowe, Lauren Sielicki, Doug Bailey and family, Johnnie Walker, Jenna Phipps, Mark Lawrence, Harlan Sullins, Peter Laboy, Kat and Carlisle Jones, Elizabeth Galloway and family, Anita McDonald, Willard Harryman, Liz Surratt, Molly Senn, Jackie Shearer, Richard Sellers, Tim Drisdelle, Edward Easterling, Dawson Bourne, Susan and Mike Brown, Julie Goodman Marshall, our great country and the men and women in uniform that protect and serve it every day plus their families.

Upgrade Your Account
Unlock premium boards and exclusive features (e.g. ad-free) by upgrading your account today.
Upgrade Now