---
| | | |
| --- | --- | --- |
| Monday, June 10, 2013, 10:23 AM | | |
Clemson's Best Tailbacks
I started watching Clemson football in 1974 and can remember all of the great players over the last forty years. In the next couple of weeks I am going to give my thoughts on the greatest Tigers at every position over that 40 year span. I think it is only fair for me to comment on the players I actually saw play. So below is my ranking for the best tailbacks in school history.
1. C.J. Spiller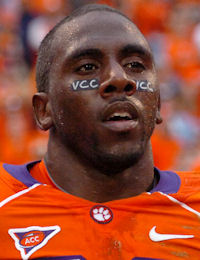 C.J. Spiller
Pro Running Back
#28 5-11, 195
Lake Butler, FL
View Full Profile
Some believe Spiller is the best player in Clemson history. He had an incredible career including several of the most memorable plays in school history. For his career, Spiller had 3,547 rushing yards and 32 rushing touchdowns. Spiller is in the top 15 in receptions with 124. He is 19th in school history in receiving yards with 1,420. Spiller holds the Clemson record for career kickoff return yards with 2,052 and seven touchdowns. He holds the school record for all-purpose yards with 7,588 which is over 2,500 yards more than Derrick Hamilton, whose record he broke.
2. Raymond Priester
No one has had more rushing yards at Clemson than this durable back. Priester set the school record with 3,966 yards. He also had 21 rushing touchdowns. Priester has the top two rushing seasons in school history with 1,345 yards in 1996 and 1,322 yards in 1995. He also holds the school record with 263 yards rushing in one game.
3. Terry Allen Clemson's Best Tailbacks
Allen played only three seasons at Clemson but he made a huge impact in that short time. Allen finished his career with 2,778 rushing yards and 28 rushing touchdowns. He had exceptional balance and ran as hard as any back in the last forty seasons.
4. James Davis

James Davis
Running Back
# 6-0, 205
Atlanta, GA
View Full Profile
Davis is one of the most popular backs in Clemson history. He is second in school history with 3,881 rushing yards and has the school record with 47 rushing touchdowns.
Davis also holds the Clemson record for rushing touchdowns in one season with 17.
He holds the record for the most starts at running back with 43. He is one of four players at Clemson to have two 1,000-yard rushing seasons.
5. Kenny Flowers
Flowers came into his senior season as a Heisman candidate but injuries hampered his final season at Clemson. Flowers was probably the best example of size and speed of any back I have seen at Clemson. Flowers ended his career with 2,914 rushing yards and 26 touchdowns.
6. Terrence Flagler
Flagler was a terrific athlete than spent most of his time behind Flowers but he came on strong as a senior after Flowers got hurt at Georgia. For his career, Flagler had 2,162 rushing yards and 17 touchdowns. Flagler's fantastic senior season included 1,258 of his rushing yards.
7. Andre Ellington
Andre Ellington
Running Back
#23 5-10, 195
Moncks Corner, SC
View Full Profile
Ellington was a very productive back in all four years at Clemson. He ended his career as one of only four players with two seasons over 1,000 yards rushing. Ellington had 3,436 yards rushing which is fourth in school history. His 33 rushing touchdowns are the third most in school history.
8. Lester Brown
The Rubber Duck had a great career with 2,238 yards from 1976-79. He set the school record with 31 rushing touchdowns. Brown is tied with James Davis with 17 rushing touchdowns which is the best in Clemson history.
9. Travis Zachery
Zachery had a very productive Clemson career. I loved his ability to catch the football. Zachery is one of five Clemson backs to rush for over 3,000 yards in his career. He is second with 41 rushing touchdowns.
10. Stacy Driver
Driver was a personal favorite because of his style despite his size. The Ricochet Rabbit is still 12th in school history in rushing with 2,293 yards and 15 touchdowns.
Ronald Williams was one of the best to ever play here. I would say he is one of the top five most talented backs but injuries held him back.
There have been several other running backs I considered for the top ten. Cliff Austin and Chuck McSwain would have been bigger factors if they did not have to split carries with each other. Wesley McFadden and Joe Henderson were terrific athletes that would have been better if it weren't for Terry Allen. Reggie Merriweather was unfortunate to play with James Davis and C.J. Spiller. Chad Jasmin enjoyed a great senior season as a power back. Charlie James was a phenomenal athlete who saw his career cut short by injuries.
The Brad Hughes All-State Insurance Agency
Prayer List
We have started a prayer list on the blog. Here are the guidelines:
If you are offended by prayer or prayer lists then I apologize in advance. The blog is free and the prayer list will be on the bottom of the page so you don't have to read it.
If you would like to add someone to the list please email me at mickeyplyler@hotmail.com
*Please let me know when it is appropriate to take the person off of the prayer list.
Those who need our prayers include: Finn Brookover, Jo Ann Bachman, Kenneth Bryant, Pruitt Martin, Got igers and his family, David Rowland, Leonard, Gillespie and his family, Jim S, Daniel Rosborough, The Huffman family, Nancy Winkler, John Reeve, Vinnie Brock, Kaitlyn L, Susan Miller, Joyce Harley, Steve Proveaux, Jeffrey Greene, the Hutto family, Sherl Drawdy, Caleb Kennedy, Teresa O'Connor, Matt Jacobs,Perrin Seigler, Candee Massee, Lindsey Jordan, Sam Catoe, Tyler Felch, the Nicolopulos family, "the Jacksonville, FL guys", Kim Sims, the Coyle family, Ryleigh Tedder, Steve Lee, Kelly Trakas, Jimmy Moore, the Thomas. V Family, Emary Claire Young, Kitty Bowers,Julie Locke, the Scheider family, Lauren Kittles' family, Frank Gentry, Joyce Bussey, Stacey McKeown, Dale Childs, Larry Lentz, Jr, Carl Sharperson, Scott Hannon, William Perry, Tyler Swaney, Lillian, Mark Feit, David Frame, Chad Berry, the family of Matthew M. Watson, the Dowis family, Shervin Messer, Alan Putnam, the Olivers, Lee Tate, Ronnie Abrams, Eddie Greene, the Jackson family, Bill Vader, Jim Taylor, Tina DeWitt, Rock Horne, Christopher Tuten, Bobby Wayne Thomas, Emma and Danielle Carothers, Robert Ditty, Mr. and Mrs. Murray Smith, Dot Cartee, Ayden Mills, Millie Heatley, Lynn Martin and family, Michael Pinson, Jake David family, Angie Crowley, Ira, Mike Tolson, Poly Wells, Dr. Muriel Bishop, Jack Cunningham, Emily Jefford Meister, Zachary Stoller, Aaron Clackum, Pat James, Cortney Moore, William Moore, Angelia and Savannah Anderson, William Ross, Meredith Legg, Scott Johns, Frank Carroll, Brandon Thompson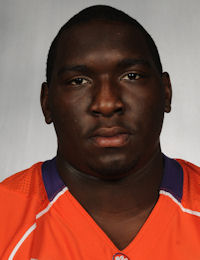 Brandon Thompson
Defensive Tackle
#98 6-2, 310
Thomasville, GA
View Full Profile , Alvin Sammons, Georgine McAlhaney, Glen Davis, Mike Price, Clay Childers, Aaron Knight, Danielle Johnston and family, Nicholas Abrams, Lana Kuykendall, Gary, Gary G., William Huggins, Jim Bennett, Chantz Fowler, Ethel McElveen, Michele Gurganus, William Gentry, Lewis Usher and Tanya Sanders, Shon Cooper, Nick Collins, Travis Patterson, Amanda Peake, Danny Hammond, Chip Turner, Nick Collins, Allen Steen, The Sturkey Family, the Lance family, Marcus Lattimore, Nick Chrisley's family, Allison Williams, Lt. Kyle Walker, Summer and Joel Johnson, Nicole O'Donnell, James O. Johnson, Joy Pruett and family, Patrick Heher, Bill Schmidt, Jack Bailey, Bill Early, Gardner Family, Charles Turner, Kathy Bartholomew, Ray Sanders, David and Robin Blocker, J.R. Ray, Kenneth Kowe, Lauren Sielicki, Doug Bailey and family, Johnnie Walker, Jenna Phipps, Mark Lawrence, Harlan Sullins, Peter Laboy, Kat and Carlisle Jones, Elizabeth Galloway and family, Anita McDonald, Willard Harryman, Liz Surratt, Molly Senn, Jackie Shearer, Richard Sellers, Tim Drisdelle, Gregg Gregory, our great country and the men and women in uniform that protect and serve it every day plus their families.