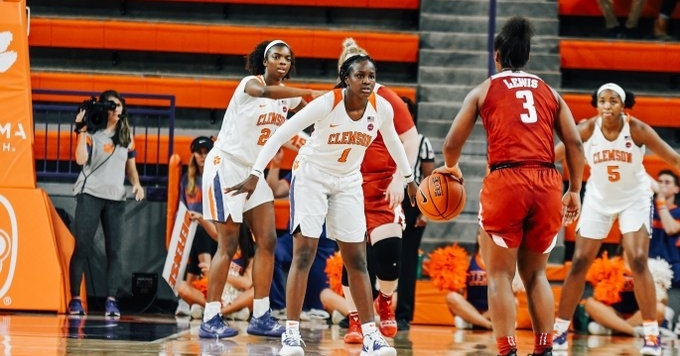 | | |
| --- | --- |
| Lady Tigers fall to Alabama | |
---
| | | |
| --- | --- | --- |
| Tuesday, November 12, 2019, 11:06 PM | | |
CLEMSON - The budding athletic rivalry between Clemson University and the University of Alabama continued as their women's basketball teams faced off in a Tuesday night matchup at Littlejohn Coliseum. Despite a valiant effort by the Tigers and a career-high-tying night for Kobi Thornton, the Crimson Tide was too much. The Tigers lost 67-54, falling to 1-2 on the season.
Both teams had a slower start to the game, but it seemed as though the Tigers had control. The Crimson Tide had only one field goal from the floor the entire quarter. The Tigers were slowed by the Tide's full-court press, but eventually got things going once Kobi Thornton entered the game. Tying a career-high, she had 25 points on the night. Coach Amanda Butler comments on her stellar performance saying, "…that's what you expect your upperclassmen to do. But I know Kobi would trade 25 points…for a W tonight. She'd trade it all in."
The Tide had a 26-point second quarter to give them the lead, 32-24 at the half. In the 3rd and 4th quarters, the Tigers fought hard, but could not overcome the deficit. At one point during the 4th quarter, the Tide held a 17-point lead. Alabama's offensive surge was fueled by Cierra Johnson, who had 21 points, and Jasmine Walker, who had 13.
Mistakes plagued the Tigers throughout. They had 27 turnovers and allowed Alabama to secure 26 offensive rebounds. Coach Butler said that, "…those are numbers that we just have to fight to change. I think they are numbers that reflect that our mental toughness and physical toughness have got to go up a notch."
The Tigers will look to bounce back from back-to-back losses on November 18th versus Alabama State University at 11 a.m. in Littlejohn Coliseum.