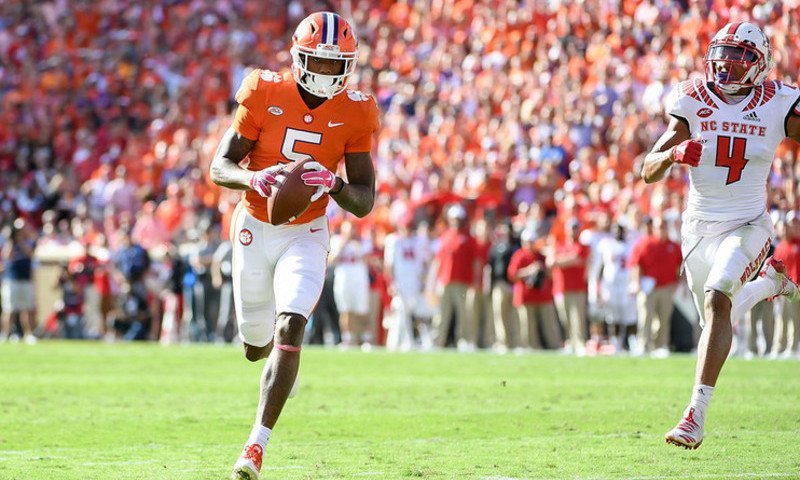 | | |
| --- | --- |
| Latest College Football Playoff rankings released | |
---
| | | |
| --- | --- | --- |
| Tuesday, November 27, 2018, 7:09 PM | | |
The final warm-up for Sunday's Playoff selections (12:30 p.m./ESPN) featured a new top-six for the first time in three committee rankings.
The top-three remained unchanged in the latest CFP Top 25 Tuesday - led by Alabama then Clemson and Notre Dame, but after some weekend upsets, a new trio of Georgia, Oklahoma and Ohio State rounds out the group. With the weekend action ahead, we're guaranteed to see a different make-up there in the final selections.
No. 1 Alabama (12-0) and No. 4 Georgia (11-1) meet in a game Saturday that would seem like a CFP eliminator, although a number of CFB analysts are skeptical Alabama would drop out of the top-four with a loss. Wins by No. 5 Oklahoma (over Texas in the Big 12 title game) and No. 6 Ohio State (over Northwestern in the Big Ten title game) would go a long way in giving the committee a headache. As an independent, Notre Dame will be watching the weekend action from the sidelines after finishing a 12-0 campaign last week at USC.
Who do the experts see matching up in the CFP semifinals? CBS Sports picks an Alabama-Ohio State Cotton Bowl and a Clemson-Notre Dame Orange Bowl. ESPN has differing game site projections, with Kyle Bonagura sending Clemson-Notre Dame to the Cotton Bowl and Alabama-Oklahoma to the Orange and Mitch Sherman picking the opposite.
ESPN metrics give Oklahoma the nod in resume versus Ohio State for a potential fight for fourth and they have a chance at a top-15 win with over Texas this weekend. They hold a No. 24 strength of schedule, No. 6 strength of record and a No. 7 game control rank, while Ohio State has a No. 48 SOS, No. 5 SOR and No. 17 game control rank.
ESPN's Playoff Predictor still renders Ohio State the best odds to make the CFP of the two (48 to 33 percent). Notre Dame has an over 99 percent shot, followed by Clemson (96) and Alabama (82) and then Georgia (39) after Ohio State.
The latest CFP rankings features two top-20 wins for the Tigers, with Texas A&M (19) and Syracuse (20).
This year's CFP semifinals will be played on Dec. 29 with times TBA in the Orange (Miami Gardens, Fla.) and Cotton (Arlington, Tx.) bowls. The National Championship will be held in Santa Clara on Jan. 7.
This year's CFP committee is Oregon AD Rob Mullens (Committee chair), Oklahoma AD Joe Castiglione, former Virginia Tech coach Frank Beamer, former sportswriter Paola Boivin, former Southern Miss coach Jeff Bower, former Central Michigan coach Herb Deromedi, former coach Ken Hatfield, Robert Morris president Chris Howard, former Vanderbilt coach Bobby Johnson, former All-American DB Ronnie Lott, Ohio State AD Gene Smith, Georgia Tech AD Todd Stansbury and Florida AD Scott Stricklin.
CFP Top 25 - 11/27
1. Alabama
2. Clemson
3. Notre Dame
4. Georgia
5. Oklahoma
6. Ohio State
7. Michigan
8. UCF
9. Florida
10. LSU
11. Washington
12. Penn State
13. Washington State
14. Texas
15. Kentucky
16. West Virginia
17. Utah
18. Mississippi State
19. Texas A&M
20. Syracuse
21. Northwestern
22. Boise State
23. Iowa State
24. Missouri
25. Fresno State
Championship Phase. #ALLIN ?? pic.twitter.com/gPAzg8FWMX

— Clemson Football (@ClemsonFB) November 28, 2018
NY6 based on today's rankings:
Orange: Alabama-Oklahoma
Cotton: Clemson-Notre Dame
Rose: Washington-Ohio State
Sugar: Georgia-Texas
Fiesta: UCF-LSU
Peach: Michigan-Florida

— Bryan Fischer (@BryanDFischer) November 28, 2018
OK! A shift in the real playoff pecking order: Barring a total meltdown vs. UGA my guess is Alabama is in regardless of the outcome.

1. SEC champ (Bama/Georgia)
2. Clemson
3. ND*
4. Bama (L in SECCCG)
---
5. Oklahoma
6. Ohio State
7. Clemson (L in ACCCG)
8. Georgia (L in SECCG)

— Matt Hinton (@MattRHinton) November 28, 2018
To clarify: Meant to write that if Alabama and Clemson both win, the fourth spot could come down to Big Ten, Big 12 champ game. If Alabama loses, I still think the Tide gets in as the fourth seed unless the Tide gets blown out--which ain't gonna happen.

— Tony Barnhart (@MrCFB) November 28, 2018
IMO focusing on Alabama's strength of schedule misses the point, in that regardless of the competition Bama has played like a playoff-level team in every single game. No random flops or overtime scares or wild shootouts vs. mediocrities. Consistent dominance with zero lapses.

— Matt Hinton (@MattRHinton) November 28, 2018
To be clear I'm not arguing for "best" as opposed to "most deserving." I think Alabama is the best team, but its consistency compared to OSU and OU's inconsistency would also make Bama the most deserving. (If it comes to that, which it most likely will not.)

— Matt Hinton (@MattRHinton) November 28, 2018
And I think it goes without saying that Alabama is in win or lose. Dominated a conference that the committee believes is so strong it holds 4 Top 10 and 8 Top 25 teams.

— Stewart Mandel (@slmandel) November 28, 2018
Well next weekend should be boring...????. Bama and ND are in. Locks. If Clemson wins-in. If UGA plays well and loses a close game-they are the 4th best team in country. Bama has won every game by +20-if they lose by less then 10 they're in at 4....Unless OKL drags TX???? https://t.co/UXkC0juh2p

— Dan Orlovsky (@danorlovsky7) November 28, 2018
If Bama is 1 and OU is 4 in the end, Bama to Orange. https://t.co/InwRApjl5s

— Heather Dinich (@CFBHeather) November 28, 2018