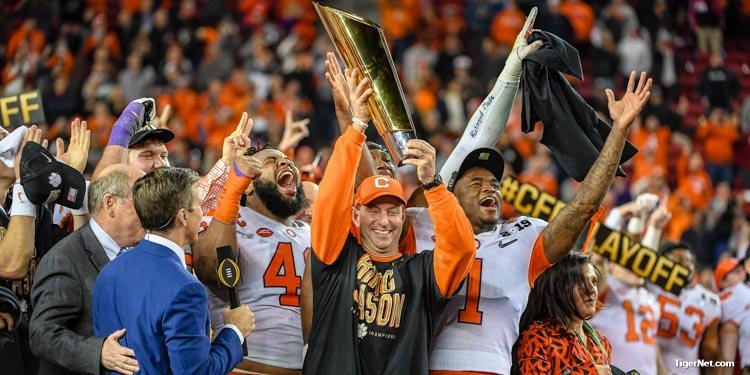 | | |
| --- | --- |
| Clemson-Bama IV among cable's most-watched television programs ever | |
---
| | | |
| --- | --- | --- |
| Tuesday, January 8, 2019, 7:26 PM | | |
CFP National Championship: Audience is Reported at 25.2 Million and will Continue to Grow; More Fans Watched Alabama-Clemson This Season than Same Matchup Two Seasons Ago
· MegaCast Presentation Earns Likely Top 10 Cable Audience Ever Despite Most-Lopsided National Championship Game in CFP History
· Viewership Peaked at Nearly 28 Million Viewers in First Half
· New Year's Six + CFP National Championship Up 12% from Era's Second Year
More fans tuned into last night's Alabama-Clemson College Football Playoff National Championship than the same matchup in the 2017 CFP National Championship -- despite Clemson's 28-point lopsided victory this season compared to their game-winning touchdown in the final seconds two years ago -- final initial Nielsen reported numbers are expected to show.
Alabama-Clemson on January 7, 2019 (8 p.m. ET) has generated a Nielsen reported audience of 25.2 million viewers to date as part of ESPN's MegaCast presentation*. The reported audience number at this time doesn't include a large percentage of the streaming audience (approx. 30-40%) nor any of the ESPNEWS television audience, and is already in line with the final Nielsen reported number for the aforementioned 2017 CFP National Championship game (25.3 million). The ESPNEWS audience will be available later today and full streaming information reported the week of January 14. Additionally, out-of-home viewing will also be released by Nielsen in the coming weeks, further adding to last night's reported audience number. More on Nielsen reporting structure is accessible here.
Among Cable's Most-Watched Television Programs Ever
The 2019 CFP National Championship audience is expected to be among cable's 10 highest ever once Nielsen reporting is completed.
Audience Peaks at Nearly 28 Million in the First Half
The viewership peaked at 27,839,000 million viewers in the first half as the Tigers extended their lead to 15 points.
New Year's Six + CFP National Championship Audience up 12% from Year Two
The audience for the New Year's Six + CFP National Championship has generated a Nielsen reported average of 15,413,000 which is already 12% better than the same set of games in the CFP's second year despite not having the full Nielsen reported number. In both instances, the New Year's Six and CFP National Championship followed a similar format, with the CFP Semifinals at the Orange Bowl and Cotton Bowl Classic on a non-New Year's Day date. This year, the viewership number includes new Rose Bowl and Sugar Bowl CFP non-Semifinal audience highs, which occurred on New Year's Day.
ESPN Digital Platforms Up 10% Year-Over-Year on Championship Monday
On Championship Monday, 941 million minutes were consumed across ESPN Digital platforms (game and non-game), up 10% from last season's Championship Monday.