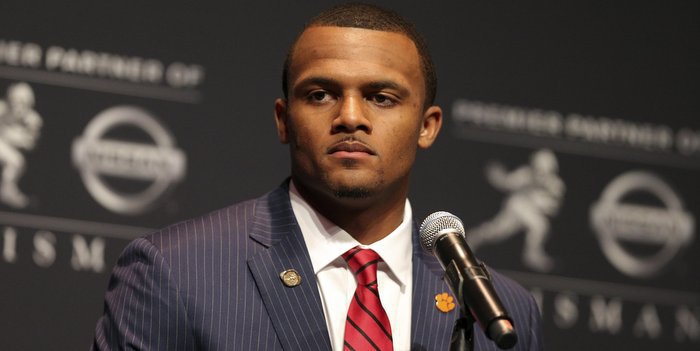 | | |
| --- | --- |
| Watch out Buckeyes? An angry Deshaun Watson is on the prowl | |
---
| | | |
| --- | --- | --- |
| Saturday, December 10, 2016, 10:52 PM | | |
NEW YORK, NY – The Heisman Trophy ceremony ended just the way we figured it would end, with Louisville's Lamar Jackson hoisting the award and the other four finalists left to think about the results.
After last year's ceremony, when Watson finished third behind Alabama's Derrick Henry and Stanford's Christian McCaffrey, Watson graciously met with the media and answered questions despite the hurt he was feeling. But that's Watson's way – he always stands up and does interviews, win or lose.
Not Saturday night. Watson declined interview requests, even though the Clemson media contingent was TigerNet and one other site. Why? It's easy to say it's understandable, and it's easy to give him a pass after not winning the award for a second consecutive year.
But it's not that easy. I've been around Watson for a long time and I've known him since he was a freshman in high school. This one hurt more than he would want to let on or want anyone to know. He entered the season with two goals and one of those was to win the Heisman, and he rightfully felt like he had done enough to take home the hardware.
The voters didn't agree, and now other teams will pay for the slight. Last year he lost the Heisman and put the Tigers on his broad shoulders and led Clemson to a win over Oklahoma in the Orange Bowl and put on a performance for the ages against Alabama in the College Football Playoff National Championship.
He mentioned earlier in the night that he's played the last month with a chip on his shoulder because he feels like he and his teammates don't get the recognition they deserve for all they've accomplished over the last few season.
College football will now see the best of Deshaun Watson, and he admitted to me earlier in the night that he's a different person than he was a year ago at this time.
"It's my maturity level and leadership and making the guys around me better," Watson said. "I am just more of an overall complete player on and off the field. There are always little things I can fix and correct, but the difference between this year and last year I am a totally different person."
Watson then said that he understood Jackson was the favorite and that the media has to create stories to sell. His focus, however, would be on something Jackson wishes he could have – a win in the playoffs.
"I don't focus on that media stuff. People have opinions and you don't know what is going on behind the scenes," Watson said. "People have to write stories and sell that and somebody has to be the favorite, and that's Lamar Jackson. But I am just going to continue to do what I do and let everything else take care of itself. I just play ball and get W's and get wins so I can win in the playoffs. That's my main focus."
In other words, he wants to finish what was started last season.
"It's a special time and a special opportunity for us" he said. "We don't want to just get back and play in it. We want to go back and finish the deal. We came up short last time. We feel like we have the confidence, the players and the depth and the preparation to get there and to finish it. I'm just going to wait until I get back home to watch film. I was thinking about putting it (his tablet) in my suitcase, but I told myself to just enjoy it and not make it bigger than what it is. I just want to enjoy the moment and have fun with this because this is once in a lifetime and this opportunity may not come back again."
In other words, Watson will let his play do the talking from here on out, and because he's facing his last game or last few games in a Clemson uniform, he's ready to show the country what he's made of.
Watch out Buckeyes. An angry and hurt Deshaun Watson is on the prowl.