| | |
| --- | --- |
| Pigskin Prophet: Coach's Press Conference Edition | |
---
| | |
| --- | --- |
| Wednesday, November 5, 2014 9:05 PM | |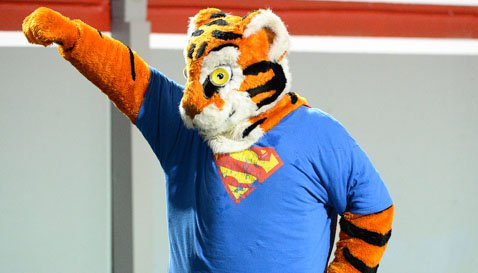 Yes, despite the rumors I am keeping my position on the College Football Playoff SEleCtion Committee.
But I've added another job to the resume – Head Coach Press Conference Coordinator. My job is to keep pouting and whiny coaches in their seats to answer the tough questions from the media following losses to unranked teams at home. Again. And again.
As it turns out, several head coaches over the years have made a mockery of their post-game press conferences, and that was highlighted last week when Steve "I Have an 85-foot Banner Because I've Won Nothing" Spurrier threw a temper tantrum and refused to take questions after his Gamecocks lost a double-digit lead to a Tennessee team that hadn't won an SEC game on the road since Reconstruction.
I guess you get that way when you get a banner for finishing in second and third and fourth and fifth place. A lot. Banner threw a tantrum and left the interview area. So, I have started a company guaranteed to keep these wayward coaches in their seats. In Spurrier's case, it would be easy to just bribe him with a drink, but I need him sober before his Todd Ellis Show. So I've invented the Coach Shock Collar.
He puts it on before the start of the presser, and if he tries to get up, BAM!!!!!! Kinda like a dog that tries to escape over the property line and poop on Mrs. McGillicuddy's lawn. BAM!!! BAM!!!!! WHAMMY!!!
Of course, with someone of Banner's age it's a bit of a risk, but someone has to make that man behave. Now, onto this week's picks. And remember, it's all in fun.
THURSDAY
CLEMSON AT WAKE FOREST
The Demon Deacons play offense like South Carolina plays defense – historically and horrifically bad. The Deacs are averaging under 200 total yards of offense a game against FBS opponents, and they face a Clemson defense this week that is ranked second nationally in total defense. Heck the most exciting thing about this game will be when the mascot – which looks like Richard Harris in a Halloween costume – rides onto the field on his motorcycle. Unfortunately, he has learned nothing from Bobby Petrino and there are usually no wrecks or blonde volleyball coaches on the back, and the excitement quickly dies down. This one shouldn't be close, but Clemson's offense has been challenged in recent weeks to complete a pass more than two yards past the line of scrimmage. It gets easier this week – Richard Harris doesn't put up much of a fight. CLEMSON 27, NOT BOBBY PETRINO 3
SATURDAY
PRESBYTERIAN AT OLE MISS
Ah, November. The time of year when SEC schools get back into the rough-and-tumble world of their rigorous non-conference games. This week, a hurting Ole Miss squad takes on a determined bunch from Presbyterian, and a win by the Rebels will move them up several spots in the rankings because of their SEC West dominance (snicker, snicker). One thing is for sure – those nice boys from Clinton have no idea the pain and suffering waiting for them when they reach Oxford. It will be loud. They will be hit. They will be screamed at. They will have rocks thrown their way. They will have knives tossed their way. There will be blood and there will be tears. And that's just when Mama Nkemdiche meets their bus. The football game won't be quite that bad. OLE MISS 55, CLINTON 7
GEORGIA AT KENTUCKY
That loud thud you heard last week was Georgia's SelECtion Committee playoff hopes falling to earth as they let an offensively-challenged Gator squad run them out of Jacksonville. This week, they travel to Kentucky, a team that has five wins but none that really matter, including over Banner. Georgia's slim hopes ride on beating these thoroughbreds (snicker, snicker) at home and then beating Auburn a week later. This one happens – what kind of good team loses to Kentucky??? GEORGIA 35, CAINTUCKY 22.
UTSA AT CONDOLEEZA RICE
WHOOOOO?????
DUKE AT SYRACUSE
I can't write this one, because honestly IT'S SO LOUD JUST WRITING ABOUT SYRACUSE I CAN'T HEAR MYSELF THINK!!!!!!DUKE 34, SYRACUSE 27
GEORGIA TECH AT NC STATE
Let's see, Georgia Tech had an ACC title stripped away because of a jersey. North Carolina graduated 17,892 athletes who didn't actually go to class, cheated extensively, disgraced the good name of John Swofford (snicker, snicker), and pretty much made a mockery of the whole student-athlete system, and they are going to get away with it. Nooooooo……………….the ACC doesn't show favoritism to the TarHoles. That's all in your imagination. Seriously. Go drink some wine or something. In the meantime, "Pawlll John-un" and his band of line floppers travel up to Raleigh to take on the Wolfies, and with the way NC State can score points this one might turn into a shootout. Vegas says the Line Floppers. I say the Pack make it two in a row, and a local radio host hugs his Pawwwll John-un bobblehead and sobs quietly in the night…..PACK 38, PAWWWL 35
TEXAS A&M AT AUBURN
Like a lot of other SEC schools, Texas A&M's impressive early-season win doesn't look so good now. They've been struggling. Auburn has been winning despite having a South Carolina Tailgating Girl Type of Defense (everybody scores!!!) but this one won't be close. Not after Auburn gets the running game warmed up and the Squirrel mascot changes into his 37th outfit of the day. Kevin Sumlin's season of discontent continues. WE BEAT SOUTH CAROLINA (AUBURN) 44, WE BEAT SOUTH CAROLINA, TOO!!! (A&M) 23
VIRGINIA AT FLORIDA ST.
In case you missed it, FSU's Karlos Williams was accused of domestic battery and being involved in a drug deal that turned into an armed robbery. All in a short amount of time. Add this to all of the other snafus committed by Florida St. players, and it's a wonder that the Seminoles have been able to field a team considering all of the suspensions (snicker, snicker) and people that have been thrown out of the program (snicker, snicker). Jimbo Fisher made Karlos sound like Mother Teresa, and he's made Crab Legs sound like Gandhi. Those poor, misunderstood kids who know how to win at football. And keep winning they will…………..FSU (Felons Staying Unrestrained) 44, VIRGINIA 22.
SOUTH CAROLINA VS. OPEN DATE
Banner's squad takes on a tough open date squad that helped Ole Miss and Miss. St. rise in the rankings this season after epic SEC-style battles. The good news is that South Carolina will score points on Open Date….the bad news is that Open Date will score points on Banner's defense and give it a good WHAMMY. Dylan Thompson throws seven more interceptions, but the defense has its best effort in months in only giving up 692 yards and the Gamecocks win, 52-51. In the locker room after the game, Banner and his team gather near a picture of a chicken in a dress and sing Taylor Swift's "Shake It Off" while crying softly....BANNER 52, OPEN DATE 51