| | |
| --- | --- |
| Overton's Decision: Playing time versus long-range development | |
---
| | |
| --- | --- |
| Tuesday, December 22, 2015 7:01 AM | |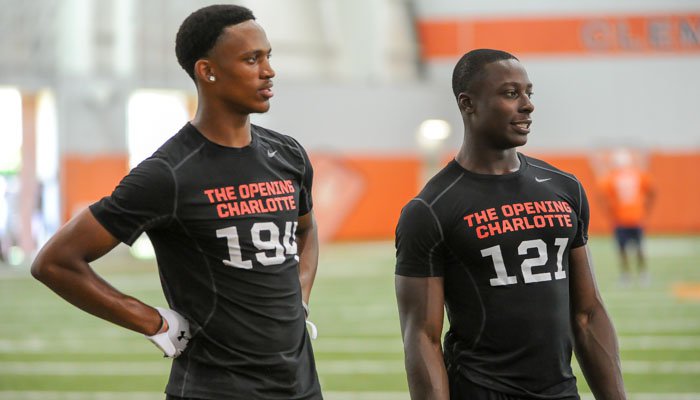 Diondre Overton has narrowed his college choice to just two schools, and now he wants to take the holidays to mull over which of the two is the best fit.
The 4-star 2016 wide receiver out of Greensboro (NC) Page will choose between Clemson and North Carolina St. at the Semper Fidelis All-American Bowl on January 3rd in Carson, California. The choice comes down to long-range success versus immediate playing time as he takes a long look at both the Tigers and the Wolfpack.
Overton, who caught 78 passes for 1251 yards and 15 touchdowns this past season for Rose, has long been considered a strong lean to Clemson, and part of that has been his relationship with receivers coach and co-offensive coordinator Jeff Scott.
"He is just a great coach overall. He has helped his receivers reach their full potential and also get them to the next level," Overton told TigerNet. "That is a great aspect to have in a college coach. You always want him to develop you as a wide receiver and make you better. He is that kind of coach."
Overton also likes what he sees out of head coach Dabo Swinney, even when Swinney dances after wins.
"I just feel like that he is a great coach. He has a positive attitude for his players," Overton said. "I've seen him at practice and he's very upbeat. That's a beautiful thing to see in a coach."
Clemson currently sits at 13-0, is ranked number one nationally and will play against Oklahoma in the Orange Bowl on New Year's Eve for a chance to play in the national championship the second week of January. However, Overton said the records don't matter when it comes to picking a school.
"Not necessarily. I just look at the program as a whole," he said. "I look at it as to where I would fit in. It's not where they are now but where I would fit in and develop as a wide receiver."
That leads him to N.C. State, a place where he could potentially earn early playing time.
"The reason N.C. State is still in it is because of what they have to offer for me, like playing time," he said. "I am 6-5 and they feel like they don't have enough receivers to go up and get it on the outside. I feel like the opportunity there would be good just because of the position I would play there.
"With Clemson, it's just the entire program and the way they have been developing their wide receivers. I feel like they can really help me there and get me to the next level."
Overton was in attendance when the two teams met on Halloween, a 56-41 Clemson victory that showed just how special quarterback Deshaun Watson can be.
"It was a great game overall and I was trying to see where I could fit in on both teams. It was a fast game and high-scoring, and at first there was a lot of back-and-forth," Overton said. "It was a fun game to watch. Deshaun (Watson) has a lot of talent and he can really throw the ball. I feel like that's the quarterback you would always want to have. He can run it and he can throw it and he can do pretty much anything on the field."
Next up? Making the best decision while getting input from his parents and Clemson wide receiver commit (and friend) Cornell Powell.
"I am going to sit down with my parents and talk about it and pray about it. We are going to figure out which is the best school for me," he said. "I don't really think I know. It's hard right now and I'm just trying to make the best decision for me. Cornell tells me it's (Clemson) a great program, I would fit in there and he would love to play beside me."