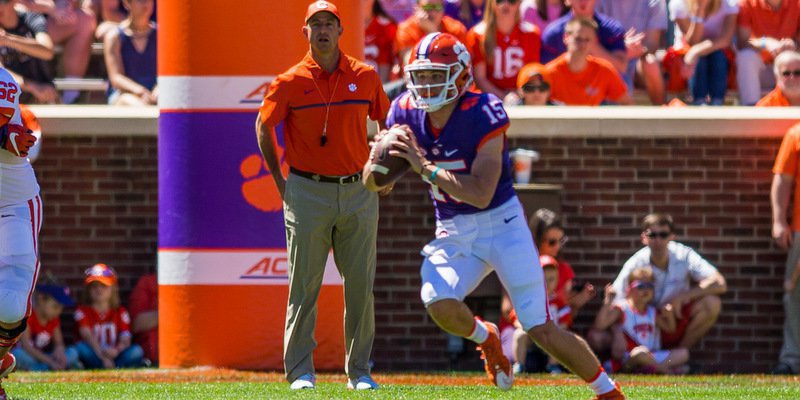 | | |
| --- | --- |
| Breaking down the summer depth chart | |
---
| | | |
| --- | --- | --- |
| Tuesday, May 23, 2017, 7:01 AM | | |
CLEMSON – Clemson released the summer depth chart Monday afternoon, and while there weren't any earth-moving surprises, there were some interesting spots to take note of.
And we'll start at quarterback, where veteran Kelly Bryant was listed atop the depth chart. We expected that – head coach Dabo Swinney has said repeatedly this spring that if the season started right now, Bryant would run out as the starter.
However, we all know that the battle for the starting spot will likely last all through fall camp and maybe into the season. That's why the next spot on the released depth chart is so intriguing.
Redshirt freshman Zerrick Cooper is listed second on the depth chart, along with true freshman Hunter Johnson. Redshirt sophomore Tucker Israel – who had a good spring game – isn't listed. If Israel isn't listed now, I don't see a way (barring injury) that he will be able to climb back up the depth chart enough to make the two-deep by the end of fall camp.
We had a four-man race at that spot in the spring, and it looks like it's now a three-man race with Bryant trying to hold off the freshmen. Another freshman, Chase Brice, will be on campus in June and throw his name in the mix, but it will be hard for him to make enough headway to avoid a redshirt.
Byrant. Cooper. Johnson. Let the games begin.
There were no real surprises on the offensive line, but…..Tremayne Anchrum is listed as Mitch Hyatt's backup at left tackle and he's listed as "or" for the starting right tackle spot with Sean Pollard. Pollard took over at right tackle following the defection of Jake Fruhmorgen last spring, but Anchrum has progressed and it looks like he's fighting for a starting spot.
Elsewhere on the offense, graduate D.J. Greenlee has taken over the second spot at tight end behind Milan Richard. Garrett Williams might not be available this season, and Cannon Smith is listed third. Freshman J.C. Chalk and Shadell Bell aren't listed, but I am sure both will have a chance to climb the chart in fall camp.
Greenlee, who played at Daniel High, has seen about 50 snaps on offense in three years and has been mainly a special teams contributor.
At running back, Tavien Feaster is still third, behind starter C.J. Fuller and veteran Adam Choice. Feaster was second on the team last year with 221 yards on 37 carries, but Fuller (47, 211) and Choice (45, 158) actually took more handoffs.
On defense, the move we all expected has apparently transpired – either Tre Lamar or Chad Smith will take over at the middle linebacker spot after backing up Kendall Joseph there last season. Joseph will move to the weakside linebacker spot played by Ben Boulware, and Dorian O'Daniel keeps his job as the starting strongside linebacker spot.
There are no real surprises on the defensive line – Austin Bryant and Clelin Ferrell hold the top spots at end, with Christin Wilkins and Dexter Lawrence at tackle. Nyles Pinckney has moved into the two-deep at tackle, along with Jabril Robinson and Albert Huggins. It is interesting that Xavier Kelly isn't listed in the defensive end rotation.
Ryan Carter is listed as a starter at two spots – corner and nickel. When he moves to nickel (in passing situations), Trayvon Mullen or K'Von Wallace could take over at corner. Veteran Marcus Edmond missed part of the spring but still holds on to one of the starting corner spots, backed up by Mark Fields and Amir Trapp.
Tanner Muse and Van Smith are listed as the starters at safety, with Isaiah Simmons backing up Muse and Denzel Johnson backing up Smith.
Hunter Renfrow is listed as the holder (for now), and Will Spiers is the starting punter. Austin Spence, the younger brother of Clemson kicker Alex Spence, has the inside track to take over for David Estes at snapper.

Tags: Clemson Football
,
Kelly Bryant
,
Zerrick Cooper
,
Hunter Johnson
,
Tucker Israel
,
Chase Brice
,
Tremayne Anchrum
,
Mitch Hyatt
,
Sean Pollard
,
Jake Fruhmorgen
,
D.J. Greenlee
,
Milan Richard
,
Garrett Williams
,
Cannon Smith
,
JC Chalk
,
Shadell Bell
,
Tavien Feaster
,
C.J. Fuller
,
Adam Choice
,
Tre Lamar
,
Chad Smith
,
Kendall Joseph
,
Ben Boulware
,
Austin Bryant
,
Clelin Ferrell
,
Dexter Lawrence
,
Nyles Pinckney
,
Jabril Robinson
,
Albert Huggins
,
Ryan Carter
,
Trayvon Mullen
,
Marcus Edmond
,
Mark Fields
,
Amir Trapp
,
Tanner Muse
,
Van Smith
,
Isaiah Simmons
,
Denzel Johnson
,
Hunter Renfrow
,
Will Spiers
,
Austin Spence
,
Alex Spence
,
David Estes