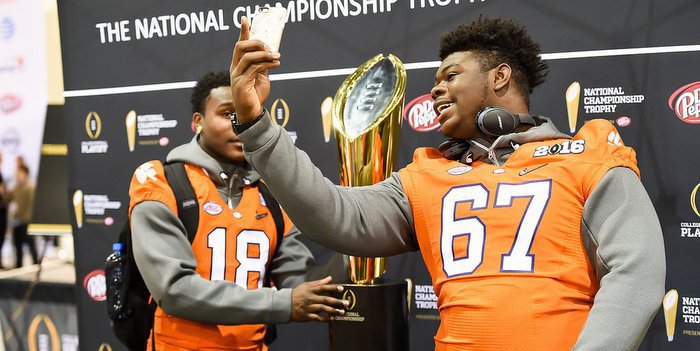 | | |
| --- | --- |
| Albert Huggins: Focused and serious but still finding time to smile | |
---
| | | |
| --- | --- | --- |
| Friday, March 25, 2016, 1:28 PM | | |
CLEMSON – Albert Huggins broke out his trademark smile for the media following Wednesday's scrimmage inside Death Valley, and the Orangeburg native had good reason to smile after tallying three tackles for loss from his defensive tackle spot.
The smile hasn't always been there this spring, however, but not because Huggins isn't the same happy-go-lucky kid who arrived at Clemson with high expectations or because he's unhappy with his role. Instead, Huggins is focused on becoming a better player and teammate and erasing the pain of last January.
Huggins told TigerNet after the scrimmage that his big day shows his comfort level.
"I just came out with the mindset that I was going to dominate, and I did. It was a good day for me," he said. "I am very comfortable. Now I know the plays, and now I can just go out there and play freely and know Coach Brooks will have my back. I've mostly improved on my technique and my feet, working on my hands more. That was one big thing from last year that I needed to fix, and it's something I am still trying to fix. Hopefully, by the season, everything will be right."
Huggins is in a battle for playing time with players like Carlos Watkins, Scott Pagano, Christian Wilkins and freshman Dexter Lawrence, but he says competition is a good thing and that tackles coach Dan Brooks does a good job of making sure everyone stays fresh.
"It's great. We have Dexter, and Dexter is crazy. And then we have all of the younger guys that didn't play last year; they are finally in the meeting room, and it's a blessing to have all of these talented guys out there. I am happy to have them with me," Huggins said. "Coach Brooks does a very good job of doing that, of splitting them up and everything. Sometimes you might want more snaps, but he will get you in there and get you the opportunity to show off. You leave it up to him, and everything will be ok."
Lawrence is one player that has already caught everyone's attention.
"That's a big guy, and he goes out there as a 335-pound guy and acts like a grown man," Huggins said. "That's excellent. He is a great athlete, but he has a lot of things to work on. We all have a lot of things to work on. He is going to be fine."
In the meantime, Huggins is learning the game and trying to lead by example.
"Carlos and Christian are doing a good job of keeping everybody up and having fun. It's a job but at the same time we have fun with it," he said. "Carlos and Christian do a good job with it. I sit back and crack jokes every now and again, but mostly now I am serious. I just go out there and work and lead by example."
While increased snaps – he played just 68 last season- and a bigger role would be nice, Huggins said team goals and making sure the defense doesn't have a letdown like at the end of last season are his main goals.
"After last year and the National Championship there was some loafing and not enough effort on some plays, and that's something we are really trying to work on. That and technique," he said. "It's effort. The pain of going out there as a freshman and playing for a championship and losing, that pain is always going to be there. But that pain can be erased with a ring."