| | |
| --- | --- |
| Spring Practice at the break: What we've learned about this team | |
---
| | |
| --- | --- |
| Monday, March 15, 2021, 7:01 AM | |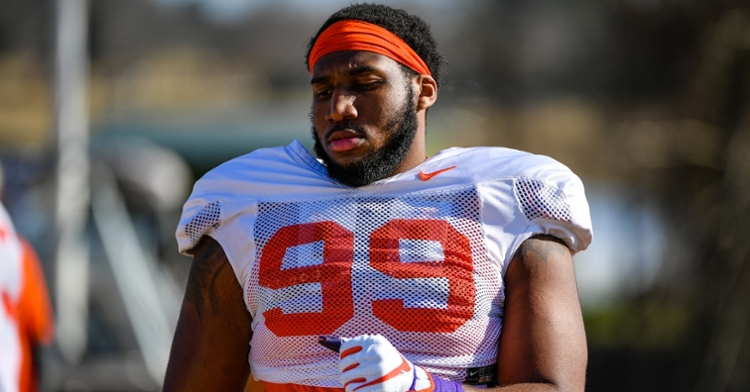 Clemson head coach Dabo Swinney really likes this team, and the people surrounding the program say that this year there is a chance to put together another special season. What we have learned about this team through the first half of the spring?
Ok, so we're nine practices in, with five to go and the spring game. This isn't exactly the halfway point, but the Tigers are off this week after the first full scrimmage of the spring and will come back to finish things starting a week from today. So let's call it halfway and look at a few of the things we've learned through the first part of the spring.
One observer to last week's scrimmage sent me a text that said simply, "The first team defense is nasty."
That's good news. We still haven't spoken to defensive coordinator Brent Venables – his last availability to the media was four or five days before the Sugar Bowl back in December. He is on the schedule at some point over the last five practices, so while some may want to look back at that game, I am more interested in looking forward.
Everyone – including me – has talked about the play of the safeties last season. As I watched Lannden Zanders jog around the practice field during one of the practices we were allowed to observe, someone slipped over to me and told me that while Zanders didn't play well at times, there was a reason. He injured his shoulder in high school and then hurt it again in fall camp in August.
I was told he needed surgery at that point, but considering the lack of depth at that position, he soldiered on and played despite going through agonizing pain every time he made a tackle. The surgery was successful and we understand he should be good to go in the fall, but it's important to realize that sometimes there are forces at work that can change a game or even a game plan. Clemson has been very lucky on the injury front during the last several years but was dinged a lot on defense last season.
One thing I know for sure – this group looks hungry and focused, and as I wrote several days ago, there is a different intensity at practice that hearkens back to the days of the Power Rangers.
Here are some other thoughts:
*There are no concerns about DJ Uiagalelei, who has stepped in and taken over the offense. He will be just fine. But the absence of backup Taisun Phommachanh early in camp (protocol) showed that a lack of depth could be an issue. Walk-on Hunter Helms and punter Will Spiers were the other two quarterbacks participating at a time when Phommachanh needs reps. Bubba Chandler and Will Taylor will be here in the summer, but there aren't a lot of experienced snaps behind Uiagalelei.
*The running backs room looks loaded. We've heard great things about Lyn-J Dixon and Kobe Pace – those two are standing out – and freshmen Will Shipley and Phil Mafah. The experienced Chez Mellusi (who missed a little time with an injury) has proven he can be a force, which means CJ Spiller is going to have some hard – and fun – decisions to make in the fall.
*The wide receivers will be better this year, as long as they all stay healthy. EJ Williams is a rising star, the hope is that Justyn Ross can play a big role, and we are hearing that Ajou Ajou has turned the first corner in his development. And in case you haven't noticed, Tyler Grisham is putting his stamp on this group. Amari Rodgers and Cornell Powell have raved about him and an NFL scout told me that Grisham's imprint was noticeable last season. If Joseph Ngata and Frank Ladson are healthy and the freshmen (Beaux Collins and Dacari Collins) are as good as advertised, Uiagalelei is going to have a lot of fun slinging the ball all over the lot.
*We haven't seen the offensive line in action, but everything we are hearing is positive. There is no doubt a chip there, and these guys are determined to right the wrongs of last season when the interior was pushed around. Walker Parks has said the group is pissed, and Swinney says he thinks there will be 10 or 11 guys they can count on that will play this fall.
*Losing Justin Foster hurt the depth at defensive end, but the coaches reached into a position of depth (linebacker) and plucked Kevin Swint from the ranks. Swint has all the tools to be really good at either spot, and Swinney indicated that Swint is simply cross-training for now in case he's needed later.
If you pay attention to who runs out there first in the spring, Justin Mascoll and Myles Murphy have been those guys. But Xavier Thomas looks fantastic and will be a major player this fall, and KJ Henry is expected back from surgery to compete for a spot. That's a great top four to start with, but Cade Denhoff has looked impressive and could play a role. However, the guy to keep an eye on is Greg Williams.
Swinney told us last year that Williams, a former linebacker, was improving and starting to flash at practice. He told us that one day we would look up and Williams would be Kevin Dodd, a player long on potential but short on technique when he arrived in Clemson. Williams now stands at 6-4, 260, and I was blown away watching him in drills last week. He's got a great first step and I have no doubt that he has the largest wingspan on the team. Williams is going to surprise people this season.
*At linebacker Trenton Simpson has continued to progress and stepped in seamlessly at the spot left open after Mike Jones transferred to LSU. The one linebacker I keep hearing about is LaVonta Bentley. He hits with authority and seems to know the defense. With the return of Skalski and Baylon Spector, I am not sure how Venables will get Bentley on the field. The guess here is that Venables will find a way.
*At corner, watch out for Fred Davis. Injuries have hurt that unit in camp, but Davis has taken advantage of the increased reps and turned heads. He has length and can run and is holding his own against the Tigers' receivers.
*Special teams is intriguing in that there are no position battles and both incumbents look like they've gotten even better. I've watched Spiers twice now and he's been booming punts all over the field, and BT Potter is looking like a veteran. Special teams should be a strength this season.

Tags:
Lannden Zanders
,
DJ Uiagalelei
,
Taisun Phommachanh
,
Hunter Helms
,
Will Spiers
,
Bubba Chandler
,
Will Taylor
,
Lyn-J Dixon
,
Kobe Pace
,
Will Shipley
,
Phil Mafah
,
Chez Mellusi
,
EJ Williams
,
Justyn Ross
,
Ajou Ajou
,
Tyler Grisham
,
Amari Rodgers
,
Cornell Powell
,
Joseph Ngata
,
Beaux Collins
,
Dacari Collins
,
Walker Parks
,
Justin Foster
,
Kevin Swint
,
Justin Mascoll
,
Myles Murphy
,
Xavier Thomas
,
KJ Henry
,
Cade Denhoff
,
Greg Williams
,
Kevin Dodd
,
Trenton Simpson
,
BT Potter
,
Brent Venables
,
Tyler Grisham