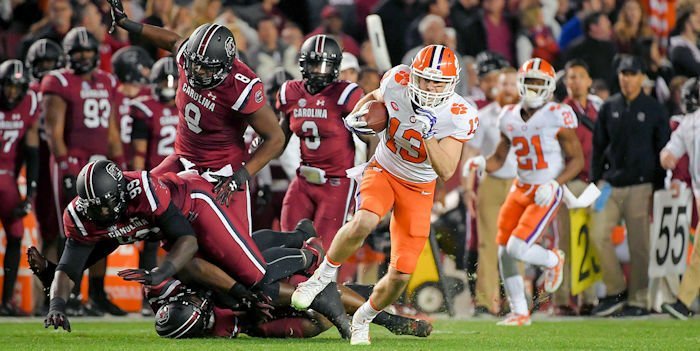 | | |
| --- | --- |
| Twitter reacts to Clemson getting night game vs. Gamecocks | |
---
| | | |
| --- | --- | --- |
| Monday, November 12, 2018, 12:51 PM | | |
The ACC released the latest game times for the week of November 24 as No. 2 Clemson will face rival South Carolina at Memorial Stadium at 7 p.m. on ESPN.
The Gamecock fans were apparently not thrilled with the night game news as they and a few Clemson fans replied several funny comments to the official Gamecock Football Twitter account.
It appears that some of their fans are not very confident after the team blew a 17-point lead against Florida on Saturday.
Here is a sample of a few of the responses:
November 12, 2018
November 12, 2018
November 12, 2018
November 12, 2018
November 12, 2018
Most definitely pic.twitter.com/j2qfffwBj7

— Phillip Lyew-Daniels (@Phil_ld1) November 12, 2018
November 12, 2018
November 12, 2018
November 12, 2018
November 12, 2018
November 12, 2018
November 12, 2018
November 12, 2018
November 12, 2018
November 12, 2018
I bet Clemson drops 70 on us.

— Carolina Voter (@Jeremy_SC76) November 12, 2018
November 12, 2018
Jesus help us

— Derek (@derek_stennett) November 12, 2018
Fine. Xanax and Crown it is.

— Mike Wilson (@MikeTheGamecock) November 12, 2018
November 12, 2018
November 12, 2018
Don't mind me just here for the comments. pic.twitter.com/HaNnc8ckw4

— RJ Binford (@rbinford81) November 12, 2018
November 12, 2018
WAYLP pic.twitter.com/cj7GM0YU26

— GABACast (@GABA_Cast) November 12, 2018
November 12, 2018
November 12, 2018
November 12, 2018
November 12, 2018
November 12, 2018