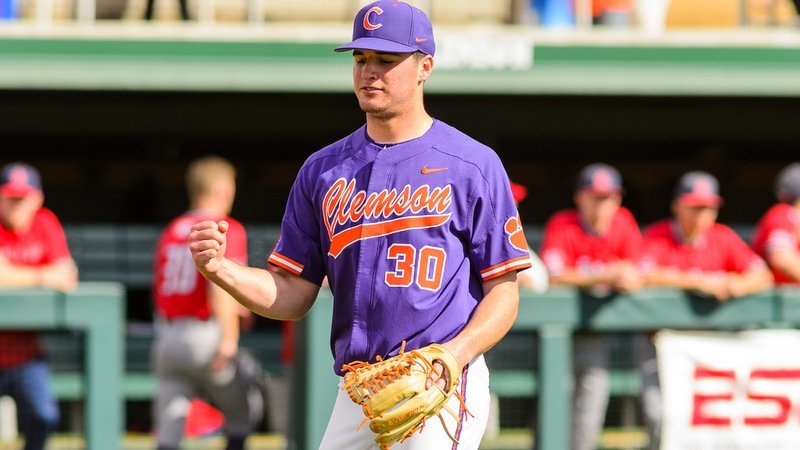 | | |
| --- | --- |
| Clemson travels to No. 11 Georgia Tech | |
---
| | | |
| --- | --- | --- |
| Thursday, April 25, 2019, 1:14 PM | | |
The Tigers travel to Atlanta to play No. 11 Georgia Tech in three games this weekend.
SERIES SETUP
• Who – Clemson (26-16, 11-10 ACC) vs. Georgia Tech (28-13, 13-8 ACC)
• Best Ranking – CU – NR; GAT – No. 11 D1Baseball
• When – Friday (6 p.m.), Saturday (4 p.m.), Sunday (1 p.m.)
• Where – Atlanta, Ga. (Russ Chandler Stadium)
• Watch – ACC Network Extra
• Video Announcers – Matthew Crownover, Andy Demetra (Saturday, Sunday), Kyle Tait (Friday)
• Listen (Radio) – WCCP (105.5 FM), ESPN Upstate
• Listen (Internet) – ClemsonTigers.com, TuneIn
• Live Stats – ClemsonTigers.com
• Social Media – ClemsonBaseball
SERIES HISTORY
• Overall Record – Clemson leads 114-109-3 (1902-2018)
• Record at Georgia Tech – Georgia Tech leads 74-44-2 (1902-2017)
STARTING PITCHERS
• Friday – RHP Davis Sharpe (CU) vs. RHP Xzavion Curry (GAT)
• Saturday – LHP Mat Clark (CU) vs. LHP Connor Thomas (GAT)
• Sunday – RHP Brooks Crawford (CU) vs. LHP Brant Hurter (GAT)
CLEMSON OVERVIEW
• Clemson, who has a 7-6 road record, split midweek home games with Winthrop (8-6 loss) and Tennessee Tech (7-4 win).
• The Tigers are averaging 6.3 runs per game and hitting .253 with a .359 on-base percentage and 78 steals.
• The pitching staff has a 3.87 ERA, .234 opponents' batting average and 2.58 strikeout-to-walk ratio and Clemson is fielding .970.
GEORGIA TECH OVERVIEW
• Georgia Tech is led by 26th-year head coach Danny Hall.
• The Yellow Jackets defeated No. 4 Georgia 8-6 on Tuesday. They are hitting .286 and have a 4.21 ERA and .972 fielding percentage.
• Michael Guldberg is hitting .391, Kyle McCann is hitting .304 with 15 homers and 46 RBIs and Tristin English has nine homers and five saves.
QUICK HITS
• The Tigers have won five of their last six games against Georgia Tech, including a sweep at Clemson in 2018 and two wins in Atlanta in 2017.
• Keyshawn Askew, Grayson Byrd, Brooks Crawford, Bryar Hawkins, Bo Majkowski, Davis Sharpe, Kyle Wilkie and Justin Wrobleski are from Georgia.
• Clemson has at least two steals in seven straight games and is 21-22 in that span. The only caught stealing was on a designed rundown play.
KEEPING THEM LOADED
• Tiger pitchers have performed remarkably well when the opposition has the bases loaded in 2019.
• They have held opponents to just 4-for-36 (.111) with three singles, a double, walk and no hit-by-pitches with six strikeouts.
• Opponents are 0-for-9 against Carson Spiers and 0-for-5 versus Davis Sharpe with the bases loaded.

Tags: Clemson Baseball
,
Matthew Crownover
,
Davis Sharpe
,
Mat Clark
,
Brooks Crawford
,
Keyshawn Askew
,
Grayson Byrd
,
Bryar Hawkins
,
Bo Majkowski
,
Kyle Wilkie
,
Justin Wrobleski
,
Carson Spiers