TigerNet

is the oldest and largest Clemson Community online with 152,606 members, 58,200 news articles and 29M forum posts.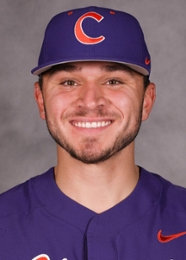 #16
Bo Majkowski
Outfielder
| | |
| --- | --- |
| Position: | Outfielder |
| Ht./Wt.: | 5-10, 205 lbs |
| Hometown: | Johns Creek, GA |
| High School: | Johns Creek HS |
| Class: | Junior (RS) |
| Exp: | 2VL |
| Years: | 2018 - 2021 |
| Major: | Undeclared |
B I O
One of the team's best defensive outfielders … a career .224 hitter with a .301 slugging percentage and .360 on-base percentage in 66 games (38 starts) over three seasons … has nine doubles, a triple, 15 RBIs, 20 runs, 19 walks, 12 hit-by-pitches and 10 steals.
2020: Received a redshirt from the NCAA with the season's suspension on March 12 and cancellation due to a coronavirus (COVID-19) pandemic … hit .152 with three runs, a double, RBI, .182 slugging percentage, .222 on-base percentage, three walks and two steals in 14 games (10 starts, including nine in center field and one in right field) … tied for the team lead in sacrifice bunts (1) … Clemson had a 9-1 record in his 10 starts … did not commit an error in 27 chances … went 3-for-4 with a double, RBI and run against Boston College on March 7 … played for Green Bay in the Northwoods League in the summer, where he hit .195 with two doubles, five RBIs, 10 runs, a .351 on-base percentage and six steals in 24 games.
2019: Hit .248 with 17 runs, eight doubles, a triple, 14 RBIs, a .339 slugging percentage, .399 on-base percentage, 16 walks, 12 hit-by-pitches and eight steals in 50 games (28 starts, including 27 in right field and one in left field) … tied for 10th in Tiger history in hit-by-pitches … tied for fifth in the ACC in hit-by-pitches … led the team in games off the bench (22) and hit-by-pitches … hit .294 with a triple, six doubles, nine RBIs, 14 runs, a .435 on-base percentage and two steals in 27 ACC regular-season games (19 starts) … hit .333 with a triple, seven doubles, 10 RBIs, nine runs, a .510 slugging percentage, .485 on-base percentage and four steals in 21 games (13 starts) away from home … hit .327 with a .500 on-base percentage after the fifth inning … hit .314 with runners in scoring position … went 2-for-3 with an RBI against Notre Dame on March 15 … went 3-for-3 with a double, triple, two RBIs, two runs, a walk and hit-by-pitch at Boston College on March 23; was 5-for-7 (.714) with two doubles, a triple, three RBIs, four runs, two walks, four hit-by-pitches and an .846 on-base percentage in the series … went 1-for-3 with the go-ahead run-scoring single in the seventh inning, two walks and two steals at Charlotte on March 26 … went 2-for-5 with a double, three RBIs, two runs and a hit-by-pitch at Virginia Tech on March 30 … hit two doubles at Georgia on April 16 … went 2-for-2 with a run off the bench at No. 16 NC State on May 12 … was hit-by-pitch on all three pitches he faced off the bench against Boston College in the ACC Tournament on May 21; tied the school record (Khalil Greene) for hit-by-pitches in a game … played for Lexington County in the Coastal Plain League in the summer, where he hit .333 with a double, two RBIs, three runs and a .467 on-base percentage in three games.
2018: ACC Academic Honor Roll member … was 0-for-1 in two games … No. 201 freshman in the nation in the preseason by Perfect Game … No. 40 freshman in the ACC in the preseason by Perfect Game … played for the Baltimore Redbirds in the Cal Ripken Collegiate Baseball League in the summer, where he hit .204 with a homer and 16 RBIs in 36 games.
Before Clemson: All-region selection as a junior … his team advanced to the semifinals of the state playoffs as a senior … lettered three times in baseball, one time in football and one time in basketball at Johns Creek High School, where he was coached by Billy Nicholson.
Personal: His father, Don, played football at Virginia, then played 10 years (1987-96) in the NFL with the Packers, Colts and Lions, totaling 12,700 passing yards and 66 passing touchdowns … majoring in parks, recreation & tourism management … born Bo Cannon Majkowski on July 5, 1998 in Johns Creek, Ga. •
Favorite hobby – Playing Madden and other video games•
Interesting fact about family/parents – His father played in the NFL•
Favorite food or candy – Gummy bears and IONutrition meals•
Proudest childhood accomplishment – Won back-to-back championships on his football team in fifth and sixth grades•
Ideal vacation spot – Anywhere on a beach•
Childhood hero – His father, Don Majkowski•
One person, living or dead, to eat dinner with – Elon Musk

*Courtesy Clemson Media Guide
| | |
| --- | --- |
| | VIDEO HIGHLIGHTS |
Latest Bo Majkowski News
Click the link below to read more!