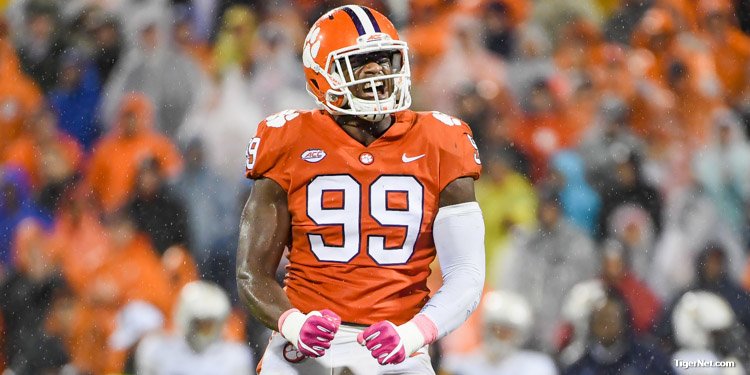 | | |
| --- | --- |
| Second Look: Grading Clemson versus Georgia Tech | |
---
| | | |
| --- | --- | --- |
| Monday, October 30, 2017, 12:54 PM | | |
The bye week did Clemson a lot of good in all phases leading into a comfortable conference win over the Yellow Jackets.
Here's how the Tigers grade:
Offense: B+
Whatever the final percentage figure was on Kelly Bryant's left ankle, it was more than enough to put Clemson out front and complement strong efforts in the other phases of the game.
The extra rest had Bryant as effective as any game this season on the run, using his legs as a runner and also rolling out for key conversions throwing to keep drives moving:
Outside of those runs, a credit to the O-line and gameplan was Bryant being barely touched by Jacket defenders. Clemson held an opponent without a sack for the first time since the opener against Kent State, coming off of four sacks surrendered to Syracuse.
And there was a different flair to Clemson offense that self-study over the bye week helped in. The array of motions and matchup issues caused by different formations had Georgia Tech on its heels in the first half.
Deon Cain being targeted back-to-back right of the gate set the tone for the opening score:
Later on a run-pass option call, Clemson set its starting receiver group all to the left side with a Ray Ray McCloud go route bringing the safety over and opening the middle up for a Milan Richard TD:
Clemson's efficiency did drop as the game went on, leaving room for improvement headed into a stiffer challenge at NC State.
The Tigers scored three points, averaging 3.5 yards per play, over the final eight possessions. Given some more time, Hunter Johnson likely leads another scoring drive at the end, but the tempo and effectiveness from the first half was largely missing in putting an exclamation mark on the win.
Some deep shots – a clear emphasis after studying the first seven games – were just a bit off from putting higher numbers on the scoreboard. Hitting a few of those home runs will serve the Clemson offense well as the stakes increase.
In the ground game, Travis Etienne recovered from the early fumble to account for two of Clemson's seven chunk run plays (10-plus yards), both in the second half. A few more touches for the freshman and the Tigers might've moved the ball even better in the final 30 minutes. He's continued to be Clemson's most explosive back and is a key playmaker going forward.
Numbers to know: 75 – Bryant's completion percentage in the first quarter this season, where five of his six touchdown passes have come. Bryant is also averaging 9.1 yards per pass there with one interception (63.5 cmp%/1 TD-3 INTs/6 YPP in other three quarters). 12 – Clemson players with a reception, where nine had a touch by halftime. 11 – Bryant rush attempts at the half, averaging 5.6 per carry. He attempted just one second-half rush.
Defense: A-
Clemson's mix of athletes at every level has given the unique Georgia Tech offense fits for years now. Saturday night was no different, serving as a way for an elite group – to regroup – just past midseason.
One of the keys to stopping triple-option is shutting down the dive play, which the Yellow Jackets went to in eight of its first 10 calls, including the only big "bust" for a 65-yard run:
That was certainly exception to the rule as Clemson outflanked Paul Johnson's scheme at every level:
Slipping through the cracks of Tech's interior line with regularity essentially took any Yellow Jackets' hopes of getting on the edge for the pitch and pushed mid-line option and more calls to the back of the playbook.
What was maybe more impressive than anything Saturday was how consistent the control at the line of scrimmage maintained with a number of reserves called on, particularly in the middle with Dexter Lawrence (ankle) out for most of the game.
Backup defensive tackle Nyles Pinckney was a presence, logging two stops and impacting more plays than that. Reserve linebackers J.D. Davis (who actually started over Kendall Joseph in this game) and James Skalski and backup safety Isaiah Simmons joined stalwarts Tre Lamar, Joseph and Dorian O'Daniel in flying to the ball to make stops.
Brent Venables' multiple looks shown, in addition to the overall athleticism for Clemson, had Yellow Jackets QB TaQuon Marshall's head spinning all game long. The pressure almost every snap had Marshall missing reads on run calls, and in the passing game, a wide-open receiver in the end zone in the first quarter.
This look is a prime example of Venables' craftmanship, with Pinckney and Jabril Robinson occupying the middle, O'Daniel and DE Chris Register standing in at the line on one side and Lamar the other to clog up the middle and force the play to Simmons and Skalski cleaning things up for a TFL:
Clemson's secondary was rarely tested, with Marshall going 3-of-13 passing with most downfield throws smothered in coverage.
Down-by-down dominance overall made one of the nation's most-efficient third down attacks (51.1 percent going in) go 1-of-11 to start and 3-of-15 for the game. And two of those third down conversions came against a bigger mix of reserves in with starters on Tech's touchdown drive in the fourth quarter.
While some issues from the road trip to Syracuse simply weren't tested by the Yellow Jackets, this game was a nice building-block for the final stretch, where the Tigers should be getting healthier in the secondary to help bolster the pass defense.
Numbers to know: 4 – Georgia Tech run chunk plays (10-plus yards), after coming in averaging 10.7 per game. 2.2 – Georgia Tech's yards per play over the next nine drives following their first score. Tech averaged 7.1 yards per play on their first three possessions. 2 – Tre Lamar's sack count, which matched his snap total from the previous game with Syracuse. He led the Tigers with 11 total tackles (4 solo).
Special teams: B+
It was a simple enough kick, but a 29-yard make from Alex Spence brought a reaction of relief and celebration that Tiger fans were feeling right with their head coach:
Of course, bigger tests from will come down the road, but it was a nice confidence-booster for Spence on a solid night overall for the special teams group.
That performance included a forced fumble from Chad Smith (GT recovery) on a kickoff return unit that limited the Yellow Jackets to 16 yards per return, and maybe most importantly overall, Clemson had zero turnovers or blocked/botched kicks in the messy weather conditions.
Clemson's return group played it safe on Georgia Tech punts and Etienne's bobble-and-recovery on a kick return was the lone sore spot.
Clemson could use more from the return game down the stretch, but a quiet game again there was understandable given the weather. Overall, it was a nice bounce-back for a phase of the game that had its struggles last time out.
Numbers to know: 26 – Georgia Tech's average field position, where they were pinned inside their 20 twice and started only one drive outside their 31 (at the GT 43). 16 – Georgia Tech's kick return yards average in five attempts.
* Videos are included under fair use. Under section 107 of the Copyright Act of 1976, allowance is made for "fair use" for purposes such as criticism, comment, news reporting, teaching, scholarship, education, and research.

Tags: Clemson Football
,
Kelly Bryant
,
Deon Cain
,
Milan Richard
,
Hunter Johnson
,
Travis Etienne
,
Dexter Lawrence
,
Nyles Pinckney
,
J.D. Davis
,
Kendall Joseph
,
Isaiah Simmons
,
Tre Lamar
,
Jabril Robinson
,
Chris Register
,
Alex Spence
,
Chad Smith