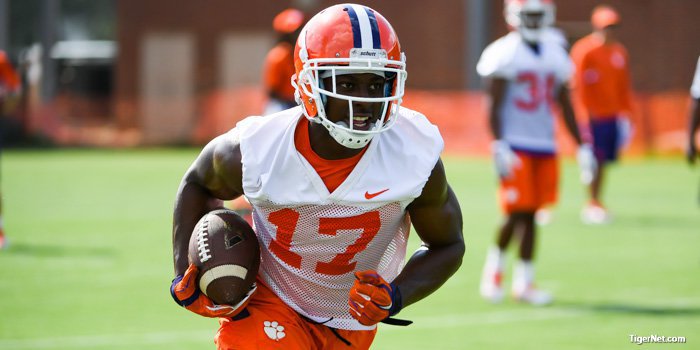 | | |
| --- | --- |
| Camp Insider: Wednesday's freshman observations | |
---
| | | |
| --- | --- | --- |
| Wednesday, August 3, 2016, 6:57 PM | | |
CLEMSON – Day two of Clemson's fall camp is underway, and the gathered media were allowed to watch the first 12 periods of Wednesday's practice. With that in mind, we have some freshman nuggets to pass along.
However, we'll start with a visitor at practice. Former Alabama and Dallas Cowboy running back Sherman Williams, who was a teammate of head coach Dabo Swinney at Alabama and was on the 1992 National Championship team. He also won a Super Bowl with the Cowboys but later ran into legal trouble.
Now he's turned his life around and is a motivational speaker, and he spoke with the team before Wednesday's practice.
We'll start the freshman nuggets with Tavien Feaster.
I was as shocked as anyone that Feaster weighed in at 207 pounds Monday afternoon. The last time I saw him in person was at the Shrine Bowl in December, and it didn't look like he was close to that. If you think about it, he's just three pounds lighter than starter Wayne Gallman, who is in amazing shape at 210 pounds
It's obviously hard to get a feel for these players when they aren't wearing pads, but you can tell how they react to the stress of Clemson's high-speed practice session. Feaster really hasn't missed a beat in the two days I have watched him, and he absolutely explodes past the line of scrimmage. He simply has a burst no other running back on the roster has.
Head coach Dabo Swinney said this about Feaster on Tuesday: "There's fast. And then there's real fast. He's real fast."
He wasn't kidding. It's going to be interesting to see how Tony Elliott and Jeff Scott try to work him into the offense this season.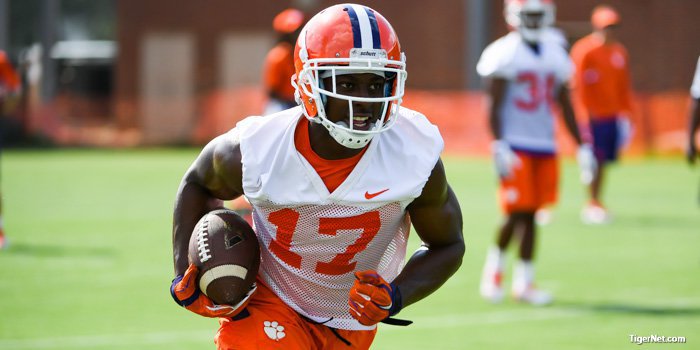 Powell worked at the No. 7 receiver position Tuesday – the spot held currently by Artavis Scott and Ray-Ray McCloud – and he worked there again today. I told you Tuesday that he's smooth, and there was more of the same today.
It's fun watching him go up against the cornerbacks during the 1-on-1 sessions. He isn't polished from a route running standpoint, but he uses his hands to get off jams at the line of scrimmage and has exceptional leaping ability. I still think he'll play this season.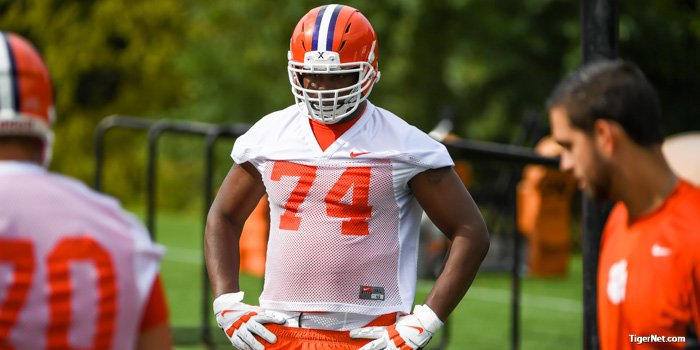 Simpson is another one that really stood out to me. After watching him in the Shrine Bowl – where they had him at tackle – I wondered if his footwork would be good enough to see him vie for playing time this season. However, he's worked at the third-team right guard spot both days, and I love what I see.
Is it enough to make him escape a redshirt? Probably not considering the depth Clemson has on the line at this point. But he's tall, rangy and very athletic and will make the decision hard on Robbie Caldwell.
Seeing him with Sean Pollard and Tremayne Anchrum, two other freshman lineman, lets you know the Tigers are recruiting the right kind of players on the line.
During every break, Simpson is in former offensive lineman Thomas Austin's pocket, asking questions and begging to be coached.
Isaiah Simmons, K'von Wallace, Nolan Turner, Trayvon Mullen
Simmons continues to stand out to me. I'm not sure if it's just the fact that he looks like a freak athlete or not. It looks – as of right now – that the Tigers and secondary coach Mike Reed hit home runs with addition of Mullen, Simmons, Wallace and even Nolan Turner, who acquitted himself well in the drills we watched.
Simmons went up against Clemson's best receivers in 1-on-1 drills and more than held his own. Is he fast enough to cover Deon Cain down the sideline? Nope, but at safety he doesn't have to be, and he showed good ball skills in the drills we watched.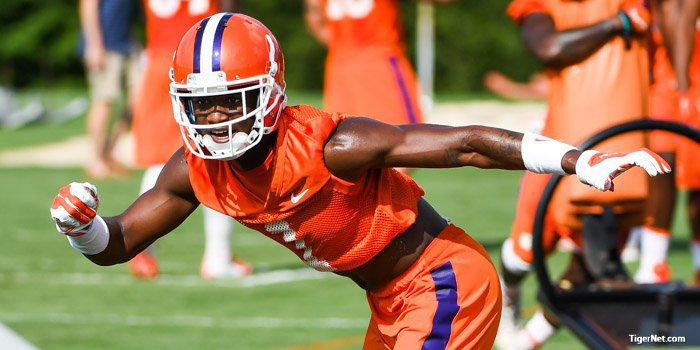 Wallace looks like he can fit in at either safety or corner, which means….he could see time at the nickel spot. He got turned around on a few routes Tuesday but looked way better on Wednesday.
Mullen went high to bat one pass away during the early part of the session, and he's a guy that I can see pushing for significant playing time by mid-season. You can also tell by his body language that he's competitive as heck…..he doesn't like to make a mistake or get beat on a route.
Brian Dawkins, Jr.
Dawkins is battling an injury and hasn't worked out, but he's bulked up since we saw him last. And when he turns around and walks away from you, he walks and looks like his dad, just a tad shorter. He's one I would really to see in drills.
He's almost certain to redshirt this season, and has to put on weight if he is going to play defensive end. Some have mentioned his lack of size (weight) could mean a move to another position, but don't sleep on Davis just yet. I went over and watched the ends for a good portion of practice (really to see Clelin Ferrell and Xavier Kelly and Chris Register and Richard Yeargin and Austin Bryant) and kept noticing Davis.
It's easy to see why he was recruited – I love his first step (towards the line), and he is super quick. Will that hold up with the added weight he will gain if he stays at end? That's the million-dollar question, but I like what see so far.
I saw enough Chalk enough in camps (Nike, Dabo's camps) to get a good feel for what the Tigers are getting, so there's no real surprise with Chalk. He grew up in a football family and knows his way around a football field. However, he likely will redshirt this season with so many veterans in front of him on the roster.
During the drills I've watched, he shows good route running ability and good hands. What I want to see – and I've never seen – is him put on the pads and block. That's the difference between being a starter and being a reserve in many cases.
Jamie Skalski
We still haven't had a chance to see him kick off – bummer – but I got to watch him during drills. It was good to see him shadowing Ben Boulware and learning from the veteran. Body wise and the way he moves, Skalski reminds me a lot of former Clemson backer Spencer Shuey. He's another one I want to see when the pads are on.
It's easy to see why Brandon Streeter is excited about the future at the quarterback position. He struggled a little Tuesday with accuracy but looked much more comfortable today after getting the first-day jitters out of the way. His arm strength is as good as I've seen. He was taking instruction from Nick Schuessler during the drills and trying to learn as much as he could from the veterans.
We'll have more later on, after the interview session.

Tags: Clemson Football
,
Thomas Austin
,
Spencer Shuey
,
Nick Schuessler
,
Wayne Gallman
,
Ben Boulware
,
Thomas Austin
,
Chris Register
,
Artavis Scott
,
Richard Yeargin
,
Thomas Austin
,
LaSamuel Davis
,
Austin Bryant
,
Ray-Ray McCloud
,
Deon Cain
,
Clelin Ferrell
,
Tavien Feaster
,
JC Chalk
,
Trayvon Mullen
,
Sean Pollard
,
Zerrick Cooper
,
Cornell Powell
,
John Simpson
,
Xavier Kelly
,
Tremayne Anchrum
,
Isaiah Simmons
,
Nolan Turner
,
Lasamuel Davis
,
Robbie Caldwell
,
Tony Elliott
,
Jeff Scott
,
Mike Reed
,
Brandon Streeter