| | |
| --- | --- |
| Tigers set to host ACC, season opener versus Hokies | |
---
| | | |
| --- | --- | --- |
| Monday, November 4, 2019, 5:38 PM | | |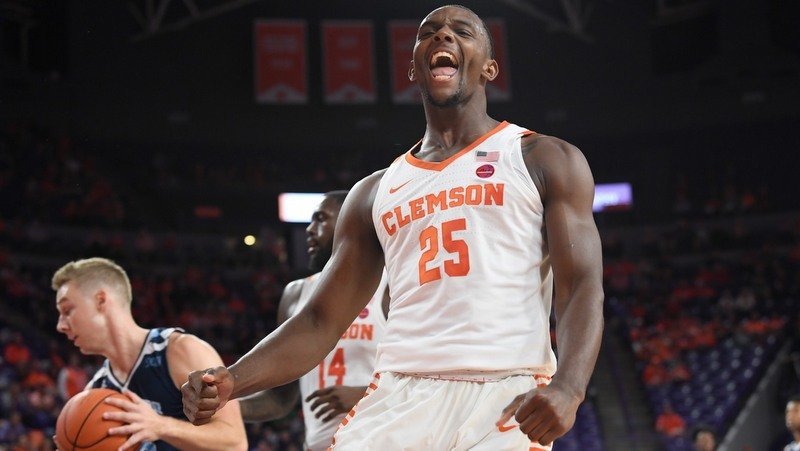 The Clemson men's basketball team and Virginia Tech tip off at 7:01 p.m. on ESPNU on Tuesday, November 5 in the schools' season and conference opener.
Roy Philpott and Paul Biancardi will broadcast the game on TV, while Don Munson and Tim Bourret will have the radio call for the Clemson Tigers Network.
CLEMSON BASKETBALL HEADLINES
• Clemson received a major boost in its lineup last week with the NCAA granting Khavon Moore's transfer request waiver, allowing Moore to become immediately eligible for the 2019-20 season. Moore is a transfer from Texas Tech and played just two minutes last season.
• The Tigers are coming off a summer in which they represented the United States in the 2019 World University Games -claiming a Gold Medal, the USA's first since 2015 and just its second since 2005.
• Clemson earned three wins in pool play against Finland (69-65), Ukraine (58-57) and China (99-70) before topping Germany (76-74) in the quarters, Israel (75-73) in the semis and a blowout of Ukraine in the Gold Medal game (85-63). The United States were led by Aamir Simms and John Newman III en route to a perfect 6-0 record in the tournament.
• Simms averaged 15.2 points and 9.8 rebounds per contest over six games, while Newman scored 13.3 points per game and also grabbed 5.7 rebounds per game.
• Simms' biggest game of the tournament came against Israel in the semifinal game. Simms scored 27 points (11-for-23 FG, 10-15 2FG) and grabbed 16 rebounds (seven on the offensive glass).
• The Tigers earned a victory in their last meeting with the Hokies, a 59-51 win over a then-ranked No. 11 Virginia Tech team inside Littlejohn Coliseum on Feb. 9, 2019.
• Clemson returns just 27.3 percent of its scoring from last season, but made key additions to its roster from the transfer portal: Tevin Mack (Alabama), Khavon Moore (Texas Tech), Nick Honor (Fordham), Curran Scott (Tulsa).
CLEMSON/VIRGINIA TECH SERIES HISTORY
- OVERALL: Clemson trails series, 16-19
- HOME: Clemson leads series, 10-6
- ROAD: Clemson trails series, 6-12
- NEUTRAL: Clemson trails series, 0-1
- LAST MEETING: Feb. 9, 2019 (59-51, W)
- STREAK: Clemson, Won 1
PROBABLE LINEUPS
(--/--) Clemson Ht. Wt. Yr. Hometown 18-19 GP/GS PPG RPG APG MPG
G 2 Al-Amir Dawes 6-2 180 Fr. Newark, N.J. ––– ––– ––– ––– –––
G 3 Chase Hunter 6-3 180 Fr. Atlanta, Ga. ––– ––– ––– ––– –––
G 15 John Newman III 6-5 197 So. Greensboro, N.C. 34/1 2.1 1.8 0.4 12.0
F 13 Tevin Mack 6-6 227 Gr. Columbia, S.C. 34/24 9.0 3.3 0.8 20.6
F 25 Aamir Simms 6-8.5 240 Jr. Palmyra, Va. 34/34 8.1 4.6 1.0 26.7
-
F 5 Hunter Tyson 6-8 211 So. Monroe, N.C. 31/0 1.6 1.0 0.4 8.3
G 10 Curran Scott 6-4 205 Gr. Edmond, Okla. 32/26 8.9 2.5 1.1 24.7
G 11 Parker Fox 6-6 202 So. Reno, Nev. 5/0 0.6 0.0 0.0 1.0
G 12 Alex Hemenway 6-3 180 Fr. Newburgh, Ind. ––– ––– ––– ––– –––
F 20 O'Neil McBride 6-7 195 Fr. Myrtle Beach, S.C. ––– ––– ––– ––– –––
F 21 Khavon Moore 6-8 217 So. Macon, Ga. 1/0 0.0 0.0 0.0
F 32 Paul Grinde 6-10 300 Gr. Virginia Beach, Va. 25/25 14.1 6.9 1.8 24.2
C 55 Trey Jemison 7-0 256 So. Birmingham, Ala. 20/0 0.4 0.8 0.1 3.6
(--/--) Virginia Tech Ht. Wt. Yr. Hometown GP/GS PPG RPG APG MPG
G 0 Hunter Cattoor 6-3 205 Fr. Orlando, Fla. –– –– –– –– ––
G 1 Isaiah Wilkins 6-4 225 So. Winston-Salem, N.C. 34/1 4.7 2.3 0.6 14.4
G/F 2 Landers Nolley II 6-7 225 RFr. Atlanta, Ga. –– –– –– –– ––
G 3 Wabissa Bede 6-0 200 Jr. North Andover, Mass. 35/26 3.8 2.5 2.3 25.3
F 14 P.J. Horne 6-6 225 Jr. Tifton, Ga. 29/4 3.3 2.2 0.3 13.0

Tags: Clemson Basketball
,
Khavon Moore
,
Aamir Simms
,
John Newman
,
Tevin Mack
,
Nick Honor
,
Curran Scott
,
Al-Amir Dawes
,
Chase Hunter
,
Hunter Tyson
,
Parker Fox
,
Alex Hemenway
,
Paul Grinde
,
Trey Jemison