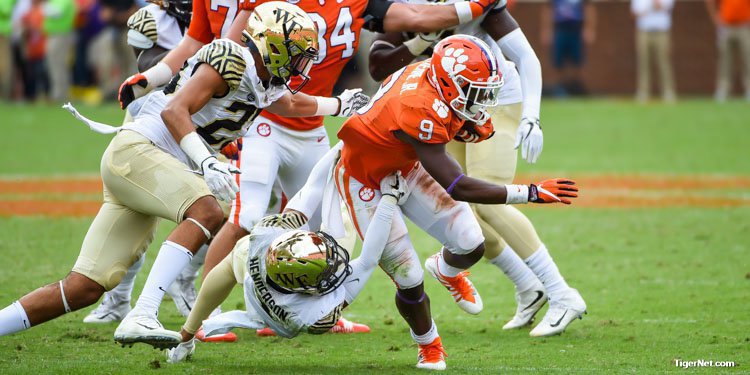 | | |
| --- | --- |
| Tigers leave Demon Deacons in their Wake | |
---
| | | |
| --- | --- | --- |
| Saturday, October 7, 2017, 3:17 PM | | |
CLEMSON – Clemson did what it had to do to win Saturday's Homecoming game against Wake Forest Saturday, and now the Tigers face a short week in getting ready for a Friday road contest at Syracuse.
Kelly Bryant led two first-quarter scoring drives and the defense kept the Demon Deacons off the scoreboard for three quarters as No. 2 Clemson defeated Wake Forest 28-14 on a cloudy Homecoming in Death Valley. Clemson led 28-0 in the fourth quarter before the Deacons added two late touchdowns against a bevy of reserves.
The Tigers are now 6-0 overall and 4-0 in the ACC, while Wake Forest falls to 4-2 and 1-2 in the ACC.
Clemson now owns 65 wins over Wake, the second-most against any opponent (they've won 68 against South Carolina). The Tigers have also won nine in a row in the series, all under head coach Dabo Swinney. The win was Clemson's 11th consecutive overall, 20 of the last 21 and 37 out of the last 39. They've also won 21 out of their last 22 against ACC teams, 20 in a row against the ACC Atlantic.
Bryant was 21-of-29 for 200 yards, a touchdown, and an interception before leaving with an injury in the second half. Hunter Renfrow had six catches for 61 yards. Travis Etienne led all runners with 15 carries for 67 yards.
"I'm happy with the win. Wake Forest was a tough team to get ready for because they're so deep and talented," Swinney said after the game. "I just like how we got ready throughout the week's preparations, and we were locked in today and got off to a good start. One side of the ball was always there to pick the other ones up. We got control of the game early. I didn't like how we finished, though, but we're playing a lot of guys, and we're committed to doing that. You have to let them experience growing pains. But I'm really proud of how we played today."
Wkae head coach Dave Clawson said he was proud of how his team competed.
"First off, congratulations to Clemson. They really came out and played well, and they jumped on us early," Clawson said. "I thought we then settled in defensively to keep us in the game; we made some big plays on offense and just never capitalized on it; we missed the short field goal and then the long field goal. Our guys battled hard, fought till the end. That is a really good football team, and we just have to play at a higher level than what we did. We missed too many opportunities early, missed too many tackles, and when we play a team the caliber of Clemson, you aren't going to beat them.
"They were really good last year, and they are really good this year. The two tackles, [Dexter] Lawrence and [Christian] Wilkins, are excellent players, the two ends are very athletic; they can cover in the secondary, and they make you earn everything on defense. Offensively, No. 9 is really coming on as a tailback and is a big play maker for them, and when you combined that with the quarterback and the skill they have on the perimeter, there is nobody you can cheat against; they can beat you at every position."
Wake Forest won the toss, elected to defer and Clemson made them pay for that decision in just seven plays. The Tigers marched 75 yards, the drive ending when Bryant hit Deon Cain over the shoulder from 28 yards out for a 7-0 lead two minutes into the game.
Wake didn't start quarterback John Wolford because of a shoulder injury, with Kendall Hinton starting in his place. The Deacons went three-and-out on their first series, and Clemson's second series started on their own 24. Twelve plays later, Adam Choice bulled his way into the end zone for a 14-0 lead with 6:18 remaining in the first quarter. Travis Etienne had a 20-yard carry, Hunter Renfrow had a big 17-yard gain on third down and Diondre Overton caught a 19-yard pass to set up the touchdown.
A 43-yard pass on the ensuing possession put Wake inside the Clemson 20, but the defense held and forced a 34-yard field goal attempt. However, Mike Weaver's attempt went over the right crossbar, and the Tigers kept their 14-0 lead. Weaver was 10-of-10 this season before the miss.
Both teams went into an offensive shell after the early flurry, with Clemson missing a field goal and turning the ball over on two of its next three possessions. Late in the half, another drive appeared to stall just short of midfield, but punter Will Spiers faked the punt and threw to Cornell Powell for a five-yard gain and a first down. That drive stalled after a pass interference penalty on D.J. Greenlee and the half ended with Clemson up 14-0.
Bryant threw an interception to start the second half, but Weaver missed another field goal and the Tigers took over at their own 32. On fourth-and-three deep in Demon Deacon territory, Bryant hit Renfrow on a 29-yard gain that set up Etienne's one-yard scoring plunge. The drive was nine plays and covered 62 yards, and Clemson led 21-0 midway through the third quarter.
The Deacons put together another nice drive and, facing a 4th-and-three at the Clemson 17, elected to go for it instead of kicking the field goal. Hinton tried a quarterback draw, but Dorian O'Daniel stopped Hinton at the line of scrimmage for a turnover on downs.
Bryant was hurt on Clemson's touchdown drive and was replaced by Zerrick Cooper, then Hunter Johnson early in the fourth quarter. Johnson engineered a touchdown drive after a short punt and 12-yard return by Ray-Ray McCloud put Clemson in business at the Wake 32.
Johnson was 4-for-4 on the drive, and he hit a streaking Cannon Smith on a post play to complete 13-yard scoring play and Clemson led 28-0 with 11:48 to play. The touchdown pass was the first of Johnson's career, and the touchdown reception was the first of Smith's career.
Wake put together its first scoring drive on the game next's possession, with Hinton finding Scotty Washington in the back of the end zone from 16 yards out as Clemson led 28-7 with just over eight minutes to play. The Deacons added another scoring pass late in the fourth quarter to account for the final points.
Clemson plays at Syracuse Friday night in the Carrier Dome.
"We have another difficult test next week with a late game on the road," Swinney said. "Since it's a Friday game, tomorrow is like a Monday for us. We're going to come in and practice tomorrow night and get ready for the next game. We have to take what we can from today's win and build upon it as we continue to move forward."

Tags: Clemson Football
,
Kelly Bryant
,
Tavien Feaster
,
Hunter Renfrow
,
Deon Cain
,
Adam Choice
,
Travis Etienne
,
Diondre Overton
,
Will Spiers
,
Cornell Powell
,
D.J. Greenlee
,
Zerrick Cooper
,
Hunter Johnson
,
Ray-Ray McCloud
,
Cannon Smith