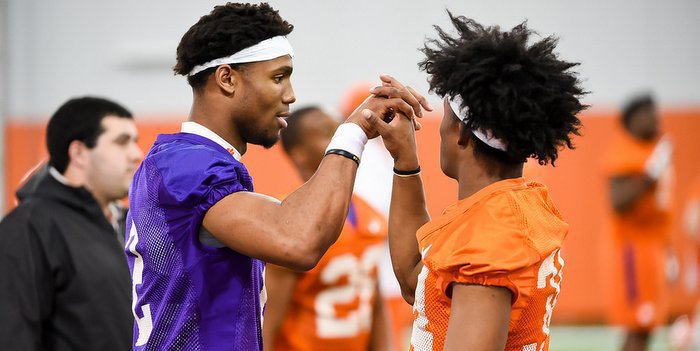 | | |
| --- | --- |
| Sideline Report: Negative recruiting, team leaders emerge and football begins | |
---
| | | |
| --- | --- | --- |
| Thursday, August 3, 2017, 7:01 AM | | |
CLEMSON – Welcome to the first edition of the sideline report, where we'll take a look at what we're hearing heading into the first few days of fall camp.
First off, there is a level of excitement around here that I haven't seen in a few years. The past two seasons there has been the knowledge that if things fell right, those teams could make a serious run at the College Football Playoff. With that expectation came a serious attitude and a quiet kind of intensity.
Things have been a little different this off-season. A lot of the laughs and smiles are back, and this coaching staff is really looking forward to getting back on the field and seeing exactly what they've got. They know this team is talented – there's as much talent on this squad as either of the two teams that made the title game – they're just young in spots and inexperienced in a few spots.
With the unknown comes that different attitude and it's something that head coach Dabo Swinney likens to Christmas morning. You get to take a look at something new, open up the presents and see what you've got. Once people around the country get a gander at the talent that's been assembled in the foothills of South Carolina, they'll realize the Tigers aren't going anywhere.
We were over at The Plex (the football players' name for the new football operations center) last week when Sean Pollard and some of his teammates shaved their heads for charity, and many of the newest players (freshmen who enrolled over the summer) were there. One thing I always look for – how do they assimilate with their older teammates? Is there one that appears to be a loner? Are the new kids accepted by the veterans?
The verdict? It looks like the coaches continue to recruit the right kinds of players, good kids who are a fit at Clemson. And guys like Tee Higgins, Amari Rodgers, and A.J. Terrell look ready to play right now.
Offensive line recruiting
I've spoken with a few of the people on staff and some of the high school coaches of the offensive line prospects that Clemson is recruiting. As we all know, things aren't as rosy on the recruiting front as they were just a few weeks ago, and I've heard there is a lot of negative recruiting when it comes to the offensive line and Clemson.
Clemson can go out and recruit receivers and defensive linemen and linebackers and tight ends and secondary players and point to guys that have not only had success in college, they've moved on to the NFL. That isn't the case with the offensive linemen, and while I was out in Oregon I had one person close to Jackson Carman tell me that the Ohio St. Buckeyes are pointing to the fact that Clemson doesn't have a reputation of putting guys in the league.
From everything I've heard, offensive line coach Robbie Caldwell's response is as good as you can have – he has taken some lower-rated guys, coached them up and beaten some of the best defensive lines in the business. Imagine what he could do if he had a bunch of studs….and hopefully that has started with guys like Mitch Hyatt, Sean Pollard, Tremayne Anchrum and John Simpson and some of the guys from the last recruiting class.
*Everybody will be watching the quarterbacks when fall camp opens, and with good reason. It also seems like everybody has a favorite that they want to see win the job, and all of the candidates have someone who is rooting for them. However……….I've heard nothing but good things about Kelly Bryant this summer, and it looks like he has stepped into the role of team leader. He might not play quarterback and he might be the starter at the position, but Bryant has positioned himself to be a contributor in some fashion.
*Once summer classes ended and summer workouts stopped, all of the players had the chance to go home and unwind for a week before the start of fall camp. It's interesting to note that guys like Bryant, Ray-Ray McCloud and K'von Wallace stayed in Clemson and continued to work out.
*We will have a press conference with Swinney early Thursday afternoon and then we'll get to watch the first 30 minutes or so of practice. That will be followed by post-practice interviews with coordinators and players. Thursday is gonna be a busy, news-filled day. Welcome to football season!

Tags: Clemson Football
,
Sean Pollard
,
Tee Higgins
,
Amari Rodgers
,
AJ Terrell
,
Mitch Hyatt
,
Tremayne Anchrum
,
John Simpson
,
Kelly Bryant
,
Ray-Ray McCloud
,
Robbie Caldwell