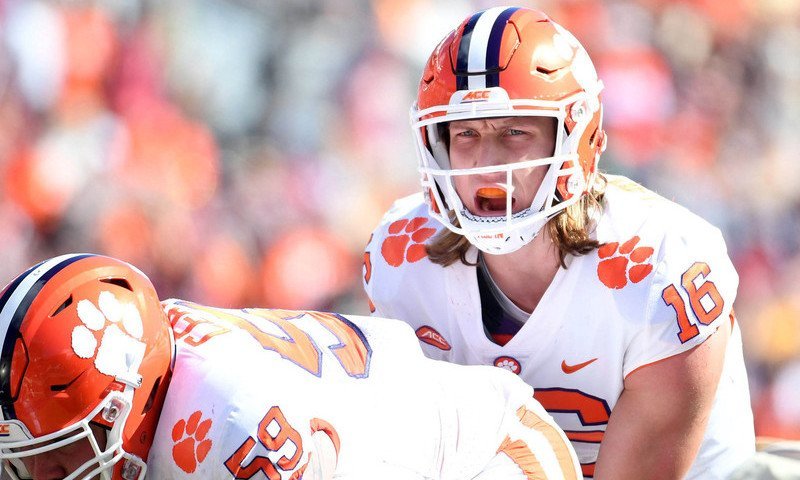 | | |
| --- | --- |
| Second look: Grading Clemson versus Florida State | |
---
| | | |
| --- | --- | --- |
| Sunday, October 28, 2018, 12:01 PM | | |
Dabo Swinney's Tigers continued a dominant run through its road conference slate with a third victory of 28 points or more while playing all 72 travel-roster participants.
This season the 'Second Look' features the TigerNet staff grading Clemson as a group and offering some different perspectives on the action each week. Here's our look at game eight as Clemson continued to set a new standard in the divisional rivalry.
Offense
It's hard to complain about 59 points on offense.
Trevor Lawrence threw four touchdown passes, and No. 2 Clemson handed Florida State its worst home loss in program history with a 59-10 victory on Saturday. Lawrence completed 20 of 37 passes for 314 yards before staying on the sideline for good late in the third quarter. Tee Higgins and Amari Rodgers each had two touchdown receptions.
Rodgers led all receivers with 156 yards receiving on six catches.
The 59 points allowed tied the second most the Seminoles have given up (Oregon in 2014, Auburn in 1985). The Seminoles lost 63-20 to Louisville in 2016.
In total, Clemson burned the Seminoles for 524 yards of offense, over 400 of which came through the air. The Tigers had 25 first downs, were 7-of-16 on third down and didn't commit a turnover.
The only sour note was the rushing offense – for the second straight game the Tigers failed to muster much of a run game, averaging just 3.6 yards per carry on 33 carries. Travis Etienne led the rushing attack with 10 carries for 45 yards. -- David Hood
TigerNet grade: A-
Defense
In many ways, Clemson's reputation preceded itself in a game Brent Venables' group controlled from start to finish.
Florida State never looked comfortable or confident in its attempted dissection of the talented Tigers defense. Knowing the mismatch at the line of scrimmage, the Seminoles tried to take the attack to the perimeter, but the combination of Clemson's pressure from the front-seven and another strong effort from the secondary turned the ball back over to the Tigers offense quickly.
FSU had seven three-and-outs and four drives end with negative yardage, which contributed to the minus-21 yards rushing on the game. Florida State averaged 13.8 yards to go on third down - committing some self-sabotage at times with a 3rd-and-40 at one point, six penalties for 55 yards on third down total and a number of drops. They faced third-and-long in 14 of their 17 attempts.
Once again, the depth shined while holding the shutout well into the second half, including four of the five sacks and 10.5 of the 14 TFLs coming from reserve players.
Swinney said the defense has been finding its rhythm and that appears to be an understatement given the efforts over the last three games, allowing 10 points or fewer in each. The charge going forward is maintaining that edge and Swinney said postgame the mentality is there to continue this run. -- Brandon Rink
TigerNet grade: A
Special teams
The special teams effort had more positives than negatives in the blowout win.
Starting with the struggles, punting was again an adventure with sophomore Will Spiers, whose 37.4 per punt average was dragged down by a 14-yard effort and enhanced by a friendly roll on another 49-yard try. The lack of consistency hasn't factored in to a result yet but could be a problem versus a tougher opponent come December.
On the other side, Amari Rodgers and the punt return team had a strong day with Rodgers averaging 21 yards per return with a long of 34 Saturday.
BT Potter had a couple kickoffs returned in this game - a rarity this season - and FSU was held to just 14 yards per return overall by the coverage team.
Potter also stepped in for a 24-yard FG and a handful of extra points to spell Greg Huegel after he was roughed on a FG attempt in the second quarter. Potter's make was Clemson's lone registered FG attempt on the road so far this season. -- Brandon Rink
TigerNet grade: B