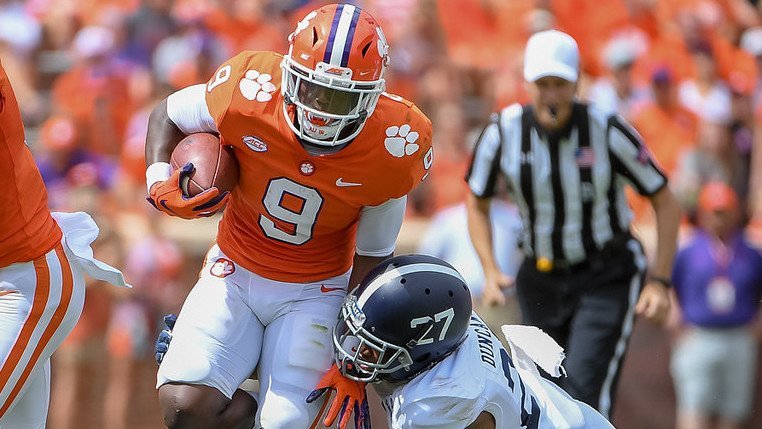 | | |
| --- | --- |
| Second Look: Grading Clemson versus Georgia Southern | |
---
| | | |
| --- | --- | --- |
| Sunday, September 16, 2018, 1:31 PM | | |
No. 2 Clemson overcame a slow start to pull away to a 38-7 win on Saturday hosting Georgia Southern.
Dabo Swinney's Tigers sit at 3-0 going into the ACC opener at Georgia Tech next week and have provided some answers and a couple more questions through a quarter of the regular season.
This season the 'Second Look' features the TigerNet staff grading the Tigers as a group and offering some different perspectives on the action each week. Here's our look at week three of Clemson football:
Offense
The overall numbers for the Clemson offense Saturday are impressive – the Tigers gained 595 yards of total offense, rushed for over 300 yards (309) and passed for 286 yards. There was a 100-yard rusher in Travis Etienne (162 yards), a 100-yard receiver in Justyn Ross (103), and 14 different receivers caught passes in the 38-7 victory.
True Freshman to True Freshman!

Future is bright for @ClemsonFB ??

(@Trevorlawrencee) #MustSeeACC pic.twitter.com/JE4A82jYCK

— ACC Digital Network (@theACCDN) September 15, 2018
Just another day for @ClemsonFB RB Travis Etienne! #ALLIN pic.twitter.com/cKlrNiIPbC

— ACC Digital Network (@theACCDN) September 15, 2018
Sounds like a great day, right? It does until you see the 38 points, and it has to do with how they started in each half. The first three drives of the game covered 26 plays and 129 yards and the Tigers came away with zero points – an interception, a missed field goal, and a fumble were the culprits. The next three drives of the first half ended in touchdowns.
A field goal ended the first drive of the second half, and then the offense again went into slumber mode. The next three drives, which took us into the fourth quarter, ended with another missed field goal, an interception, and a punt. Two late touchdowns accounted for the final score.
Clemson head coach Dabo Swinney told the media after the win over Texas A&M a week ago that the offense needs to learn to finish drives, and that was echoed again following Saturday's game. Yards are great, but points are better. -- David Hood
TigerNet grade: B
Defense
Everyone will remember the 40-yard trick play that set up Georgia Southern's only touchdown, but for much of the day Clemson's defense was outstanding.
In the first half, the Eagles ran 18 plays for 30 yards and in the second half – when defensive coordinator Brent Venables began liberally substituting – Georgia Southern ran 34 plays for 110 yards. That's 2.7 yards per play for the entire game.
Clemson's defense had five sacks and seven tackles for loss against a challenging offense.
Clemson's starting defensive line was dominant as expected, but it was nice to see guys like Xavier Thomas and Nyles Pinckney get in the game and be disruptive against the option. It was good experience, especially considering who the Tigers play next.
.@ClemsonFB's defense was DOMINANT yesterday at home! #ALLIN pic.twitter.com/XcVQkqvP35

— ACC Digital Network (@theACCDN) September 16, 2018
The negative?
There's not much, but there continues to be concern with the back end of Clemson's defense, especially at safety. K'Von Wallace and Tanner Muse got caught looking in the backfield on the trick play, which allowed the wide receiver to get free. I can assure you that Paul Johnson will see that on tape and try to exploit that next weekend. -- Nikki Hood
TigerNet grade: A
Special teams
Saturday was challenging for both sides on special teams due to the windy conditions - and Clemson's crew saw more of a showcase due to solid efforts on offense and defense.
Senior kicker Greg Huegel made a field goal of 37 yards but saw longer tries go just right (39 yards) and just left (47).
Sophomore punter Will Spiers' lone attempt was into the wind and went only 32 yards, giving Georgia Southern the ball at its 42.
Georgia Southern's were made difficult by the conditions to field so Amari Rodgers wasn't able to improve on a top-25 return average.
Overall, Swinney said it wasn't the strongest effort here after better games in the first two. Neither of Huegel's efforts lacked power and the misses look easily correctable (and should see better weather moving forward). -- Brandon Rink
TigerNet grade: B