| | |
| --- | --- |
| Redshirt Report: Who's in, who's out | |
---
| | |
| --- | --- |
| Friday, August 21, 2015 7:41 PM | |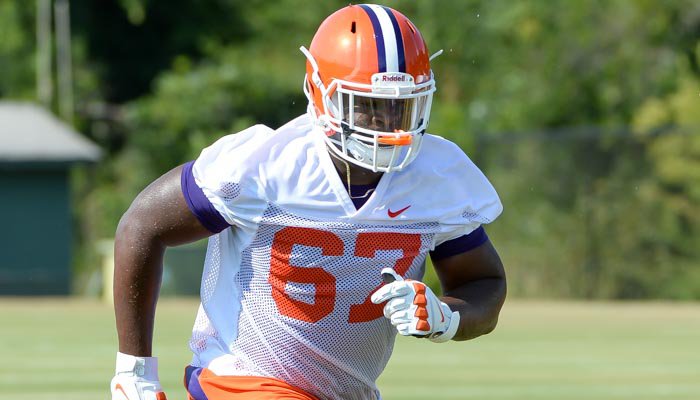 CLEMSON – True freshmen spend a good bit of their August camp wondering if they will see the field their first season or receive a redshirt. Head coach Dabo Swinney

Dabo Swinney
Head Coach
View Full Profile put some of their minds at ease with his comments after Friday's practice.
Swinney was asked if the coaches had made a determination on which players will play and which will redshirt, and he said that the coaches will make some final decisions next Monday. In the meantime, he listed out the players he thought would play and which ones were on the bubble.
Tight end Garrett Williams

Garrett Williams
Fr. Tight End
#44 6-4, 225
Orlando, FL
View Full Profile - PLAY
"That's the only reason he's playing (the mental aspect of the game). The kid is physically gifted and we knew that. He is powerful and explosive. He was a power lifter in high school and we knew that. But you never know until you start coaching them the aptitude they have until you take them out of the meeting room and onto the practice field and do it at the tempo we practice at. We were just blown away by him. Very few mistakes. He is a kid that has put the work in. You reap what you sow, and he has put the work in. He came into camp very well prepared and he put in all the time in this summer studying and it showed up in practice. He brings a little something different to the group. He is going to help us win this year."
Safety Van Smith

Van Smith
Fr. Defensive Back
#23 6-2, 170
Cornelius, NC
View Full Profile - PLAY
"He is going to play."
Defensive tackle Christian Wilkins

Christian Wilkins
Fr. Defensive Tackle
#42 6-5, 305
Longmeadow, CT
View Full Profile - PLAY
"He is going to play. (Laughing) He is going to play. A lot."
Wide receiver Deon Cain

Deon Cain
Fr. Wide Receiver
#8 6-1, 190
Tampa, FL
View Full Profile – PLAY
Wide receiver Ray-Ray McCloud - PLAY
"Oh he (Cain) has to play. We need him. He is a lot like Nuk ( DeAndre Hopkins

DeAndre Hopkins
Wide Receiver (2010 - 2012)
#6 6-2, 205
Central, SC
View Full Profile ) was as a freshman. We just have different people here than when Nuk came in. Nuk wasn't really a good wide receiver when he came in. He had to buy in. He was weak. He had to learn technique. He just had freaky ball skills. Deon has freaky ball skills. He is a little more polished than Nuk was, but he has to be willing to put the work in like Nuk did. Nuk got better and better and he was pretty good by the end of his freshman year. Deon is bigger and he is stronger and has a good understanding, but we have to have him play. We need him this year. He isn't ready to be an every down player yet, but we don't need him to be. He just needs to make the plays when he's in there. He knows what to do with it when he gets it."
Quarterback Kelly Bryant

Kelly Bryant
Fr. Quarterback
#2 6-4, 205
Calhoun Falls, SC
View Full Profile – PLAY
Quarterback Tucker Israel

Tucker Israel
Fr. Quarterback
#10 5-11, 190
Orlando, FL
View Full Profile – ON THE BUBBLE
"Kelly Bryant is going to play. We don't know with Tucker Israel. He's been out here for five minutes of camp. It's the quickest injury in the history of football. I don't know. We've only got four quarterbacks, so he's a rolled ankle away from being the third guy. We'll get him back and we'll carry him. We carry our quarterbacks and prep them all year. We keep them in the meetings. We take them on the road with us. That whole learning process for those guys is critical. Ideally, we want to redshirt him, but that's standing here at August 21st. A month from now, he might be our second team guy. If everything stays the same, we would love to travel him with us every week, but hold him.
Cornerback Mark Fields

Mark Fields
Fr. Cornerback
#24 5-10, 185
Cornelius, NC
View Full Profile – PLAY
"We know he can help us. He's going to be a special teams guy, too. We're pretty good in the secondary, but he's a guy that we think can help us somewhere down the line as the season goes. That's something we'll evaluate as far as if we have any setbacks with the bone in his hand. We don't anticipate that. In about four or five weeks, maybe we can get him out of that cast. We don't play for two more weeks and you've got a couple of games and an open date and then you're in October, quickly. We only play three games before October, so we've got a long way to go and it's a long season. Right now, our decision is to play him. We'll talk about it again Monday, but I don't foresee that changing. That's going to depend on if he has a setback or not.
Defensive linemen
Albert Huggins

Albert Huggins
Fr. Defensive Line
#67 6-3, 280
Orangeburg, SC
View Full Profile – PLAY
Austin Bryant

Austin Bryant
Fr. Defensive End
#91 6-4, 250
Pavo, GA
View Full Profile – PLAY
Clelin Ferrell

Clelin Ferrell
Fr. Defensive End
#99 6-5, 220
Richmond, VA
View Full Profile – ON THE BUBBLE
"Austin Bryant will definitely play. Clelin Ferrell is on the bubble. Albert Huggins is going to play. Huggins is a guy who is learning a new position and is still transitioning. It hasn't come quite as natural inside just because he's learning. He's one of those guys who is physically ready. There's no question. Physically he is ready to help us. He's down the line right now because mentally, fundamentally, technically he's got a lot to learn, but every rep is getting better. Every day is getting better and you just see it. Right now I foresee him helping us.
Clelin is on the bubble. He has a break in his hand that's a little more serious, so he's got a cast on his hand, too. He's a guy that right now we can go either way with and we're just going to have to see how it goes over the next few weeks. We probably won't make a decision for a while.
Linebackers
Chad Smith

Chad Smith
Fr. Linebacker
#35 6-3, 215
Sterling, VA
View Full Profile – ON THE BUBBLE
J.D. Davis

J.D. Davis
Fr. Linebacker
#33 6-2, 220
Clemson, SC
View Full Profile – PLAY
Judah Davis

Judah Davis
Fr. Linebacker
#36 6-2, 220
Clemson, SC
View Full Profile – PLAY
Jalen Williams

Jalen Williams
Fr. Linebacker
#30 6-0, 215
Columbia, SC
View Full Profile – PLAY
"Chad Smith is on the bubble. We haven't made a decision on him. J.D. Davis and Judah Davis and Jalen Williams, we're going to get ready to play. We need them for special teams. We need some depth. Chad, we haven't made a decision 100 percent on. We'll talk again on it Monday. Those guys are such huge parts of your core special teams and we've got to be careful what we do with Ben Boulware

Ben Boulware
Jr. Outside Linebacker
#10 6-0, 235
Anderson, SC
View Full Profile and B.J. Goodson

B.J. Goodson
RS Sr. Linebacker
#44 6-0, 240
Lamar, SC
View Full Profile . Ben and B.J. have always been big special teams guys but they haven't been the starters either. Now their role is different and they have to play a lot of snaps. We've recruited all of these good players and not all of them are ready to be our starting 'backer, but they can definitely help us. A lot of the decision we have to make on those guys is based on special teams.
Running back Adam Choice

Adam Choice
So. Running Back
#26 5-9, 215
Thomasville, GA
View Full Profile – ON THE BUBBLE
"Adam has done great. He's pushed himself. He's done everything. We really want to hold Adam. He's on the bubble for one reason. I think he would like to get his year back. I think he feels a little cheated from what he got last year. He's right there and he gets the starting job and bam he's out. We've got a really good situation at running back and all of those guys can play. It would be kind of like we did with Kevin Dodd

Kevin Dodd
RS Jr. Defensive End
#98 6-5, 275
Taylors, SC
View Full Profile a couple of years ago. It's a luxury for us if we can hold him, but it's like I told Adam, I can't promise him that. At the end of the day, he'd be fine with that too. It's like I told Dodd, if somebody gets hurt you've got to play because ultimately we have to do what's best for the team. As we sit right now, I'm very comfortable with the guys that we have, Adam included. It would be a real luxury for us and a benefit for him if we could hold him."
Offensive linemen
Mitch Hyatt

Mitch Hyatt
Fr. Offensive Line
#75 6-6, 270
Sugar Hill, GA
View Full Profile - PLAY
Jake Fruhmorgen

Jake Fruhmorgen
Fr. Offensive Line
#63 6-5, 285
Tampa, FL
View Full Profile - PLAY
Noah Green

Noah Green
Fr. Offensive Line
#71 6-5, 275
Boiling Springs, SC
View Full Profile - REDSHIRT
Zach Giella

Zach Giella
Fr. Offensive Line
#77 6-5, 275
Augusta, GA
View Full Profile - REDSHIRT
"Noah is not far off. He's really made improvement. Zach has gotten better and better. He's probably had the biggest adjustment, but really talented and needs the power hour. Noah does, too. Right now, our plan is to hold those two guys, but we'll see how it all plays out."
NOTE: We will have more information on players like Sterling Johnson, Gage Cervenka, Tanner Muse, Kaleb Chalmers and others next week.

Tags:
Adam Choice
,
Judah Davis
,
J.D. Davis
,
Jalen Williams
,
Albert Huggins
,
Garrett Williams
,
Kelly Bryant
,
Mark Fields
,
Mitch Hyatt
,
Noah Green
,
Austin Bryant
,
Van Smith
,
Deon Cain
,
Chad Smith
,
Tucker Israel
,
Jake Fruhmorgen
,
Zach Giella
,
Clelin Ferrell
,
Christian Wilkins